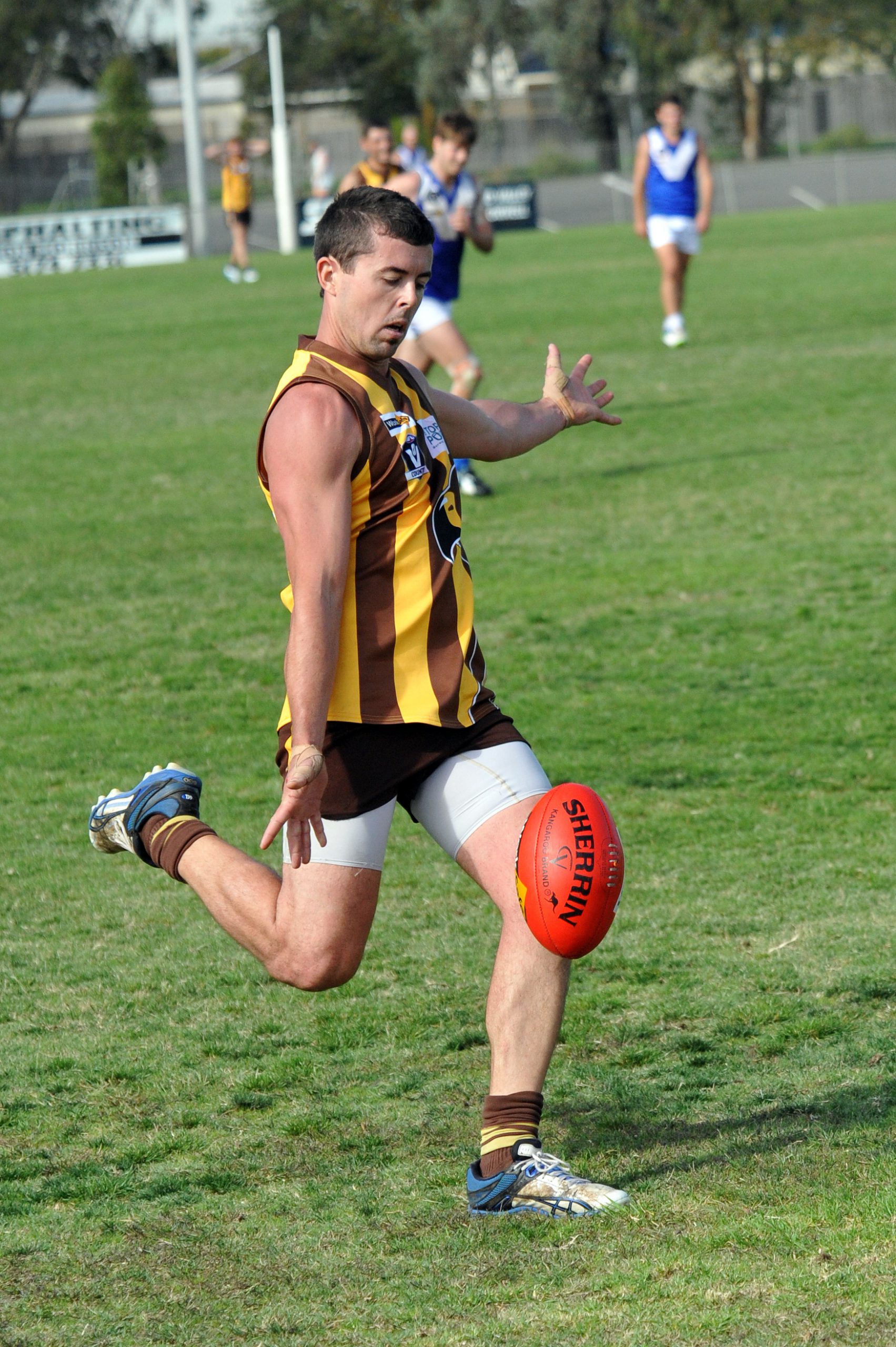 FOOTBALL
MID GIPPSLAND FL
Boolarra v Trafalgar
Boolarra became a giant killer when it defeated Trafalgar by 21-points at home on Saturday in round two of the Mid Gippsland Football League.
The Demons started without Nick Hider and Darryl Mayman, giving new recruit Chris Stanisinowsky his chance, and they started with a flourish booting four early goals.
The underdog kept ahead of Trafalgar at every change but at three-quarter-time there was just 15-points in it.
Boolarra coach Tony Giardina implored his players to make the final a memorable quarter, one which would show whether Boolarra has what it takes to tackle and beat the "big" teams.
It was an arm wrestle in the last term in which neither team was able to score freely under constant pressure.
Urged on by the vocal home crowd Boolarra defended well, keeping Trafalgar down to only three behinds, and despite adding a miserly 1.3 (9) ran out good winners 11.8 (74) to 7.11 (53).
Sam Mazou and Justin Embrey both kicked three goals for the Dees, while Rhys Holdsworth bagged four for Trafalgar.
Andrew Thorpe, possibly the smallest player on the field, proved his value with a best on ground performance for Boolarra while others such as Justin Embury, Ken Towt and Matt Buglisi all chipped in with good games.
Best for the luckless Bloods were Darcy Long, Tyson Leys up against his former club, Jace Butler and Matt Swenson.
Yarragon v Yinnar
Yarragon came up against an immovable force when it tackled Yinnar in the supposed match of the day, but it turned out to be a whopping 181-point victory to the Magpies.
Incredibly scores were level at 4.5 (29) each at the first change, before a stir by Yinnar coach Sam McCulloch lifted the Magpies. Yinnar completely outplayed the Panthers in an eight goal second term while the Panthers barely raised the flags with one behind, their last for the day.
Such was the dominance of Yinnar they kept Yarragon scoreless for the last two quarters.
The black and whites did not miss the prolific Tim Aitken at full-forward, where his position was capably taken by the nimble Cameron Harwood who scored six goals, as did Sam Mills.
It was a game best forgotten by Yarragon but a good guide to Yinnar's potential this season.
With two good wins from as many matches and Morwell East in the offing the Pies will get a better idea of their credentials on Sunday.
Best for Yinnar were Mills, Jadyn Embrey, James Dowling – back to his best and fairest form – and Jamie Winters, while for Yarragon James Harvey, Ben Damschke and Andrew Hewson all tried hard as Yinnar ran out big winners 31.19 (205) to 4.6 (30).
Newborough v Hill End
Newborough retained the Fanning/Bryne Cup with a decisive win over Hill End. The Bulldogs suffered from a lack of concentration during the match and at times their disposal was woeful. Hill End led at the first break but only by a minor as Newborough was wasteful in front of goal and should have been streets ahead. Hill End were kept in the game by Newborough's poor scoring rate and at three-quarter-time both teams had only five goals on the board, but Newborough's tally of 16 behinds told a story. Reliable forward Michael Gelagotis had a miserable day in front, kicking 1.7, but his counterpart Adam Kennedy finished with five goals. The Dogs came good in the last quarter, adding 5.4 (31) to wrap up the match 10.20 (80) to 5.1. Best for the Bulldogs were Jeremy Cattanach, Adam Kennedy, Chris Hancock and Rhys Jacobs. For Hill End, Kris Ayton, Callum Robertson, Mick Parker and Tyler Forte all battled hard.
Mirboo North v Thorpdale
Mirboo North started its season proper with a solid win over Thorpdale to take out the first leg of the Bright St Ellen Shield.
The Tigers included 11 players missing from their opening match which boosted the team back to its premiership standard.
Even without hamstrung coach Nathan Scurrah Thorpdale was competitive and gave as good as it got.
Light misty rain added to the gloomy atmosphere as both teams strived to gain the upper hand early.
Thorpdale held sway in the first term by three points, but this was reversed by half-time when Mirboo North led 4.4 (28) to 1.6 (12).
The breeze downhill helped Thorpdale in the third when it got within 15-points; good play by Kris Bedford and Corey Celima was the catalyst for the revival.
Mirboo North got its act together in the final stanza with a four-goal haul which carried it to a 31-point victory.
Jack Robertson scored four goals for Mirboo North while star forward Tim Traill was held to one major.
The premier was well led by coach Matt Holland with good support from Josh Taylor, Jack Robertson and Brendon Weston.
Morwell East v YYN
Morwell East came home with the goods against Yallourn-Yallourn North to chalk up win number two in a 38-point triumph.
YYN led the Hawks at the first break by a single point, but the Hawks showed their mettle in the second with a 5.8 (38) term to nil and by half-time were cruising. YYN missed Tom Hutton up forward, but the last half was a goal fest for both sides with nine goals at either end, but the Hawks' lead held firm to the siren.
The East had good forwards in Ben Marks (five) and Shaun Barnes (four) while YYN shared their tally around with nine players registering on the scoresheet.
Best for the Hawks in their 15.10 (100) to 12.2 (74) victory were Matt Brown, Brendon Francis and the Marks brothers, while for YYN Tyler Brown, Barrie Burnett and David Ivey were voted as best.