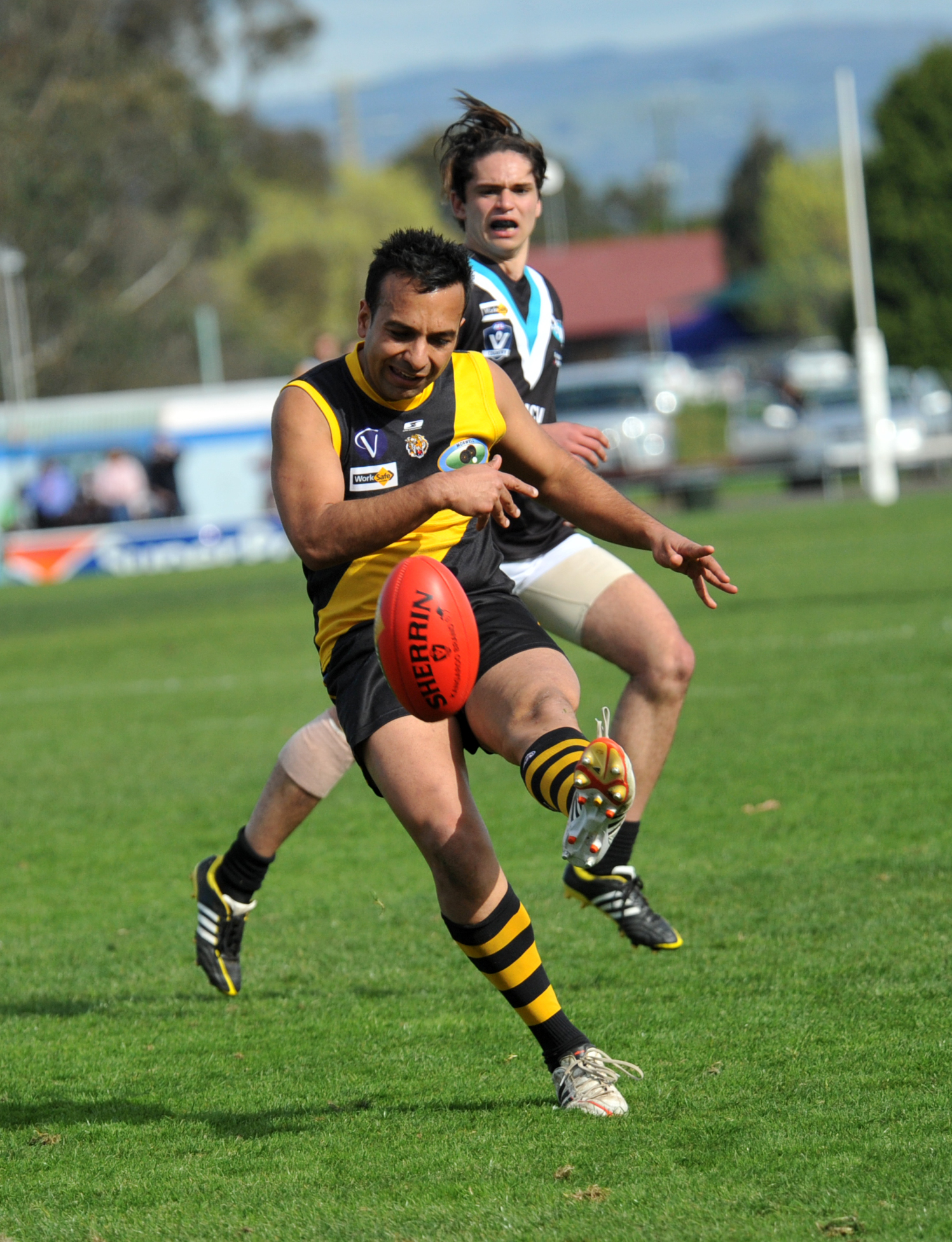 FOOTBALL

GIPPSLAND LEAGUE
Morwell v Wonthaggi
Morwell used Saturday's Gippsland League season opener to unfurl its first premiership flag in close to two decades.
"It was a special day for a club which hadn't tasted premiership success for 17 years, a lot of guys that have been around the club for a long time came down and it was a privilege to be part of it," premiership coach Harmit Singh said.
On the field, the Tigers picked up where they left off in 2013, with a 53-point win over fellow 2013 finals contender Wonthaggi, who played better than the score indicated according to Singh.
"Wonthaggi are coached really well, they set up really well," he said.
The Power led by a point after a low scoring opening term.
Morwell stole the lead in the second, albeit with an inaccurate three-goals-seven, to take a nine point lead into the main change.
The reigning premier came out firing in the second half, booting 11-goals-one to run out a 53-point winner.
"I was really pleased with our ability to use the footy, to spread and keep our width and our pressure. Round one is always difficult, I think it was a relief for both sides to get it out of the way," Singh said.
One of the most exciting aspects for Morwell was the performance of its five debutants.
"Ash Close was fantastic up forward. He kicked three goals but he also took some marks in the square and hand-balled it on, so he had a real influence," Singh said.
Jake Fulton performed well in the ruck while Ben Kearns played a solid first game in the forward line with four majors.
"I guess the good story is Simon Noy who came in as well from Hill End," Singh said.
"We had success last year with a couple of guys from Yallourn North who came in and played in a premiership, and we hope to do that again" .
And Morwell still has several players to come in.
"There is plenty of competition for spots which is good," Singh said.
Maffra v Moe
Eager to impress against his former team, Adrian Burgiel made his coaching debut for Moe.
His Lions got off to a dream start after Maffra officially unveiled its new state of the art, $250,000 lighting system.
The visitor took a seven-point lead into the first change, however its good start was short-lived.
Under the leadership of three-time premiership coach Wayne Butcher, who has returned to the helm at Maffra after nine years off, the Eagles bounced out of the blocks in the second, booting six unanswered goals to take a 32-point lead into the main change.
It was a similar story in the third.
Maffra slammed on another six majors to Moe's two, to lead by 57-points at the final change.
The Lions had more scoring opportunities in the last but with two-goals-seven to Maffra's four-one failed to convert as the Eagles ran out a 63-point winner.
Daniel Bedggood booted five for Maffra.
Traralgon v Sale
Traralgon coach Paul McCulloch said it was skill error that cost his side an opening round win against last year's runner up, Sale.
"The difference in the second half that allowed them to run away late in game was their good execution skills and our poor execution skills and the subsequent turnovers," he said.
Scores were locked at 19-all at the first change, however the visiting Maroons had the upper hand at half-time to the tune of 12-points.
The Magpies were more accurate in a tightly contested third term, which saw just three points separate the sides at three-quarter-time.
However it was all Sale in the last.
Last year's minor premier slammed on six goals to two, to claim a 21-point victory.
It was not all bad news for Traralgon.
McCulloch said he was pleased with his side when it was at its best.
"We have to move on quickly. Our best is very good but against a good side you need to be near your best for 100 minutes," he said.
Tim Johnston was impressive on return to the club from Cowwarr.
"We will take positive from that. Tim presented very well with four goals and he possibly could have kicked a couple more. Michael Geary was good and Tim Northe played his usual role," he said.
Charged with the task of covering former St Kilda player Jason Gram for much of the game, Michael Burge was also among the Maroons' best.
With two goals, Gram had little influence on the match.
Leongatha v Bairnsdale
Bairnsdale kicked off its 2014 campaign with a win on the road against Leongatha.
Just one point separated the sides after a low scoring first term.
Keeping the Parrots goalless in the second, Bairnsdale had by half-time kicked away to a 19-point lead.
With two-goals-eight, the Redlegs could not hit the target in the third.
Leongatha on the other hand booted two majors of its own, to trail by 26-points at the last change.
Both teams managed three majors in what was an inaccurate last term for the visitor which, despite kicking 20 behinds, won by 31.
Both sides had just the one multiple goal scorer.
James Gibbs booted four for the Redlegs, while Cade Maskell finished with two for the Parrots.
Drouin v Warragul
In the final match of the opening round, Warragul defeated Drouin in the first west Gippsland derby of 2014.
An inaccurate Gulls led the Hawks by 10-points at the first change.
However Drouin won the second term and by half-time was back within a kick.
With three goals to the Hawks' one in the third, Warragul regained control of the match and took a 20-point lead into the final change.
And the Gulls did not look back; a four goal to one fourth term saw the visitor run out a 40-point winner.