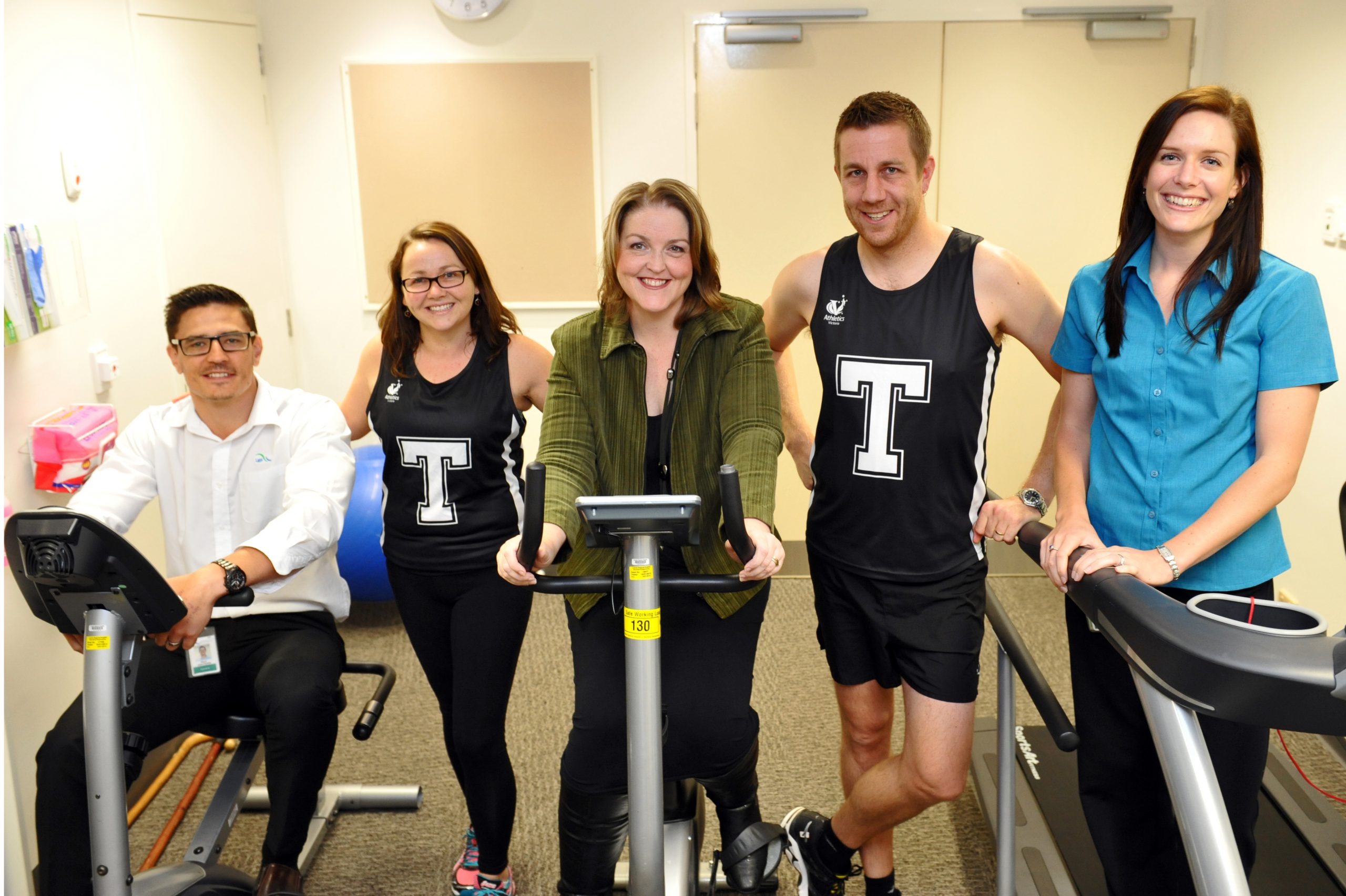 RUNNING
By SAMUEL DARROCH
TRARALGON Harriers marked the official launch of the 2014 Traralgon Marathon and Running Festival with a road test of equipment last year's event helped purchase for the Allied Health Department at Latrobe Regional Hospital on Tuesday.
The festival generated about $20,000 for the hospital with a record field of 870 in 2013, and Harriers president Todd Houghton is hopeful this year's 15 June edition can go further still.
"We're hoping to get record entries again and build on last year's… get up around 1000 this year," Houghton said.
"The most exciting part for me is helping out the hospital.
"It's good to come in here, see the Allied Heath Department and see where the money is being spent."
Houghton said the running group's partnership with the hospital, which was forged last year, was the perfect fit for both parties.
"We're a running club, we're trying to promote healthy living and getting active, especially with high levels of obesity in the community," he said.
"It's an obvious local cause, the hospital is important to everyone and particularly the Allied Health department helping some of us runners come back from injuries potentially as well."
LRH Board of Directors chair Kellie O'Callaghan said funds raised at this year's event would again go toward special equipment purchases.
"The great benefit is that it actually ensures the hospital can provide equipment we would not otherwise be able to purchase, so there's a direct and immediate impact," she said.
"It's a great partnership between the hospital and the Traralgon Harriers and clearly the Harriers are so community focused in everything they do, they get everybody involved and it doesn't matter what level of activity you participate in."
The running festival will feature a full marathon, half marathon and 10-kilometre solo and teams event starting from the Traralgon Tennis Association.
Following the success of recent running festivals and community fun run initiatives, walkers and team entries of four are again encouraged to participate in the 10km run. On the competitive front current marathon champion Cameron Hall is set to return, as will runner-up Dion Finocchiaro, who will duke it out with a host of Harriers, locals and ring-ins for the top honour.
The course has been changed slightly this year, diverging from the main road at Glengarry for safety reasons.
Discounted early bird entries are open until 2 May.
For more information or to register visit www.traralgonmarathon.org.au