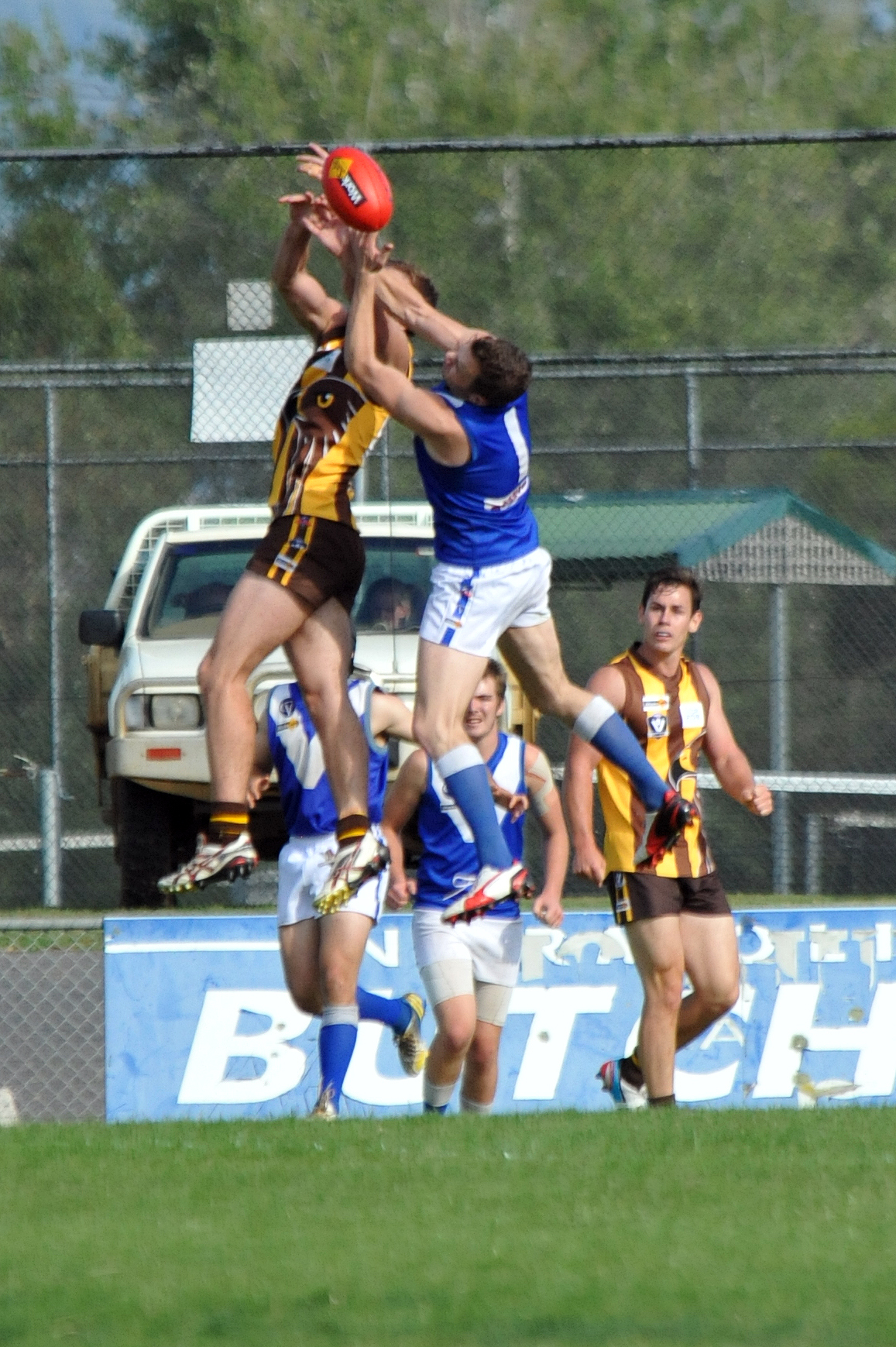 MID GIPPSLAND FL
ROUND FIVE
Newborough knocked over Morwell East by 55 points in a low scoring effort in round five of Mid Gippsland football.
Up to half-time only seven goals had been kicked for the game.
Newborough led by one-point at the first change as both teams struggled early.
The East had use of a southerly wind, but did not take full advantage.
By half-time Newborough led 6.9 (45) to Morwell East's 1.6 (12).
In the third quarter Morwell East came out firing and added 4.2 (26) to 1.5 (11) in a better quarter of football.
The duel between the two number sixes, Lucas Towns and Mick Gelagotis, was fairly even until Towns was shifted, which allowed Gelagotis to move more freely and eventually score five goals.
Newborough used the final quarter breeze to blow the lead out from 18 points at three-quarter-time to an eventual 55-point win.
Ben Marks scored four for the Hawks and got among the best along with Brendan Evans, Lucas Towns and Luke Goodwin
For the Dogs, Daniel Risol, Dylan Creighton, Josh Keyhoe and Brennan Mills were best with good support from James Todd and Andrew Phillip.
Trafalgar v YYN
After a fairly even first quarter the floodgates opened for Trafalgar, as the Bloods added 9.6 (60) in a blistering second quarter.
Again it was Klay and Jace Butler who displayed excellent football skills.
With speed and good play Trafalgar was able to dictate the game.
It was a field day for Tyson Leys who bagged his best for the season with six and Jack Holdsworth chipped in with four.
Trafalgar ran out easy winners 20.12 (132) to 7.8 (50) .
The Bloods must be tortured by their defeat at the hands of Boolarra in round two as they now sit in third position instead of top two.
Jamie Hines showed maturity with a best on ground effort for Trafalgar assisted by the Butlers and Matt Riseley.
For YYN, it is going to be a long season, but while they have players of the calibre of Barrie Burnett, Owen Budge, Darcy Shellcott and Derk Pol there is a chance to break the ice soon.
Boolarra v Hill End
Boolarra took out its second win of the season to push itself to fifth position by percentage.
The Demons comfortably defeated Hill End with accurate kicking, with the game virtually over at half-time.
Boolarra won the match in the second and third quarters where it scored 10.2 (62) to 0.2 (2) to condemn Hill End to another defeat.
Jesse Giardina found little opposition to score six goals and ruckman Mark Van Dyke, back after injury, scored four in a good display.
Hill End could not produce the same type of football that gave it four points the previous week, as Boolarra showed glimpses of its best to run out winners 15.2 (92) to 4.3 (27).
Mirboo North v Yarragon
Mirboo North and Tim Traill were both in great form as the Tigers took over in the second term to beat Yarragon by 57 points. Traill finished with a bag of eight to take his season tally to 21. Yarragon led Mirboo North at the first break 0.5 (5) to 0.2 (2) as both teams struggled in the windy conditions, but with Traill in good form the Tigers were able to edge away from the persistent Panthers. A few positional changes and Mirboo North was away in the second half. Jack Robertson played well and with someone up forward to kick the Tigers away.
Jake Nash and Dom Pinneri were also good players on the day.
The longer the game went on the bigger the margin became, although Yarragon at times wasted opportunities.
Its 6.12 (48) was a poor result for a lot of hard work to get the ball forward. It was an improved showing for Yarragon with their best being Kyle Sleep and Jack Cropley.
Yinnar v Thorpdale
Yinnar expected a hard game against Thorpdale and it had one on its hands for three quarters.
In the last quarter Yinnar kicked away to take out the match. Thorpdale was without some of is tall talent, with Mick Shannon and Daniel Hammond unavailable. Scores were level at the first break and by half-time Yinnar was ahead by only one goal. Both teams scored four goals each in the third, but Yinnar added five behinds to boot.
Tim Aitken had a big day out with eight goals to share top billing with Tim Traill on the goalkicking leaderboard. With only nine points the difference at three-quarter-time it was anyone's match, but the experience of Sam McCulloch helped shake off a dogged Thorpdale. Fitness and talent showed off in the final term as Yinnar raced away to win 16.12 (108) to 9.3 (57).
In the reserves Blues player Barry Hammond played his 300th games, but his team was met with a smashing at the hand of Yinnar.