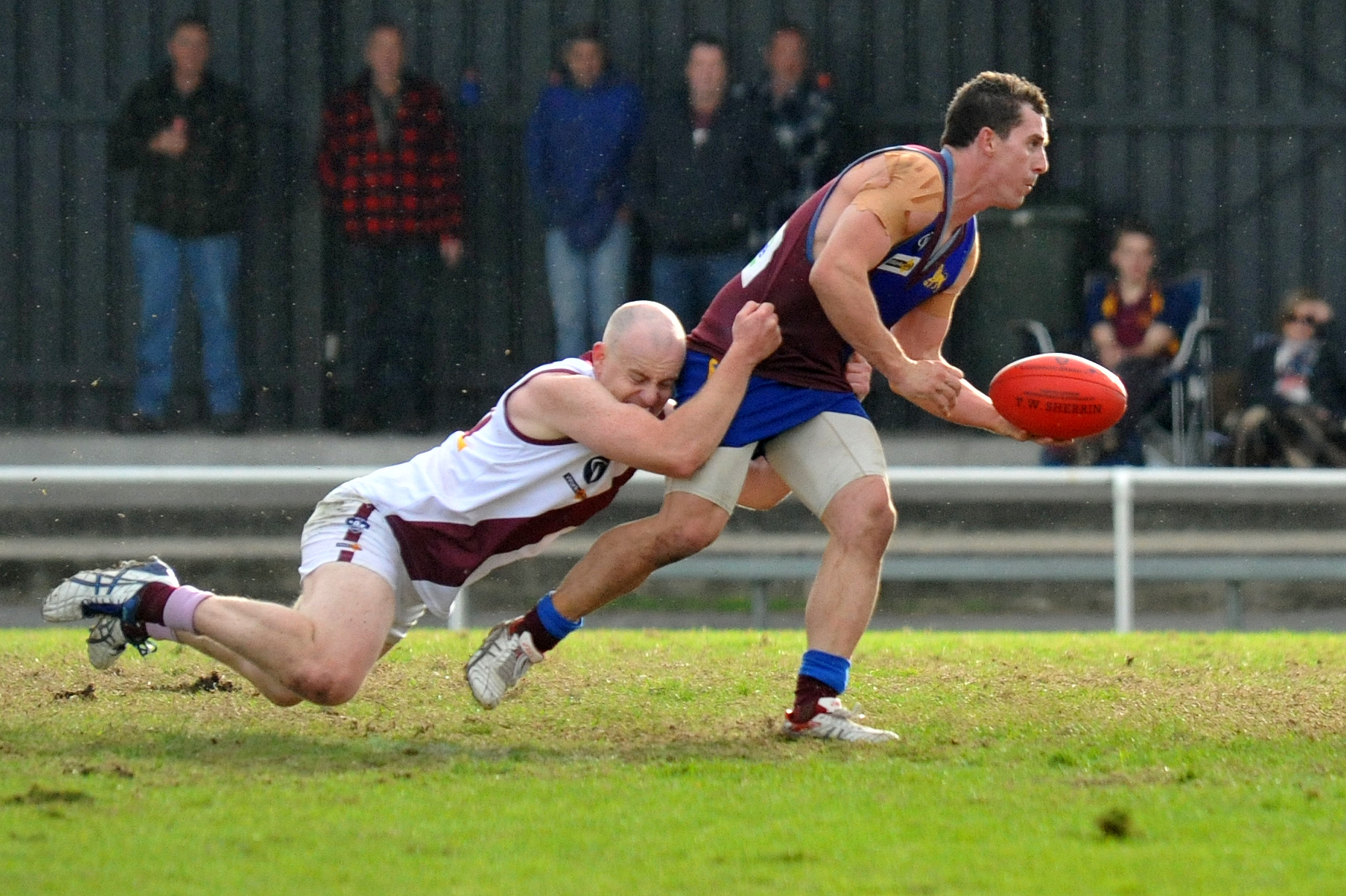 gippsland league
ROUND FOUR
Morwell defied the odds to make it four-in-a-row by defeating Bairnsdale in the clash between the Gippsland League's top two.
"We've struggled big time at Bairnsdale, so to win there and make it four-in-a-row is just fantastic," Tigers coach Harmit Singh said, whose side has begun in a similar fashion to last year.
"It's always nice to get a few wins early to try to build some momentum."
The Tigers burst out of the blocks early with eight goals in the first quarter.
However, they were run down by the in form Bairnsdale at one stage, which stole the lead.
"They're a good side and they were just able to get a bit of a run on and we just failed in trying to slow them down… we were lucky in the third and I think we went from four points down to three goals up," Singh said.
Helped along by five goals from Tarkyn Lockyer, Morwell went on to win the clash by 20-points.
"He hit the scoreboard, but he was dangerous in the forward half of the ground and pretty good in the midfield as well," Singh said.
"He's a very smart player and makes good decisions."
Moe v Traralgon
Traralgon made it two consecutive victories when it travelled to Moe to take on the Lions.
The match lived up to all expectations in the first quarter, with both sides kicking four each to make it a three-point ball game at the first change.
It was a different story for a goalless Moe in the second.
The undisciplined Lions gave away four 50-metre penalties as the Maroons stormed to a 48-point lead at half-time.
Lions coach Adrian Burgiel used the break to address his side behind closed doors.
Next door Traralgon coach Paul McCulloch had a clear message for his group.
"We stick to the simple things and we do well. We are disciplined, we are hard at and first to the footy and that's how we win the game, that's how we play our footy," McCulloch said.
The Maroons picked up where they left off in the third kicking eight goals to Moe's one to take an 89-point lead into the final change.
Burgiel pleaded with his side to lift.
"Let's win this last quarter. Let's finish off. Let's get something out of this game," Burgiel said.
"Second and third quarter have been absolutely dismal. Let's finish off with some run, let's play how we want to play. Structure up, man on man and let's have a crack."
With five goals to Traralgon's four, the Lions did just that.
However, the Maroons had more scoring opportunities than its opponent, and the margin remained 89-points.
"It's always good to be beat Moe over here and after their first quarter, to flick a switch and build that intensity in the second, really showed a bit of character from the boys," Traralgon captain Michael Geary said.
"We are very happy. We really felt this was a massive danger game for us.
"We knew Moe would come out pretty hard, which they did and we weren't travelling that well in the first quarter so it was a credit to the players, they went back to the process and it worked.
"I feel we have got a pretty mature group.
"We have got some good experience in all corners of the ground and I think we definitely used that at stages today.
"They tried a few numbers back and we probably panicked a bit going forward, but we addressed that at half-time and showed a bit of composure down forward."
It was different story in the Moe rooms, where a disappointed Burgiel addressed his group.
"It was a pretty poor performance. The first quarter was really good. We only came in three points down at quarter-time," he said.
"The boys worked really hard around the ball and our clearance rate was quite good, but our second and third quarters let us down.
"We have just got to get better as a team, as a club. Our skills were poor again and to get beaten in two quarters by 89-points is just not good enough.
"We have just got to get back to training and work really hard. We are not far away. Our first quarter was really good and I'm just not sure why we are not doing that for four quarters."
Drouin v Sale
Sale moved into second on the ladder with a huge 127-point win over Drouin.
Coach Matt Ferguson booted seven for the Magpies and John Gooch five.
Maffra v Warragul
Maffra slammed on 20 goals in its 114-point win over Warragul.
The Gulls were competitive in the first with just 12 points separating the teams at quarter-time. However, the Eagles kicked away to a six-goal lead in the second, before finishing Warragul off with a 13-goal second half.
Wonthaggi v Leongatha
In yesterday's South Gippsland derby Wonthaggi got the jump on Leongatha early.
The Power led the visiting Parrots by 11-points at the first change and by half-time the margin was out to 35.
To Leongatha's credit, the visitor matched it with its opponent on the scoreboard in the second half. Both sides booted two goals in each of the third and fourth terms, however, in the latter Wonthaggi converted just two of its seven opportunities.
It mattered little as the Power ran out 41-point winners.