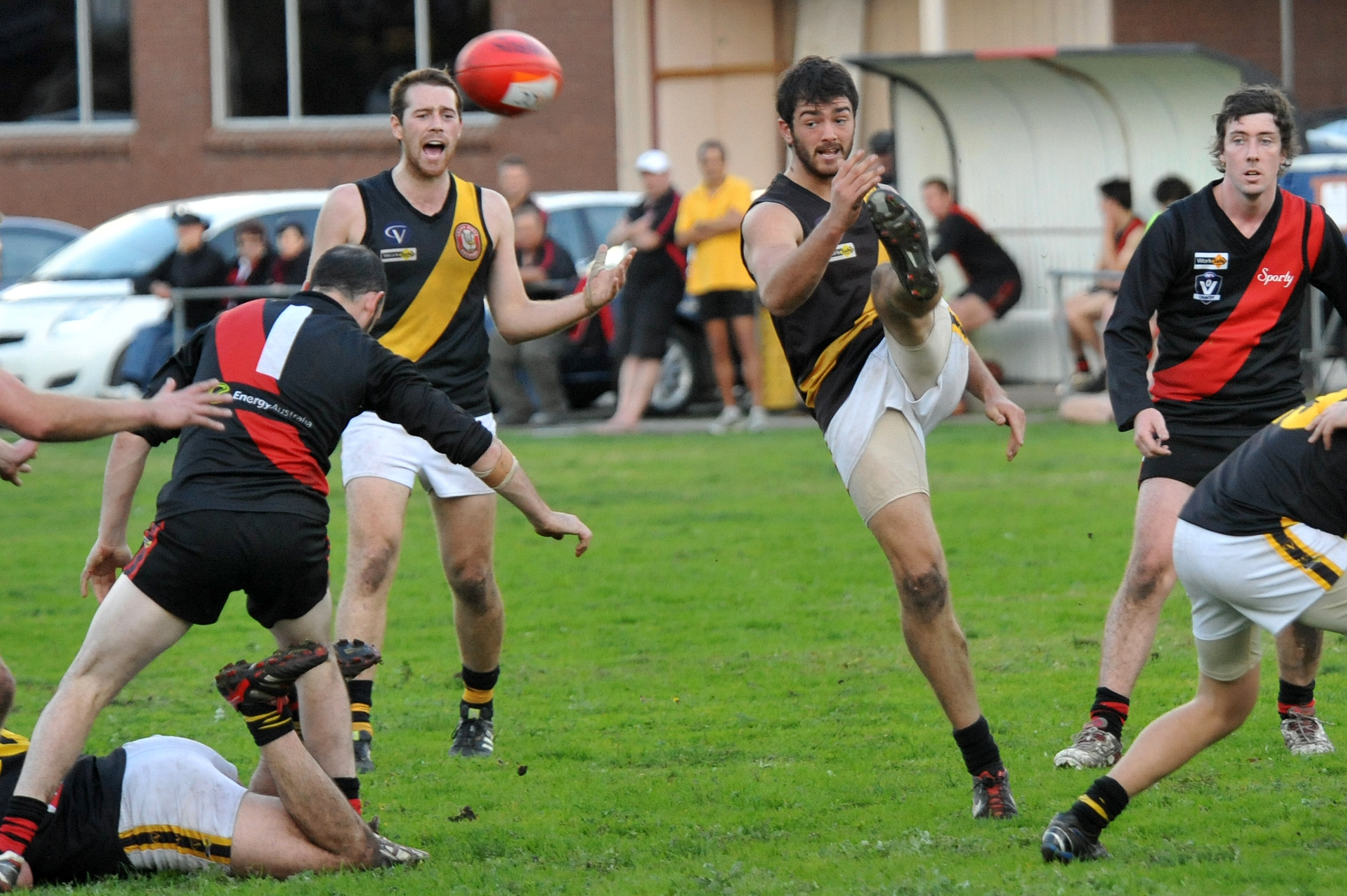 FOOTBALL
MID GIPPSLAND FL
YINNAR staked its claim for best Mid Gippsland team by accounting for Newborough in a match between two previously unbeaten sides.
A huge crowd enjoyed the tussle as both went into the game hard, but in the end Yinnar mounted a stellar comeback to win by three points.
The Magpies were first and last to score goals in a tight game and from Cam Harwood's opening goal to Liam Visser's closer, the game was intense.
Newborough shot away to an early break of 18 points, thanks mainly to coach Glenn Michie who bagged all four of the Dogs' first quarter goals.
The Bulldogs were running hard and did not allow Yinnar to get into the game.
Andrew Philip was playing good football in defence for Newborough, keeping the usual forward fiends starved of kicks.
Yinnar started well in the second term with Tim Aitken scoring the first of his three, but then three quick goals by Newborough, including Michie's fifth, blew the margin out to 25-points.
A James Dowling goal just before half-time brought the deficit back to 19.
Aitken became the first multiple Yinnar scorer when he slotted through on a difficult angle at the start of the third.
Yinnar was fighting back with Jesse Bowe taking over in the ruck and James Dowling clever around the packs.
When Justin Embrey and Aitken scored, the margin closed down to two points.
Yinnar coach Sam McCulloch started to show his influence as his side clawed its way back into the contest.
Yinnar had held Michie, the first quarter destroyer, to only a few kicks in the term.
The final quarter was a real arm wrestle.
With scores at a minimum, Newborough was kept to two behinds while Yinnar went one better with a solitary goal by Visser which proved the winner.
Yinnar ultimately pipped Newborough by three points 9.13 (67) to 9.10 (64) to remain the only undefeated team.
For the winners Sam McCulloch, Tyler Hillier, Billy Davey and Dowling were given the votes and for Newborough Brennan Mills, Michie, Tom Wilson and Philip. In the reserves Newborough proved the best team with a one point win over Yinnar to remain undefeated.
Mirboo North v YYN
Mirboo North jumped Yallourn Yallourn North from the first bounce and never looked back.
The accurate Tigers scored six straight and by half-time had 11.2 (68) on the board.
YYN could not breach Mirboo North's solid defence and scored a paltry 1.3 (9) by the first break, and an indifferent second term saw them scrape in three behinds. Mirboo North rammed the nails in with a 9.2 (56) third term and YYN had no answer up forward.
Tim Traill finished with six goals for the Tigers, but he gave as many away.
YYN made a go of it in the last term, matching Mirboo North goal for goal as both finished with four apiece.
Overall Mirboo North, last year's premiers, is now a serious contender to go back-to-back.
Riley Bryne kicked three of YYN's seven goals with their best being Tyler Brown, Denis Heily, Owen Budge and ruckman Derek Pol.
For the winners, Josh Taylor, the Nash boys and Shane Peters stood out in a great team effort as Mirboo North ran out 24.7 (151) to 7.6 (48).
Morwell East v Hill End
Morwell East came back to form with a convincing 55-point win over Hill End.
From the first quarter the East showed they meant business when they rattled on 6.7 (43) to 3.2 (20).
Both teams made early mistakes as the game turned into a scramble; perfect weather should have seen players hold their marks and pass accurately, but with pressure from both camps there was not much pretty football.
Leading by 21 points at the long break the East got away early in the third and stayed ahead, limiting Hill End which suffered badly in front to score 2.8 (20) in the last half, including six successive behinds.
Morwell East went on a spree adding 8.6 (54) to run out winners 18.13 (121) to 9.12 (66).
The wiry Shaun Barnes scored a further five to go to fourth on the goal kicking leaderboard and Matt Brown scored three.
Morwell East's best were Ryan Delaney, Brown, Jay Landsdown and Barnes.
For Hill end, Simon Fidelaars, Adrian Law, and Callum Robertson were voted as best.
Boolarra v Yarragon
Jesse Giardina and Sam Mazou had a field day for Boolarra when they each scored seven goals in Boolarra's big win over Yarragon. The pair was unbeatable in Boolarra's 51 point win. Yarragon jumped out of the blocks early and established a seven point lead but by half time was a spent force as Boolarra to added 6.3 (39) to 3.2 (20) to turn around to a 12 point lead.
Any chance Yarragon had was slowly erased by Boolarra, which moveed into top gear by the final term to add 7.4 (46).
Yarragon, not to be outdone, contributed its best quarter with four goals but the damage had been done. Dylan Blythe was their best scorer with three. For Boolarra the two goalkickers scored the honours with Andrew Thorpe and Jack Battersby chipping in.
For the Panthers James Harvey, David Bates, Andrew Hewson and Jake Cropley were best
Trafalgar v Thorpdale
In the closest game of the round Trafalgar edged out Thorpdale by 13 points.
There was never more than the winning margin between the two all day in a tight encounter.
Trafalgar led from the start and just kept ahead, with Thorpdale ever present and persistent.
The Bloods led at the first by 10 points, increased it to 16 by halfway, were pushed back to 11 by three-quarter-time and finally won by 13 points, 10.14 (74) to 9.7 (61).
Thorpdale had chances but Trafalgar was a bit steadier under pressure.
Trafalgar's forward line did not function as expected; it shared scoring around with four players kicking a brace.
For Thorpdale, coach Nathan Scurrah got four.
Jack Holdsworth, Darcy Long, Dean Gray and Joel Bragagnolo were best for the victors while the Blues were best served by Daniel Martin, Aaron Lancaster, Shane Zahra and Deen Allen.