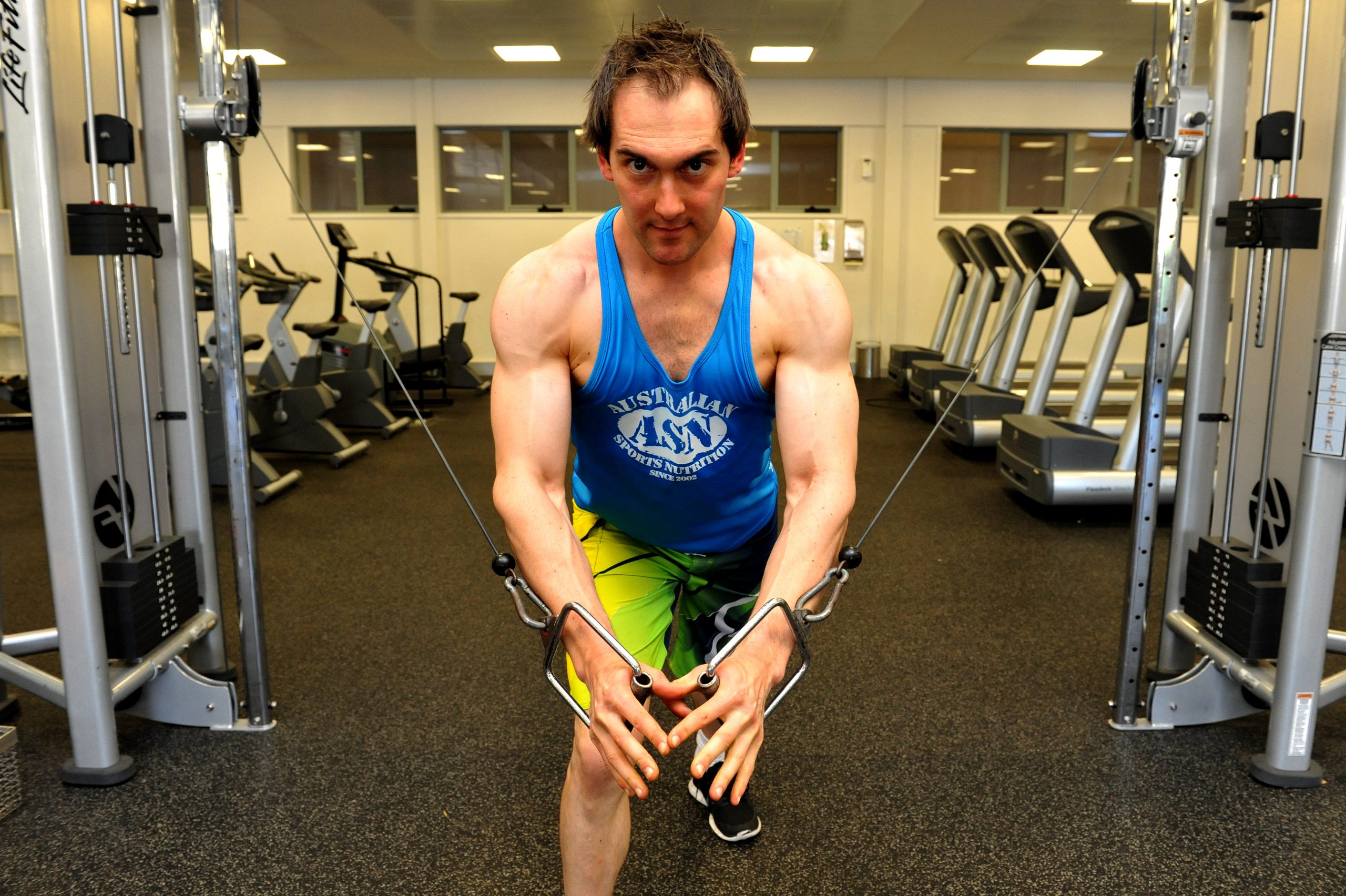 BODYBUILDING
By SAMUEL DARROCH
SELF-proclaimed 'shy guy' Adam Rogers has discovered another side of himself through bodybuilding.
From a timid child and "mummy's boy", to a man who only reluctantly meets the eye of serving staff at restaurants, the 27 year-old has transformed into an exhibitionist on stage.
Three competitive bodybuilding outings have netted a pair of third placings for the musclebound Churchill resident, most recently on Australia's biggest stage at Melbourne's FitX 2014.
"It's a bit of a rush when you get on stage. Between each competition you can see what you've worked on and what you've gained, improvements to yourself," Rogers said.
"You don't really compete against the other competitors on stage you're pretty much competing against yourself and your previous condition.
"It's almost like an addiction, you just want to get on stage and show everyone your hard work."
The result followed a third place finish on debut at the Victorian Championships in the men's physique class, a discipline for natural tapered V bodies with broad shoulders and cut abdominals.
While Rogers admitted there were some intitial nerves and teething issues, such as coming up a few coats shy of a competition standard tan, he was rapt with the final outcome.
"I was over the moon, first comp a lot of people just go in for the experience and I was able to come out with third, and I got a lot of recognition from that," he said.
From there he contested the National IFBB titles in Sydney, his second event in the space of a week, and while he failed to place, gained valuable experience.
"It's taught me to learn from my failures… to learn from not winning," Rogers said.
"It (bodybuilding) has pretty much given me a better outlook on life; the dedication I've applied to my work and career… I've dedicated myself a bit more to everyday life.
"Never see a failure as a failure, there's always a positive to come out of it."
Rogers' journey into bodybuilding began last July with the Max's Muscle Up 12 week challenge, originally a personal frontier rather than a gateway to competition.
"I'd sort of plateaued, I wasn't really getting anywhere. I'd put on some size but I'd never really thought about competing, I just wanted a challenge and something to work towards," Rogers said.
Following a strict diet prescribed by IFBB Pro, Luke Schembri, Rogers set about elevating his already honed physique to another level throughout the challenge.
Much to the frustration of his peers, Rogers had little difficulty giving up sweets, cakes and fats, fostering a new outlook on food.
"I can eat what I want… but I look at food now like it's just fuel, my body doesn't crave sweets anymore," Rogers said.
"I really think food is fuel… you've got to think what would you rather a bit of cake or the results you'll gain or lose from eating it?"
His dedication and results caught the eye of many, including fitness industry giants Fred Libratore and Janet Kan who encouraged Rogers to take to the competitive arena.
"I pretty much got the body that I needed to compete; I wasn't going to compete but throughout the challenge I fell in love with the dedication and it takes a lot of discipline, it turned out to be more of a lifestyle than a hobby," he said.
The fitness fanatic, who grew up playing cricket, footy and tennis, plus volleyball to a national level, has always had an interest in keeping healthy.
Rogers went to GippsTAFE to earn a diploma in fitness, and gained his first job in the industry as an outdoor lifeguard.
He now manages the gym at Latrobe Leisure Churchill while continuing to act as a PT, and has been recruited as an ambassador by nutrition companies since taking to the stage.
His training regime remains a steady five to six resistance sessions a week, measured with up to four cardio workouts – a dedicated system befitting a dedicated athlete.
"Consistency is key, just stick to it. Gaining results comes slow but consistency is the way to get them; stick to your guns, tough it out and push and you'll get there," Rogers said.
With the Vic Championships and Arnold Classic on the horizon, Rogers plans to continue competing, chasing the top of the podium with both guns blazing.