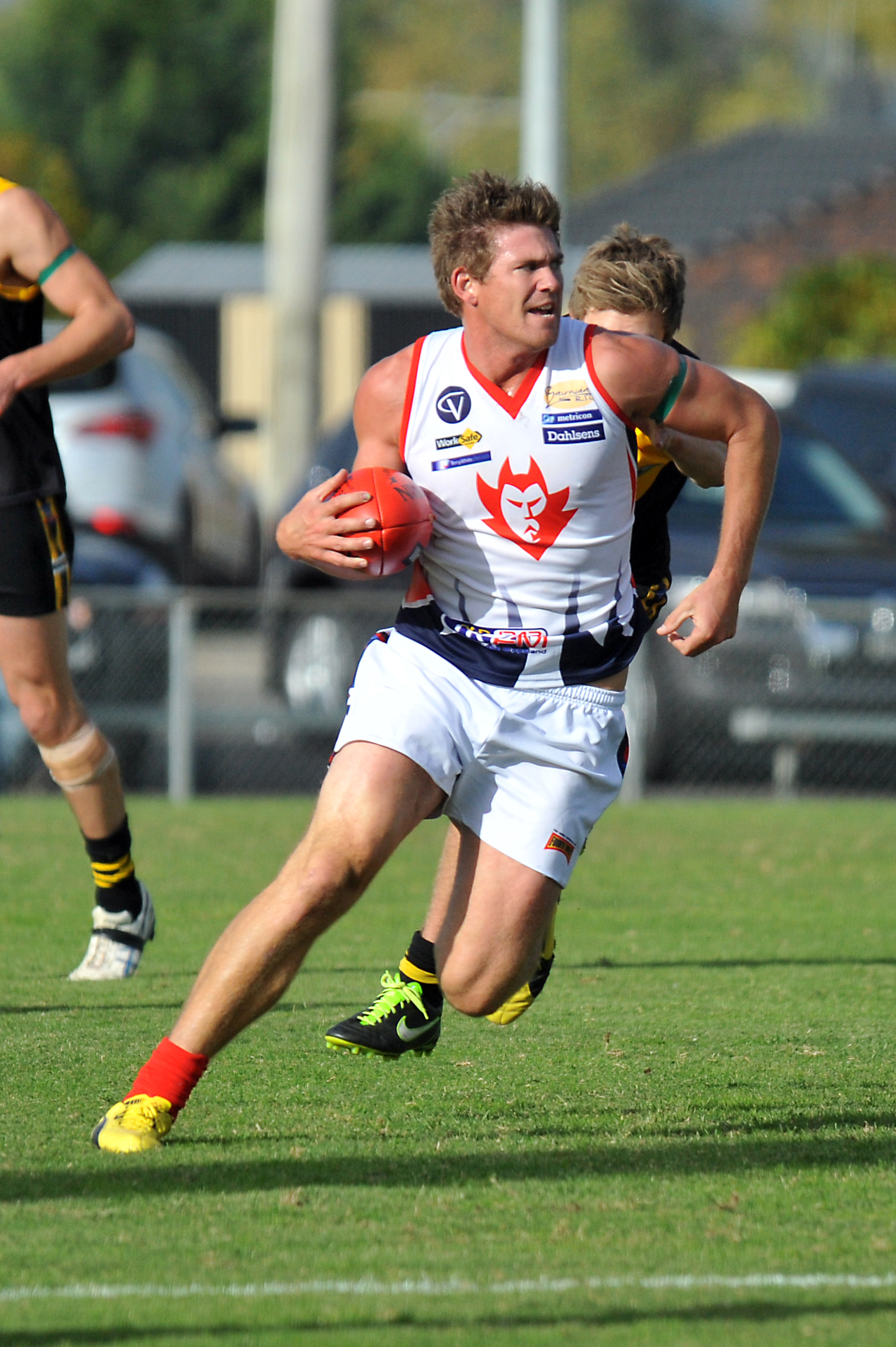 FOOTBALL
GIPPSLAND LEAGUE
THE Gippsland League failed in its attempt to secure seventh place on the Worksafe Country Championship ladder, going down to the Bendigo League by 34-points on Saturday.
Gippsland's all-star outfit put up a mighty fight before lowering its colours 19.14 (128) to 13.16 (94) in front of a big crowd at Bendigo's Queen Elizabeth Oval.
Gippsland never hit the lead at any stage but was always in touch, and several times during the second and third quarters cut the margin to under a goal.
"We probably played 24-25 minutes of each quarter. We had five minute lapses in concentration that cost us the match; we were beaten by a better side. They were better for longer," coach Harmit Singh said.
"We had some chances but we just lacked some composure at times and they'd go down and kick three goals. That became a trend for the afternoon."
It was former St Kilda sharp shooter Stephen Milne that proved the difference with a match-winning nine goals.
Another recently retired AFL player Corey Jones (ex-North Melbourne), marked by late inclusion Shaun Mooney of Bairnsdale, was also influential for Bendigo, but Milne was the star of the show and clearly best on ground.
The Gippsland selectors had a tough time with a number of the original squad unavailable through injury and had to make another two changes to the team named midweek with Singh and Morwell teammate Michael Duncan also unable to shake off injuries.
Bairnsdale's Andrew Nelson and Mooney were the replacements drafted.
"We had seven or eight players who were injured or unavailable, but the most pleasing thing is that we had five or six 18, 19 or 20 year-olds play in our side," Singh said.
"They are going to be around for a while and it's a great opportunity for them to play and be exposed to a higher level of footy which could open up even more opportunities as a VFL or AFL level."
Bendigo led 3.6 (24) to 2.4 (16) at quarter-time and 10.7 (67) to 7.8 (50) at half-time after two goals in the final 90 seconds of the second quarter.
Two early third term goals to Gippsland's one major stretched the margin to 23-points before a terrific fightback saw Gippsland draw within three points.
A couple of missed shots on goal denied the visitor the lead.
Again it was Milne who bobbed up to restore order for Bendigo and establish a 15.10 (100) to 12.11 (83) lead at the final change.
The Gippslanders threw everything at Bendigo early in the final term, however three successive behinds to start the quarter did not help the cause.
The home team steadied and gradually pushed the gap wider.
It was a brave performance by Gippsland, which has now again dropped to ninth place on the ladder of 40 country leagues and will face Yarra Valley-Mountain District in next year's championship round.
The quirk of the draw saw Gippsland travel to Bendigo for the third time in five years, each time losing after hard-fought matches away from home.
Wonthaggi's Aaron Ware was awarded the Vic Country medal as Gippsland's best player.
The on-baller was in the thick of the action from start to finish.
His on-ball team mates James Blaser, Luke Collins, Jack Blair, Aiden Lindsay, Michael Geary and Brad Scalzo also were sound contributors, as was Ben Kearns on the wing.
Ruckman Jack Lipman and back-up Wes Russell won most of the hit-outs.
Key forwards Darren Sheen and captain James Gibbs at times looked as if they might take charge of the game, but overall Gippsland's delivery into attack was down on the standard that Bendigo provided Milne in particular.
Sheen finished with four goals, one in each quarter, while Gibbs booted three – a couple inspirational from beyond 50 metres – and was the key play maker in a couple of others.
Tom Hutton had first crack at Milne with Andrew Quirk getting the tough job for the final three quarters, but Bendigo's ability to leave Milne one out and with plenty of space made their task unenviable.
Ryan Pendlebury and centre-half back Chris Verboon were disciplined and prominent for four quarters, both winning their positions on the day.
Verboon won the team trainers' trophy, awarded in memory of long-serving Morwell and inter-league trainer Keith Bailey who died four years ago.
Coach Singh was high in his praise of his team's performance in a strong, physical clash and there was a hardy resolve in the dressing rooms after the match to atone next year and push up the championship ladder.
"All 23 had a crack, we just fell short unfortunately. I thought Aaron Ware (Wonthaggi) was really good in middle as was Luke Collins (Sale) and Brad Scalzo (Warragul)," Singh said.
"Ryan Pendlebury was our stand out in terms of his efforts down back, while Darren Sheen and James Gibbs kicked four and three respectively."
The side trained together at Singh's other club, Collingwood, en route to Bendigo.
NETBALL
GIPPSLAND LEAGUE
The Gippsland League's interleague netball team pulled off a stunning extra-time win against Bendigo.
It was a victory against the odds.
Gippsland had the bare seven players – no interchange – whereas Bendigo had four extra players to swing into the game.
The visitor came from five goals down with five minutes of normal time remaining to level the scores 42-all at full time.
They had already played 60 hectic minutes before the 14 minutes of extra-time, but dominated the added period putting through 13 goals to eight for a 55-50 win.
Goalers Courtney Blair, named best on court, and coach Stacie Proctor hardly missed a shot and the defence got well on top.
After scores were level at quarter-time, Bendigo held a slight edge throughout until Gippsland's brilliant last few minutes of the final quarter and the extra time period.
Gippsland's team was Stacie Proctor, coach, Taylah Bott and Breeanna Robinson, all of Drouin; Courtney Blair (Wonthaggi), and Ally Petrou, Stacey O'Brien and Kate French from Traralgon.