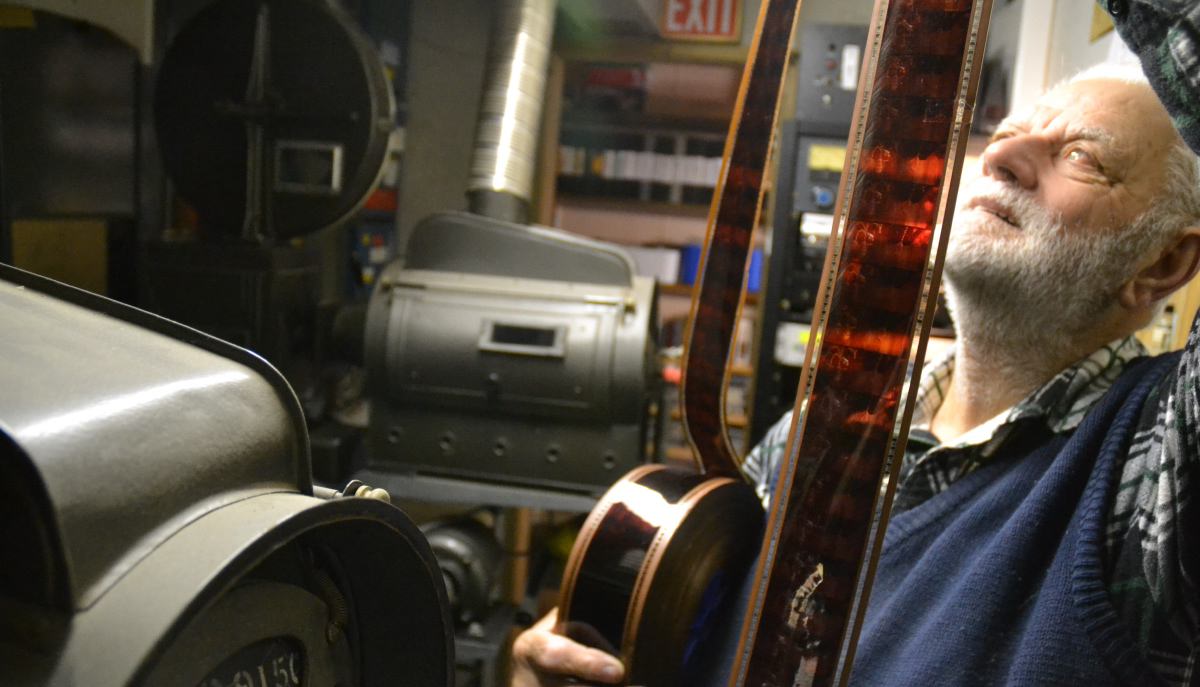 Nostalgic memories of the silver screen are enjoyed by many a cinema-goer, however few out-do those of Moe's own projectionist extraordinaire, Peter Ricketts.

Born into the Fairfield Theatre, where his grandfather was caretaker and usher, Peter enjoyed some unique experiences not afforded to the average cinema buff.
"When I was a baby I was pretty much allowed to crawl around the cinema and eat any lollies that weren't stuck to the floor," Peter said.
At the age of 71, after a lifelong career as a cinema projectionist, Peter is arguably one of Gippsland's foremost cinema aficionados.
"He was a film nut back when I started going with him when I was 17, but he wasn't quite as bad then – he's gotten worse since we've been married," Peter's partner of 51 years, Judy, said.
From outside their Moe home, the Ricketts household blends in with the rest of the commission-built streetscape.
However, if you are lucky enough to be invited inside, you soon realise this is no normal home.
The hallway features floor-to-ceiling DVD shelves, while his office resembles a professional video editing suite.
"You haven't seen anything yet," Peter said as The Express toured the house.
Outside, three separate sheds are packed to the hilt with enough equipment to fill a cinema museum twice.
"People ask me 'what are you going to do with all this stuff when you die?'. The answer is, 'I don't know' – all I know is these are my babies, I've always wanted this stuff," he said.
From film projectors and spare parts, to film archives and movie paraphernalia, it's clear Peter has more than a passion for cinema; it's an obsession.
"I know exactly what I've got in here – I just can't find anything, which is the problem.
"I'm seriously running out of space though. I think I need another shed."
The tour takes a further step down the movie magic rabbit-hole when Peter pulls back a red curtain to reveal a fully furbished home cinema.
Modelled on classic movie houses of the 1940s and 50s, the 'Moe Majestic' is the crown achievement in Peter's movie shrine.
"Most people who build a home cinema, their first choice is 'where do I put the bar', this was about recreating the real thing," Peter said.
Using rows of seats scavenged from Moe's Civic Theatre and Yallourn North Town Hall, and a row of passenger seats from the classic Hawker de Havilland airplane, the 'Majestic' seats 39 – just enough to host his occasional neighbourhood movie nights.
Fully air-conditioned and heated, and complete with emergency lighting, a Wurlitzer organ sits at stage right, ready to provide a live soundtrack to any silent movies on the bill.
"Everyone has memories of the Saturday matinees, dressed up so plush to go out to the theatre – where you see a newsreel, a cartoon and a movie," he said.
"It's a place where people could forget the hardships of the world, and as a projectionist, the reward is massive when you hear the amount of laughter coming through the portholes.
"So much goes into the making of a movie – the director, actors, the whole production team who put the whole thing together – but the projectionist is really just as important, because you are the last link in the chain and you either make the film or you bugger it."
When asked of his favourite movie, the self-confessed 'Laurel and Hardie' freak is torn.
His guilty pleasure remains 'Smallest Show on Earth' with actor Peter Sellers playing a projectionist in a run-down theatre where everything that can go wrong, does.
But in extravaganza stakes, Peter can't go past 'The Great Race' in 70 millimetre print.
"That film is incredible in 70mm," he said.
Having worked as projectionist at numerous cinemas, and a stint as the general manager of the O'Halloran Theatre chain in northern Victoria, Peter's introduction to the Valley came when he was head hunted to work the projectors at Moe's Fairsky drive in.
However, with film projection making way for the rapid rise of digital cinema over the past five years, Peter's own profession will soon become a piece of movie-going nostalgia.
"I remember when they were talking about bringing digital in, I thought it would never be as good as film, but then as it started to come in, it slowly got better and better – the quality now is equal, if not superior."
With movies now stored on super-sized hard drives, cinema workers with no prior experience have replaced the majority of the highly skilled projectionists across the country.
"Digital overcomes everything – all those volatile imperfections you can get with film – but I never realised how fast it would take over," he said.
On call for technical support for the monstrous projectors at the Dandenong Lunar drive in, Peter sees himself as one of a lucky few whose skills are still in demand.
"It's a very, very sad thing; projectionists (have fallen) out of work everywhere."