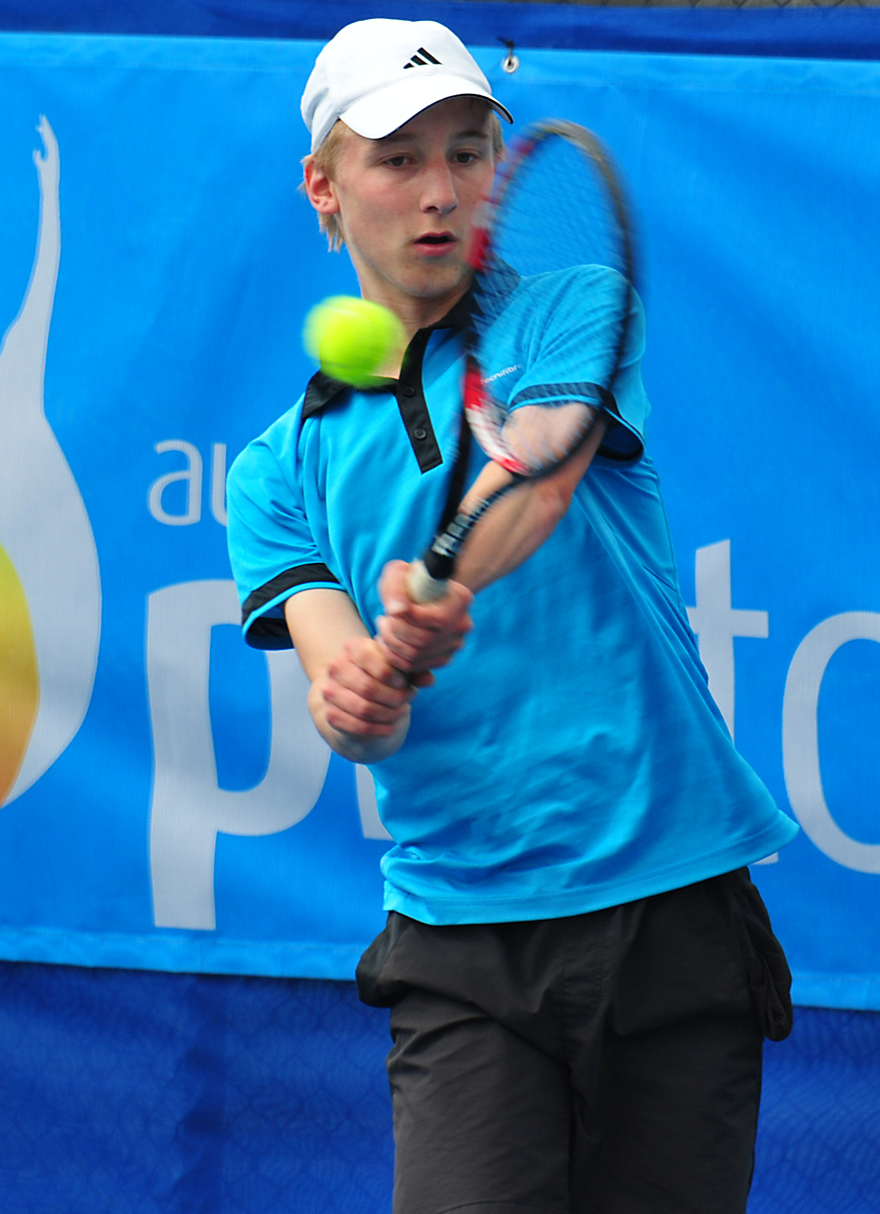 TENNIS
By samuel darroch
TRARALGON tennis hotshot David Hough conquered the wild west this month, going undefeated at the School Sport Australia Jack Pizzey Cup Championship in Perth.
Representing Victoria, the Lavalla Catholic College student entered the under 18 tournament as the youngest member of the team at 16 years of age, but was far from overawed, helping his state go unbeaten through to the final day of competition.
Victoria's final round opponent, New South Wales, was also without loss after six rounds, and the decider was as close in the washup as it looked on paper.
NSW clinched the title with a 19-17 (199-194) triumph in a nail-biting climax at the Alexander Park Tennis Club, with six of 18 rubbers reaching final set tiebreakers.
David was the only Victorian to triumph in this scenario, rallying back from a 0-6 first set loss to Kevin Shu to take the second and third 7-6, 7-6.
"It had been raining that morning so the courts were very damp and slippery being on grass, and my opponent was a very big hitter; he was just outpowering me in the first set and it just went very, very quickly," David said.
Fortunately, a rain delay allowed David to adjust his game plan and mount a spirited fightback.
"I went back out and sort of thought I'd take all the balls early, try to take a bit of time away from him and see what happens because I needed to change something and it ended up working; after two very long sets I got up," he said.
David's Goliath performance saw him named in the All-Australian side at the conclusion of the tournament, chosen based on form through the Pizzey Cup and corresponding singles tournament – the Australia Cup – alongside one other Victorian teammate.
His selection was even more remarkable given he was forced to withdraw from the singles event with injury.
"It was a fantastic way to finish the week, I wasn't really expecting it too much… I was lucky enough to have gained enough from the teams event and managed to get selected," he said.
"It was a surprise but a very good one."
The Graham Charlton-trained star played in the number three slot throughout the tournament, having impressed selectors by winning all ties in the trial process.
The Jack Pizzey Cup comprises boys, girls and mixed singles and doubles ties, contested by teams of eight boys and eight girls from each state and the Australian Capital Territory.
David said the team format was a welcome change from the grind of singles.
"The whole trip was a great experience; we don't get to play as a team too often at this level of tennis, but to be out there playing a match with the rest of the team… cheering for every point is a great feeling," he said.
The tournament has run since 1963.