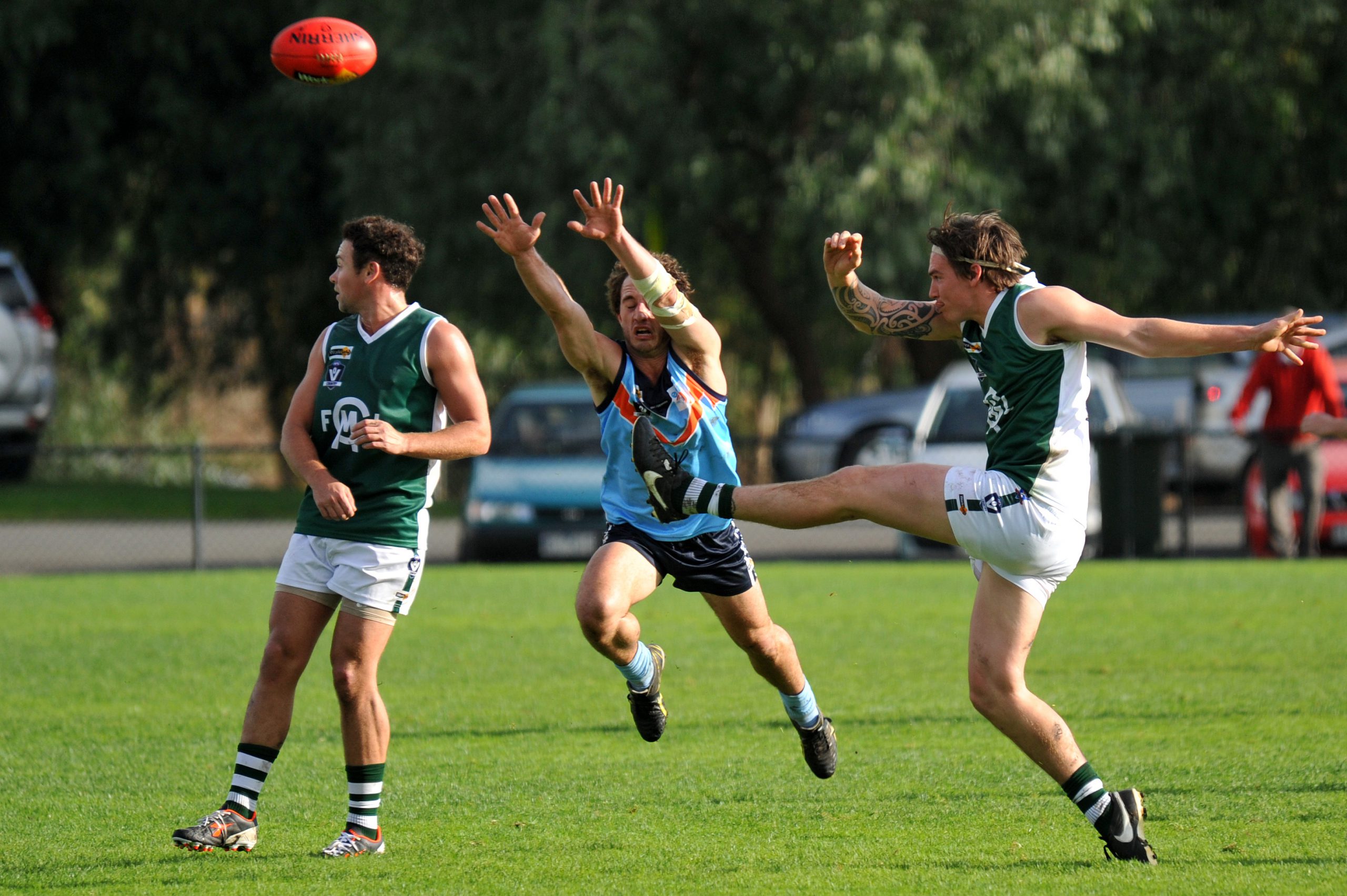 FOOTBALL
MID GIPPSLAND FL
AFTER demolishing Alberton in 2013, the Ellinbank Football League continued in that vein by blowing Mid Gippsland out of the water in a clinical display of fast paced interleague football at the weekend.
Pride was on the line when Mid Gippsland played Ellinbank at Warragul on Saturday with previous results roughly even.
In their first match since 2004 the two teams were geared up for a good battle, but Mip Gippy found the opposition far too good on the day.
Mid Gippsland added Kane Grinstead-Jones and Shane Peters to the squad ahead of the match, in a side led by Brendan Chapman.
Three goals in the first seven minutes opened up the game for Ellinbank; one a snap by Dylan Collis and two by burly forward Owen Fitzpatrick set the early pattern. The MG defence was under pressure with the ball continually in the Ellinbank forward zone.
Mid Gippy struggled across their half-forward line as Ellinbank relentlessly pushed them away.
Chapman was prominent early for MG, but the local boys had trouble bending the Ellinbank defence.
It took 17 minutes before MG could get a score – a behind.
Ellinbank had the runners and was getting forward more quickly than MG.
A 50 metre penalty against MG allowed Ellinbank captain Shane Brewster to score Ellinbank's fourth just on siren time.
Mid Gippy's woes continued as Ellinbank goaled early in the second term through Brewster as Ellinbank continued to dominate.
MG had trouble getting past the centre as Ellinbank crowded the park, and was playing loose which allowed the Blues to run riot at times.
Tyson Bale scored the easiest of goals for Ellinbank as the game got further away from the MGFL.
By the 13th minute mark it was embarrassment for MG as Ellinbank posted another major to go to a seven goal lead.
Shaun Barnes relieved the situation with a timely goal and then Tyler Brown chipped in with another within the space of two minutes.
Collis, playing in a star role, collected his second goal for the Blues.
Chapman brought life into the match just before half-time with a goal for MG but, not to be outdone, EFL replied through Semir Zijiai as the half-time siren rang with Ellinbank in command 9.2 (56) to MGFL 3.4 (22).
With a big deficit it was going to be difficult for MG to come back, and they did not help themselves by continually finding opposition players with their kicks.
Ryan Gillis posted his second for the Blues and then Ellinbank scored another from a goal square scramble, as too many loose Ellinbank players created better opportunities with another goal to the Bankers.
It was a dominant quarter by Ellinbank and MG had no answer to their running style of play.
Andrew Thorpe scored MG's fourth goal after a short pass from Kane Grinstead-Jones, but opportunities were few and far between for Mid Gippsland as Ellinbank skipped out to a 64-point lead by three-quarter-time.
Ellinbank continued the carnage in the last term when Gillis booted two more to add to his previous three, and when Johnson added a further goal Ellinbank was already celebrating.
A consolation goal by MG's best and youngest player Tyler Hillier brought a small cheer for the MG camp, but overall they were beaten comprehensively by a faster and fitter Ellinbank team.
Collis finished with five for Ellinbank to be their best, with good assists from Luke Walker, the Brewster boys and Nathan Lieshout in defence.
For MG it was difficult to pinpoint the best players.
The rotation system put players on and off, but Hillier received the Worksafe Medal for best player.
The final scoreline favoured Ellinbank 20.12 (132) to 6.7 (43).
In the under 18 game, Ellinbank was far too strong for Mid Gippsland, winning by 66-points, 15.10 (100) to 4.10 (34).