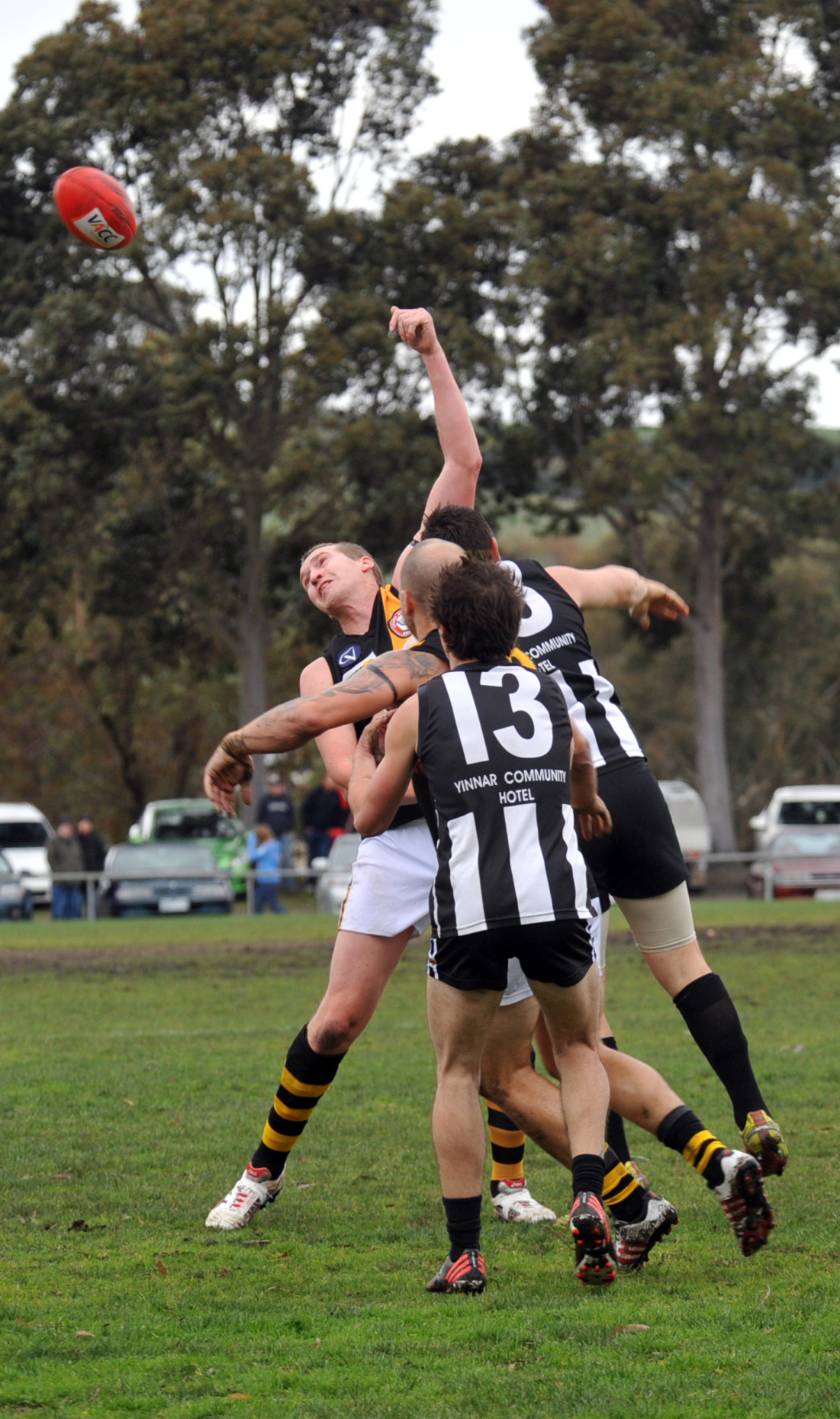 FOOTBALL
MID GIPPSLAND FL
YINNAR'S undefeated run of seven wins came to an end on Saturday when last year's premier Mirboo North claimed the spoils by five points in a thrilling match, which was a showpiece for local football.
Although beaten, Yinnar still retains top position on percentage from Newborough and Mirboo North.
The two teams were locked in a fierce battle all day with a total of 31 goals kicked; both had 21 scoring shots but Mirboo North was just the more direct with 16.5 (101) to Yinnar's 15.6 (96).
It was anyone's game and the result was in doubt up to the final siren; Yinnar led with four minutes to go but half-forward Brett Palmer stole the show with a last ditch goal that swung the game back in Mirboo North's favour and, hanging on for dear life, the Tigers managed to hold out for a win.
At either end the top forwards were busy with the two Tims, Traill and Aitken, trading goal for goal with five apiece in stellar performances.
By the scoreboard Mirboo North led at each quarter, the first by six points, at half-time by five points, three-quarter-time by five points and finally took out the match by five.
Yinnar's Jesse Bowe and Jamie Winters won the big taps but it was Mirboo North newcomer, Sudanese Issac Abas, in his first senior game impressing with his ability to jump and run.
Abas has been playing thirds and coach Troy Hamilton was thrilled with his performance.
"We thought he would do okay, but he surprised us with his skills," he said.
"He was a real bonus and many were very impressed with the youngster."
Mirboo North's Josh Taylor and Jacob Nash were also good around the ground.
The Tigers gained the upper hand in the first, 4.1 (25) to 3.1 (19) while the other three were essentially even.
Taylor, with his four goals, was voted as best for the Tigers, while Nash, Traill and Damien Turner played a big part in the win.
For Yinnar best were Bowe, Winters, James Dowling and Leigh Cummins.
Newborough v Trafalgar
Another important match between Newborough and Trafalgar saw the Dogs winning by eight points, but they had to pull themselves out of the rough with a dogged last quarter.
They trailled the Bloods at each change but inaccuracy could have been their downfall.

At half-time their 1.7 (13) was poor return for their efforts and their third term of 3.7 (25) brought them within eight points of Trafalgar at three-quarter time.

Trafalgar was looking at an upset win but the Bulldogs would not lie down and gradually took over the game, holding down Trafalgar to three behinds in the last quarter while adding a match winning 3.1 (19) to finish with 7.17 (59) to Trafalgar's 7.9 (51).

Newborough's Adam Kennedy and Stuart Robertson were the top goal scorers with two each, while its best were defender Andrew Philip, Robertson, Jarrod Bennetts and Josh Whittaker.

For the Bloods they fought it out but Newborough was too strong at the finish, shutting down the midfield.

For the Bloods, Jack Holdsworth scored three and Tyson Leys two while the best were selected as Leigh Stevens, Jamie Hines, Klay Butler and Dean Gray.
Boolarra v Morwell East
BOOLARRA came knocking on the door of the four with a huge win over Morwell East.
The Dees are equal with fourth placed Trafalgar but percentage leaves them in fifth.
Aided by the big scoring Jesse Giardina, who bagged a personal best at Boolarra as the first of the season to bag 10, and is now only two behind Mirboo North's Tim Traill (33), Boolarra hammered the Hawks across the park.
Morwell East had no answer and as the match went on it only got harder.
Daniel Wilson was a driving force for Boolarra and his five goals were a bonus; Morwell East found it hard to stop him and Giardina around the goal mouth.
A 6.3 (39) to 3.1 (19) first term set up the Boolarra win and by half-time Morwell East was staring down the barrel.
After the break Morwell East forgot to show up and Boolarra took control, adding a further 15.11 (101) to 1.0 (6) and ran out winners 24.17 (161) to 6.4 (40).
Thorpdale v Yarragon
THORPDALE coach Nathan Scurrah was a relieved man after Saturday's match against Yarragon.
It has been a difficult task to get his team to blend together with work and injuries playing havoc at the Blues, but his team plan started to show results in a 16.19 (115) to 7.5 (47) win over Yarragon.
It was Thorpdale's biggest total for the year.
Yarragon jumped out of the blocks and led at the first break, but Thorpdale recovered to break the shackles and take over.
Kris Bedford was good around the forward line and his four goals was the lead with 11 players sharing the majors.
Thorpdale went into the final term in a comfortable position but poured the goals on to consolidate a second win of the season, adding 6.7 (43) to 1.1 (7) to win by 68 points.
Kris Bedford continues to pile on votes and at the halfway mark looks set to take home a major trophy at Thorpdale.
Hill End v YYN
IN a game that could have gone either way Hill End claimed the prize with a 23 point win over Yallourn Yallourn North.
Even a hypnotist would not have helped the Bombers against Hill End, which ran out winners 14.16 (100) to 12.5 (77).
The Bombers took the lead at the first break but lost it quickly enough in the second as Hill End took over.
The Hillmen had Matt Moseley to look for up forward and he did his job with a five goal haul.
The Bombers scratched around, kicking goals now and then, but did not make any impact as Hill End progressively topped YYN's efforts by two goals to one.
Jared Martin, Callum Robertson, Ben Rotheram (three goals) and Jack Duncan were voted as best.
For the Bombers it has already been a long season and they continue to battle it out without due success.
They had four players with two each while Dylan Bath, Barrie Burnett, Dale Murphy and Darcy Shellcott were their best.