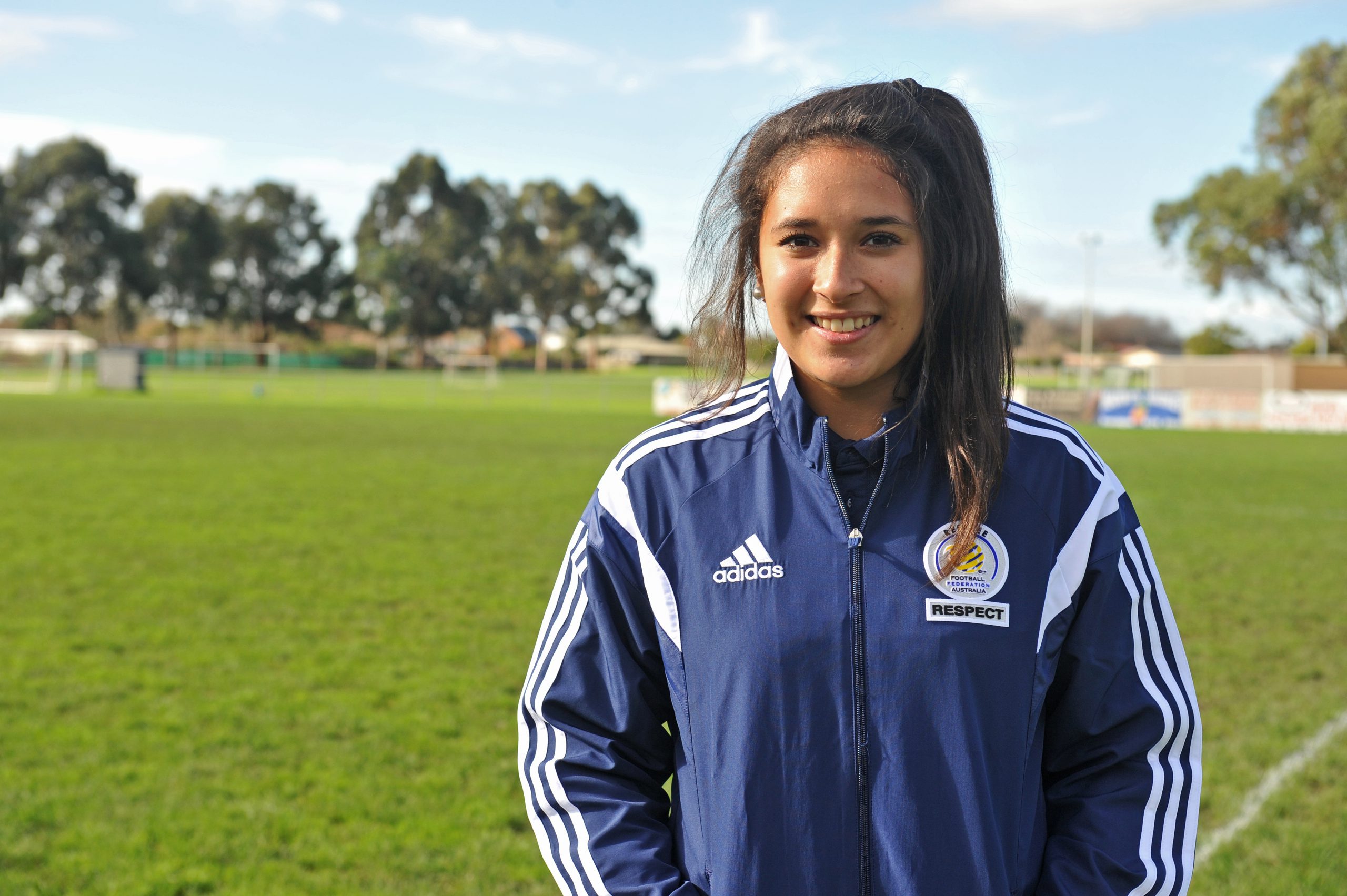 SOCCER
By samuel darroch
ANY questions over 17 year-old referee Jasmine Steger's mettle were answered during her first senior men's match, when two yellow cards and as many ambulances were produced.
Since that practice game in March, the player-turned-official has impressed all the right people, culminating in her selection to referee the female National Championships next month in Coffs Harbour.
Her potential already recognised by a number of inspectors, and backed by the brass at the Gippsland Soccer League for higher duties, Jasmine's big break came the day after refereeing her first women's premier league match this season.
A phone call from Football Federation Victoria referee development manager Chris Bambridge confirmed she was on her way to the nationals, a surreal realisation for the Moe local.
"I kind of didn't expect it at all, I thought I was dreaming… I've always heard about him but I'd never actually met the guy or spoken to him, so I was genuinely shocked because it all happened in two days," Jasmine said.
Jasmine took up the whistle four years ago, following the lead of her father and brother, but it was far from love at first sighting.
Gradually, her skills in charge began to outshine her playing talent, and this season Jasmine hung up the boots in favour of officiating full-time.
"I didn't really have any interest in it the first two years, but the last two years I've really put in the hard work and found I can go further with refereeing than playing," she said.
"I've been told by certain people that I would never make it as a player, so they just said it's so easy for me to go further with refereeing because I have the potential there I may as well just make the most of it."
Now firmly in charge of every fixture, with an increased sense of confidence on and off the pitch, Jasmine said it was initially daunting to control senior men's fixtures, particularly as a female referee.
"Generally… it's very difficult to keep them all in contact and keep the game flowing, because when you make a call not everyone necessarily accepts it and they just start going off because you're a girl," she said.
"I've found that when I raise my voice and show them that you're not going back… it kind of shows them 'we can't get away with what we thought we could because she's a girl' so they just start to listen."
As a player of seven years, Jasmine said it was a tough adjustment to drop playing completely.
Another challenge was learning to brush sometimes brutal criticism from players and spectators aside without the outlet of a game to look forward to.
"Last year was a really big year for me, I had the opportunity to play the next day so I could just take out all my anger, but this year because I'm only focusing on refereeing I have to keep it all in, and let it sink it. I just kind of had to cop it on the chin," she said.
"Pretty much it's just part of the job."
With immediate goals to break into the W-League refereeing ranks, and a long term vision to join the FIFA fraternity, Jasmine is focused on training hard in the interim.
The first step will come in Coffs Harbour, where the SEDA student is hopeful of sponging as much information as she can from her peers.
"I suppose it's just getting noticed, keeping my fitness up, eat healthy and train pretty much four times a week and try to improve each week," she said.
"I'm hoping to become a new referee, a new outlook on refereeing. I'm hoping to meet a lot of referees and know their experiences, how they started, what challenges they've come across and where they want to go."
Jasmine was the joint winner of the GSL's youth referee award last season.