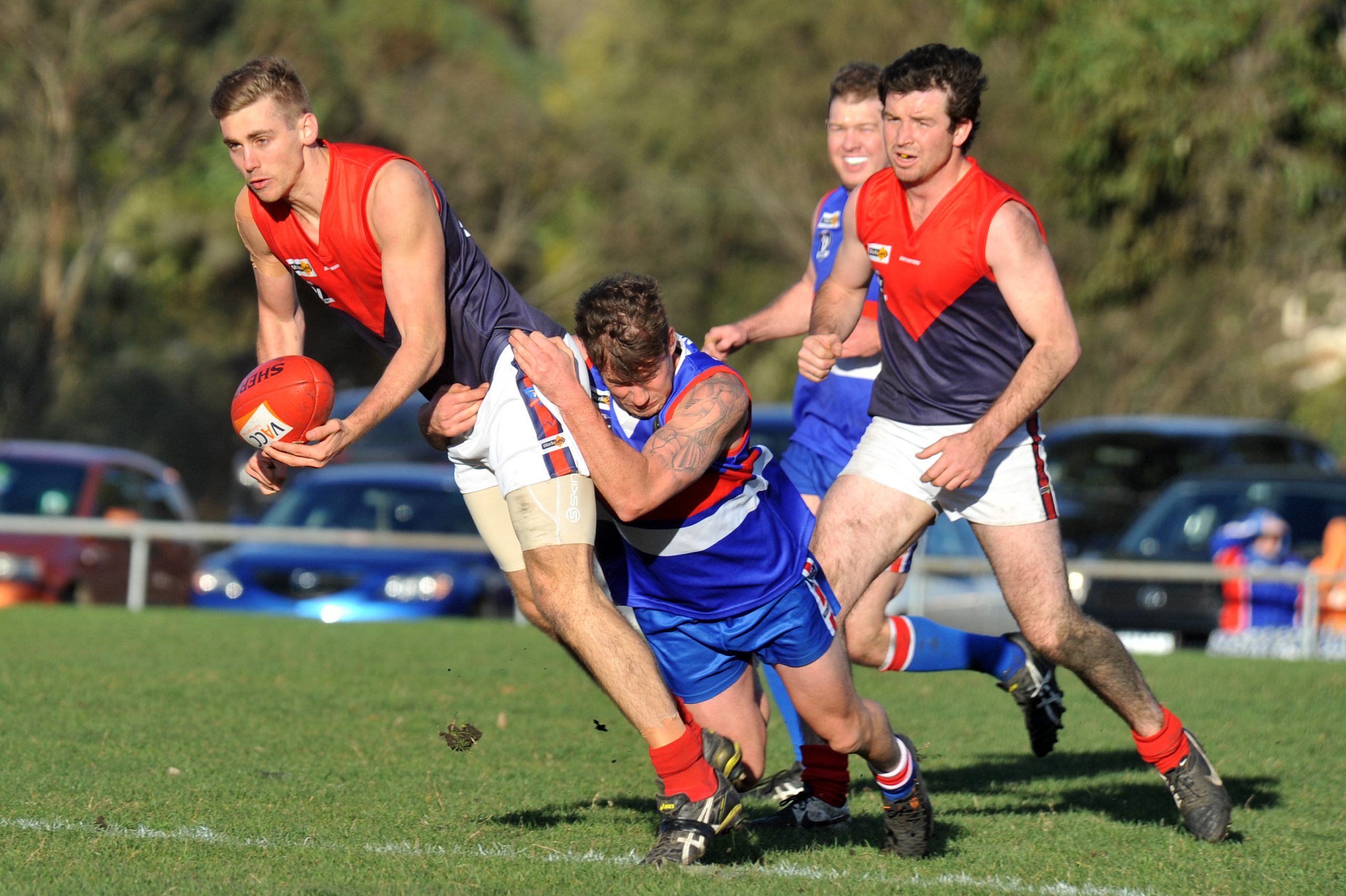 FOOTBALL
MID GIPPSLAND FL
THE Mid Gippsland League keeps bringing up surprises.
Yallourn Yallourn North finally broke through for a first up win, while Boolarra upset league leader Newborough by 37 points.
Trafalgar had to produce a last quarter blitz to down Yarragon for the Waterloo Trophy and Mirboo North swept Hill End aside.
Boolarra v Newborough
BOOLARRA brought its best to knock off league leader Newborough.
The Demons have a knack of beating teams at the top and Newborough became another victim on Saturday.
On a day suited to snowmen, Boolarra did something no other team had done this season, keeping the Bulldogs goalless for half a game.
Chris Stasinowsky was brought back into the side and starred for the Demons, booting four goals.
Windy conditions played havoc and it was a tough graft by both sides to get goals on the board.
By half-time there was only two goals kicked and both of them by Boolarra, 2.8 (20) to Newborough's 0.8 (8).
When the wind calmed in the third quarter, accuracy improved and both teams scored three goals, but Boolarra held the lead.
The final quarter was all the Demons as they stormed ahead using long kicks to good advantage.
New player Bevan Charlton-White and winger Andrew Thorpe cut Newborough with their pace, and Darryl Mayman was stoic.
Boolarra's 5.2 (32) to 1.2 (8) final term heroics saw it emerge victorious 10.12 (72) to 4.11 (35).
Rhys Jacobs, Brennan Mills, Jarrod Bennets and Anthony Battista were best for Newborough in a rare down day for the Dogs.
YYN v Thorpdale
AFTER 20 gut wrenching losses the Yallourn Yallourn North Bombers finally broke the ice, cracking their first win since July last year.
As predicted they celebrated it like a grand final, as players, supporters and officials hugged and congratulated each other emphatically.
The result was a long time coming, and improved performances over the past few weeks culminated in a 20-point victory over Thorpdale.
The Bombers had to come from behind after trailing by six points at three-quarter-time.
Coach David Ivey urged his players to give everything they had in what was to be a desperate last term.
The game itself was tense with little between the two teams.
At the first break it was level at 4.1 (25) each and by half-time the Bombers were a point in front.
A flurry of goals in the third saw Thorpdale creep ahead, but the Blues could not shake off a determined YYN, which kicked three goals to Thorpy's four.
The scene was set for a torrid last quarter and YYN took the initiative with a goal early to level the scores.
With a sniff of victory, YYN took the bull by the horns and produced its best kicking to run out winners 13.5 (83) to 10.5 (65).
Darcy Shellcott, under intense pressure, scored a match-winning five goals, his best for the season.
Pocket dynamo Tyler Brown was in everything to be their best, chipping in for three goals, while others to show out were Dale Murphy, full-back Owen Budge and Dale Walsh.
Nathan Scurrah scored three goals for a disappointed Thorpdale.
Its best being Harley Foat, Zack O'Connell, Deen Allen and Shannon Pickering.
Trafalgar v Yarragon
TRAFALGAR was forced to battle hard to retain the Waterloo Trophy against a determined Yarragon.
As in the past these two put on a good, but scrappy, contest with little between them for the first three quarters.
Trafalgar led by 13 points at the first break, was pegged back to 10 points at half-time and by three-quarter-time there was only a goal the difference.
The uninitiated would not have pegged Trafalgar as a final four team and Yarragon as down the ladder.
Both teams worked hard in tricky conditions and it was not until the last term that Trafalgar began to resemble a finalist, banging on 3.4 (22) to nil to run out winner by 28 points, a far cry from the 20-goal plus win in the first round.
Goals were hard to come by and three players scored a brace: Mitchell Byrne and Matt Robertson for Trafalgar and Andrew Hewson for Yarragon.
For the Bloods, Jamie Hines, Darcy Long, the Butler boys, Klay and Jace, and Darcy Brock were best.
For the Panthers full-back David Bates, Scott Wood, Jeremy McDonald and Ben Damschke gave their best.
Mirboo North v Hill End
THE forecast wrongly predicted rain in Mirboo North, but it did pour goals for the Tigers, 27 in total against Hill End.
By three-quarter-time Mirboo North had 22 on the board, while Hill End had yet to register a major.
Tim Traill was back at his best and his 12 majors stood out as he marked and kicked everything that came his way.
He had plenty of help and half the Mirboo North team kicked goals.
Hill End woke up in the last quarter and became competitive in a shootout, with 11 goals scored; Hill End outscored the Tigers 6.0 (36) to 5.2 (32).
The damage had been done early though and Mirboo North won handily, 27.11 (173) to 6.5 (41).
Matt Mosley booted three goals in the fightback fourth term.
For Mirboo North the best were Traill, Jack Robertson, Josh Taylor and Damien Turner.
For the Hillmen, Kris Ayton, Callum Robertson, Richard Horton and Mitch Matter were best.
Yinnar v Morwell East
CONDITIONS at Yinnar on Sunday were inhospitable for footballers.
Heavy conditions made pretty football a distant memory as players struggled in the rain and mud.
It was stop and start football but Yinnar's early two goals were a bonus and gave a solid buffer in the conditions.
Morwell East really struggled and scored its first goal 20 minutes into the third quarter.
Yinnar had most of the play but could not manage to get a big score on the board.
The Magpies won the low-scoring affair 5.7 (37) to 2.4 (16).