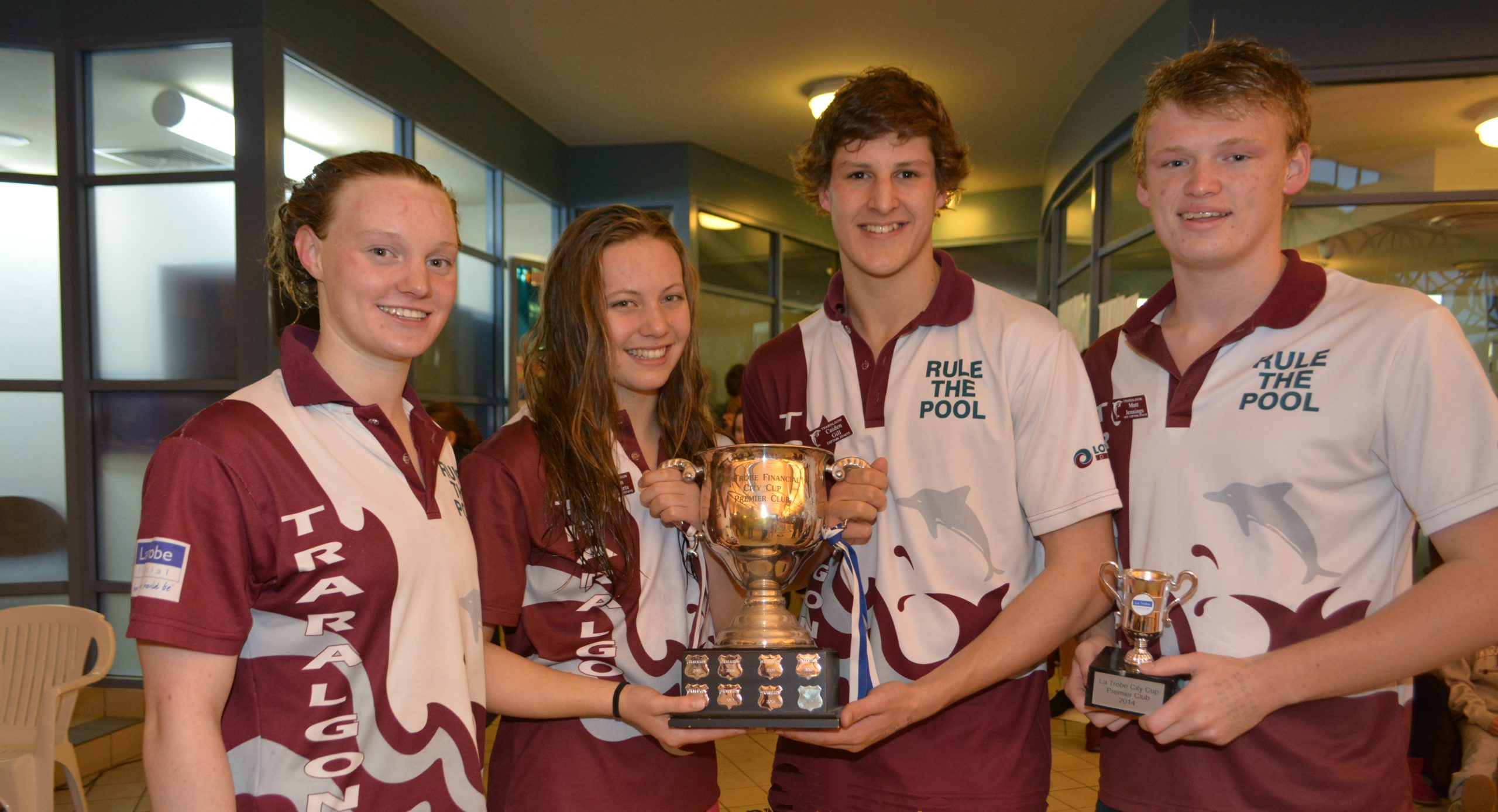 SWIMMING
THE Traralgon Swimming Club successfully defended the title of premier at the eighth annual Latrobe City Cup recently held at the Morwell Leisure Centre. Traralgon dominated with 1277 points, doubling the tally of Nunawading in second with 604 and Surrey Park was third on 299.
Despite Nunawading bringing over 110 swimmers against Traralgon's reduced number of 85, the home club was still too good with some outstanding performances on the day.
"We had many swimmers competing in numerous events to ensure the points kept ticking over so it was really a meet of hard work under competitive circumstances," senior head coach Brian Ford said.
"For all of the age group champions and records to be broken showed the swimmers really applied themselves to the task of winning individually but more so toward the team goal – winning the Latrobe City Cup for the eighth time."
National medallist Mikaela Cornelissen, 16, was in fine form with seven wins and 10 Gippsland records. She recorded times of 28.24 seconds (50 metre butterfly), 1.03.72 (100m fly), 2.22.49 (200m fly), 1.02.76 (100m backstroke) and 2.20.52 (200m back) in the midst of a heavy training load.
Another top performer was 13 year-old Alex Tsebelis who broke five Gippsland records through the meet – 29.71s (50m back), 1.01.48 (100m back), 27.93 (50m fly), 1.05.94 (100m individual medley) and 2.16.88 (200IM).
Eight year-old Molly Cargill continued her record breaking spree with four Gippsland records which came in the: 50m fly (39.65s), 50m back (41.89s breaking a 21 year-old record), 50m free (36.15s) and 100m IM (1.36.40). Other individual event record breakers were 14 year-old Connor O'Neill, who broke the 200m back record in 2.13.45, some six seconds faster than the previous record set in 2001, and 17 year-old Georgia Tsebelis shattered the 50m freestyle mark in 27.83s.
Traralgon's relays were again a dominant force with five victories and three Gippsland records.
The 14 years and under boys team of Connor, Alex, Locke DeGaris and Mitch Young broke both the 4x50m freestyle (1.47.95) and medley (1.57.82) records.
The girls 10 years and under team of Caydence Bezzina, Ruby Storm, Sophie Waller and Molly Cargill broke the medley record in 2.41.69. A large number of Traralgon swimmers were awarded age group championships – eight years (Oliver Haberl), nine years (Jordyn Cargill), 10 years (Sophie Waller), 11 years (Thomas Bouquet and Elayna Pistrin), 12 years (Kieran Georgeson), 13 years (Alex Tsebelis), 14 years (Connor O'Neill and Alice Peddle), 15 years (Fin Peddle and Fabienne Schoutens), 16 years (Riley Akers and Erin Roberts), and 17 years (Georgia Tsebelis and Matt Jennings).
The club now turns its sights to the open and 12 and under Victorian Championships followed by the Victorian Country Short Course titles in Shepparton where the club will be going for its seven in a row.