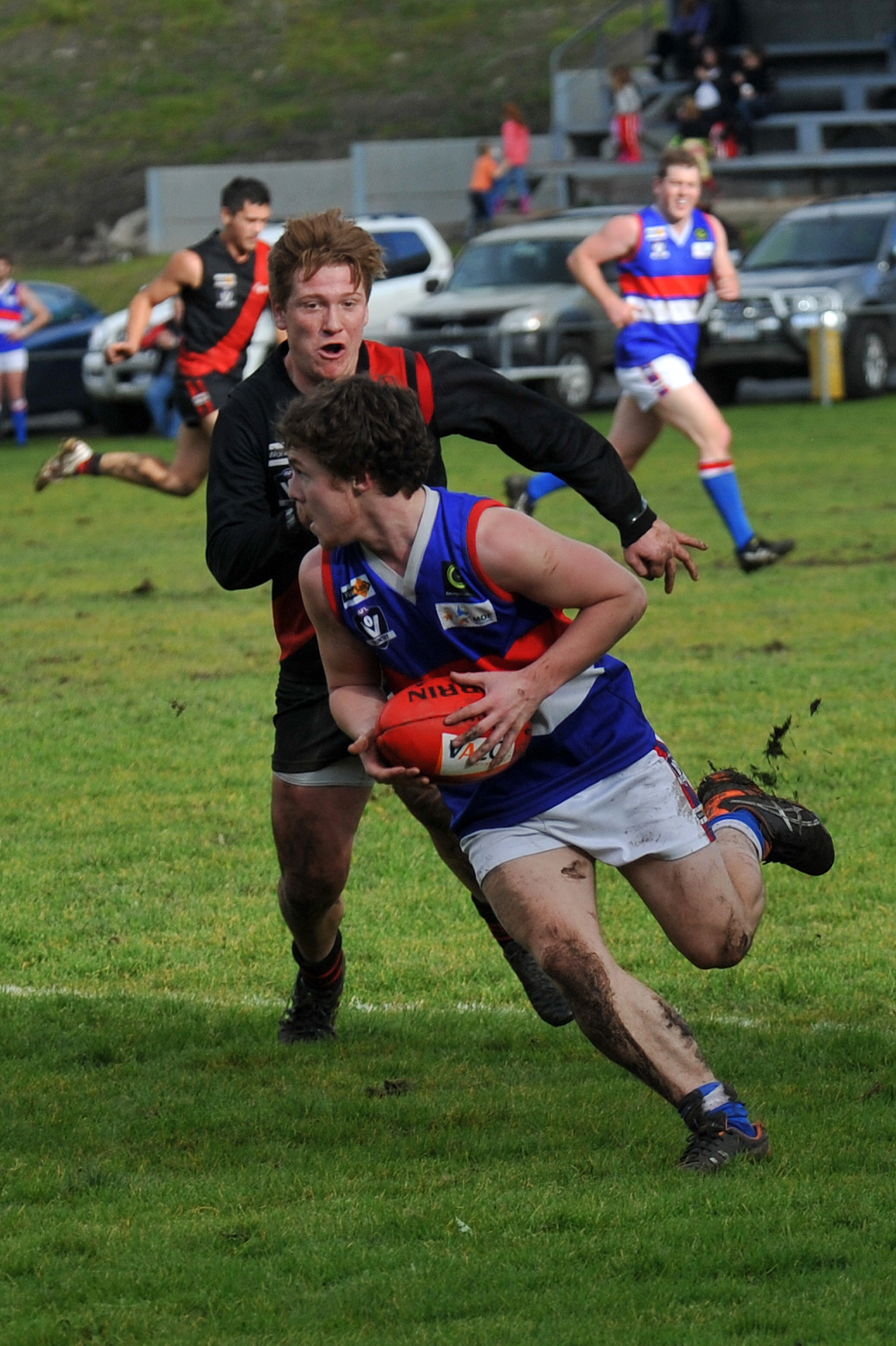 FOOTBALL
MGFL
BOOLARRA overran Yinnar to take out Sunday's first semi-final, while on Saturday Newborough barnstormed by Mirboo North to advance to an 18th grand final.
Newborough v Mirboo North
NEWBOROUGH further firmed as premiership favourite after shooting down last year's flag holder Mirboo North by 90 points in Saturday's second semi-final.
The win put Newborough into its 18th decider, and its third in succession.
With a week off the Bulldogs will go into the grand final full of confidence and determined to win after losing the previous two.
Mirboo North went into the match with an unchanged line-up while Newborough had three alterations.
Newborough won with the big men controlling the match; Chris Hancock in the ruck played another superb hand but it was coach Glen Michie who shone the brightest with his ability to read the play and direct traffic around him.
During the game he had three opponents who were unable to quell him.
Luke Webber was also a star around the forward line with his strong marking.
Newborough jumped hard in the first term and rattled on five goals but missed just as many.
It was mostly one way traffic as Mirboo North played second fiddle to the stronger Bulldogs team.
Two goals in the first quarter to Michie was a preview for the afternoon.
He continued his good form for each quarter, finally finishing with eight goals which was nearly as many as Mirboo North scored in total.
By half-time the margin had swung out to 42 points with Newborough shining in the sun.
Liam Carolan and Josh Whittaker controlled the backline, disabling any forays by the Tigers.
After the break the Dogs continued their onslaught, a seven goal term established a huge lead which was never going to be run down.
When Mirboo North did get a score, it was only a matter of minutes later that Newborough replied.
All the major positions were won by the Bulldogs as the Tigers capitulated and went down in a heap.
They did however have a few players in the mix, with club best and fairest winner Jacob Nash doing his best along with Joey Brooks, Matt Holland and Tristan Salerno.
Daniel Risol was the star of the match, only scoring a couple of goals but his inspired play brought others into the game, setting up a Newborough victory, 23.17 (155) to 9.11 (65).
Newborough has a week's rest while Mirboo North must face up to Boolarra for the right to contest the 2014 flag.
The Newborough reserves, who went through the season undefeated, suffered their first loss in the second semi-final, going down to Yinnar by two points.
Yinnar v Boolarra
UNDERDOG Boolarra ran out a strong come-from-behind winner over Yinnar in Sunday's first semi-final.
Trailing until the 13th minute of the last quarter, the Demons dug in and produced some magic to level, then rise above the Magpies.
Yinnar opened up strongly, kicking the first three goals, two from coach Sam McCulloch, and it was 15 minutes into the term before Boolarra replied through Chris Stasinowsky, who booted two quick ones for the Demons.
By the quarter's end Yinnar led by nine points.
A six goal second term by Yinnar put it in the box seat as Tyler Hillier and Kane Grinstead-Jones ran rings around their opponents.
Big Jesse Bowe was winning the taps and Yinnar was on top by the half-time siren.
Boolarra, however, did not give up and Stasinowsky produced brilliance up forward with another three goals.
The Dees commenced their comeback in the third term, playing wide with Bevan Charlton-White and Courtney Sherriff.
The defence tightened, reducing Yinnar's avenue to goal.
Damian Yates was moved on to Stasinowsky but it did little good as he bustled and crashed his way through packs, took marks and, importantly, kicked goals.
It was a one man show up forward for Boolarra but he had plenty of players feeding him.
In a frenzied last quarter Boolarra threw everything at a tiring Yinnar; an early goal to Troy Tobin brought the Dees closer and when Scott Cooper goaled at 13 minutes the scores were level.
Yinnar struggled to get the ball within the forward 50, forced out by relentless pressure from Boolarra.
With the clock ticking on to 20 minutes a Stasinowsky goal, his seventh, gave the Demons the lead for the first time in the match.
Further attacking raids by the Dees resulted in another goal to Justin Emery which was enough to keep them in front.
The final term 5.4 (34) last quarter from Boolarra eclipsed Yinnar's one behind, capping off a stunning comeback.
For Yinnar it is curtains following a disappointing final series in which it was beaten twice.
Boolarra now has a crack at Mirboo North this week for the right to play Newborough in the grand final.
Stasinowsky was voted as best, while Matt Buglisi, Daniel Metcalf and Sherriff were worthwhile contributors.
Yinnar started well but faded as the game went on, McCulloch was voted best with four goals while youngster Max Renwick kicked three.
Yates, James Dowling and Jesse Sleswick also put in, but the Pies ultimately went down 14.6 (90) to 11.9 (75).