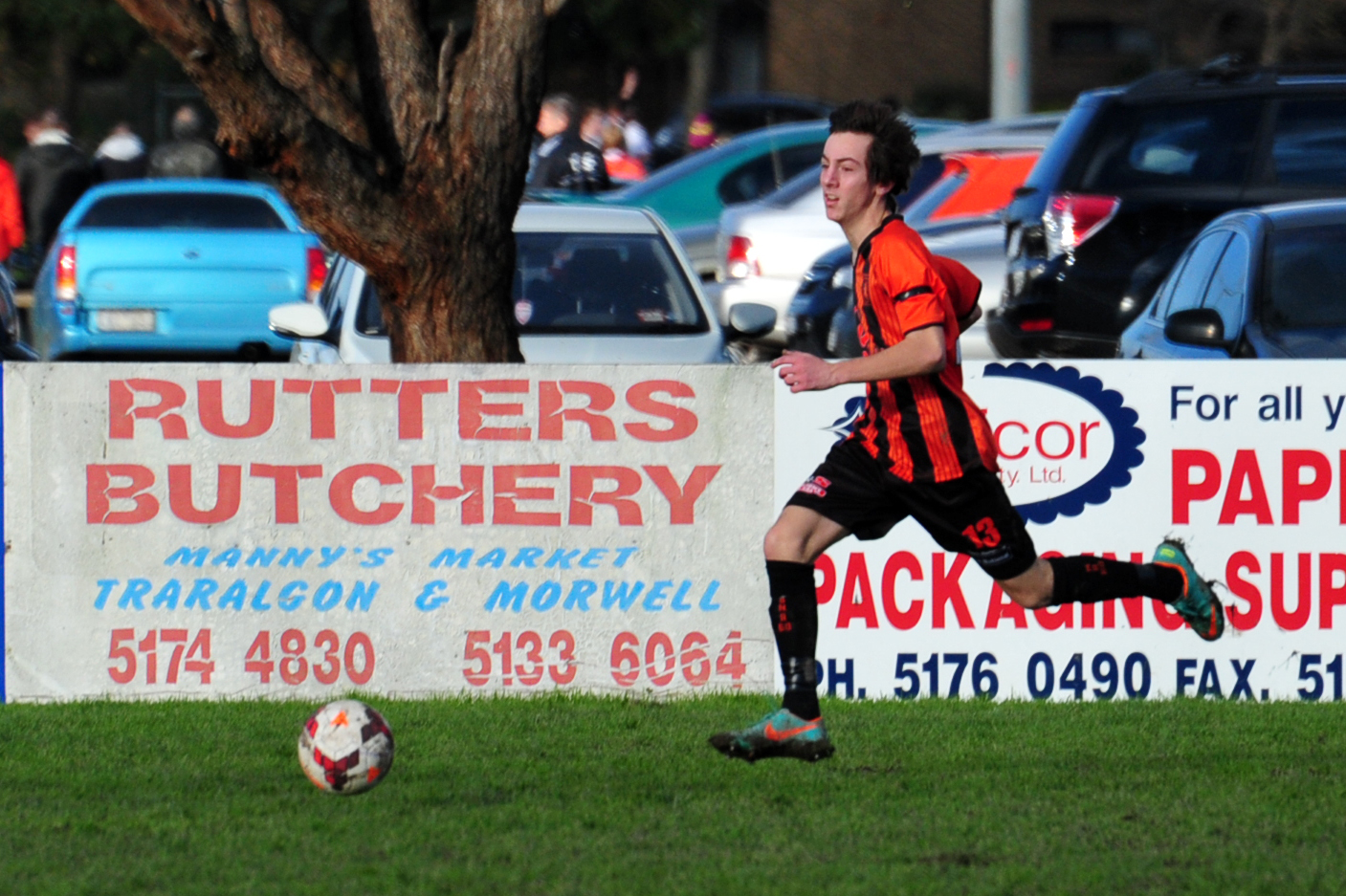 SOCCER
GSL
By SAMUEL DARROCH
FALCONS 2000 earned itself a first week bye in the Gippsland Soccer League's new top six finals series by knocking off Moe United 1-0 in a catch up fixture on Sunday.
Falcons' fitness finally wore down the home side after a scoreless opening period, and league leading scorer Jesse Kennedy once again fired Falcons to the front with a deflected effort leaving the Moe 'keeper rooted to the spot.
Moe pressed for an equaliser but it was in vain as the Birds stretched their winning streak to six games to head into the business end of the season full of confidence.
The win saw Falcons jump above the Red Devils on the premiership ladder into second, relegating Moe to third and a cut-throat elimination playoff against Traralgon City at Newborough this weekend.
Falcons reached second place the hard way, overcoming powerhouse clubs Fortuna and 2013 champion Moe to skip through to the second week of finals.
"It was a very good test leading into finals, beating Fortuna was more getting the monkey off our backs but we generally play fairly well against Moe… they have a tight structure to their team and we have to try and work against that," coach Nick D'Alessandro said.
"It was very trying on the weekend and a very even game… as good a test for finals as we could hope for."
D'Alessandro said the club's best ladder finish in years had buoyed the club, and silverware was now the main focus both in the league and Battle of Britain Cup.
"We're very hell bent on getting ourselves into finals," he said.
"We've set ourselves up for a big finals campaign… the way we've gone about it, the standard we've set is telling us we have a very good chance to win one if not two cups.
"All the boys have in their mind that we're able to do it… it would be a bit of a shame for us to come away with I suppose nothing, but compared to the last few years it's been a big contrast."
Falcons is the only side sitting pretty in two semi-finals, with Morwell Pegasus in wait for a Battle of Britain showdown next Wednesday.
The other knockout final fixture will see fifth place finisher Fortuna 60 travel to Sale United.
Fortuna was unable to field a senior side against Churchill on Saturday night due to work commitments and injury, forcing all grades to forfeit under GSL rules.
It had no bearing on league champion Churchill's top spot finish, which remained undefeated with Pegasus also forfeiting its catch-up match against the Rams, but Fortuna could have jumped as high as third with a win.
Instead the orange-clad side will travel to Godfrey Baldwin Reserve to face the Swans on home turf, a tough assignment for any visiting side. It will be the second clash between the sides in the span of a week, following a catch-up midweek Battle of Britain Cup match.
With some 12 players sidelined through long-term injury, including the likes of Hayden Tanti (hamstring), Joel Pirotta (anterior cruciate ligament), Leigh Wilkinson and Sam Delicato, Fortuna has struggled through the second half of the fixture.
Coach Dominic Palermo said it had been a grind in recent weeks to field a side, but the group would rally one more time this year for the finals campaign.
"It's going to be definitely a tough game but on the day we'll go out, give it our best. Overall we've still got a pretty decent side, we'll be competitive… (but) we definitely go in as a big underdog," he said.
"It was good up until the halfway mark (of the season) and then injuries just made us (go from) a competitive side to trying to make numbers week in, week out.
"We're still competing alright but at the end of the day we're not expecting much to happen during these finals."
On the bright side, Palermo said the skeleton crew gave an opportunity to blood some under 21 talent in finals football.
"That's what it's all about now, giving these kids a go and giving them a taste for it," he said. A host of catch up fixtures across the grades ended in forfeits, allowing finals to go ahead this weekend as scheduled.