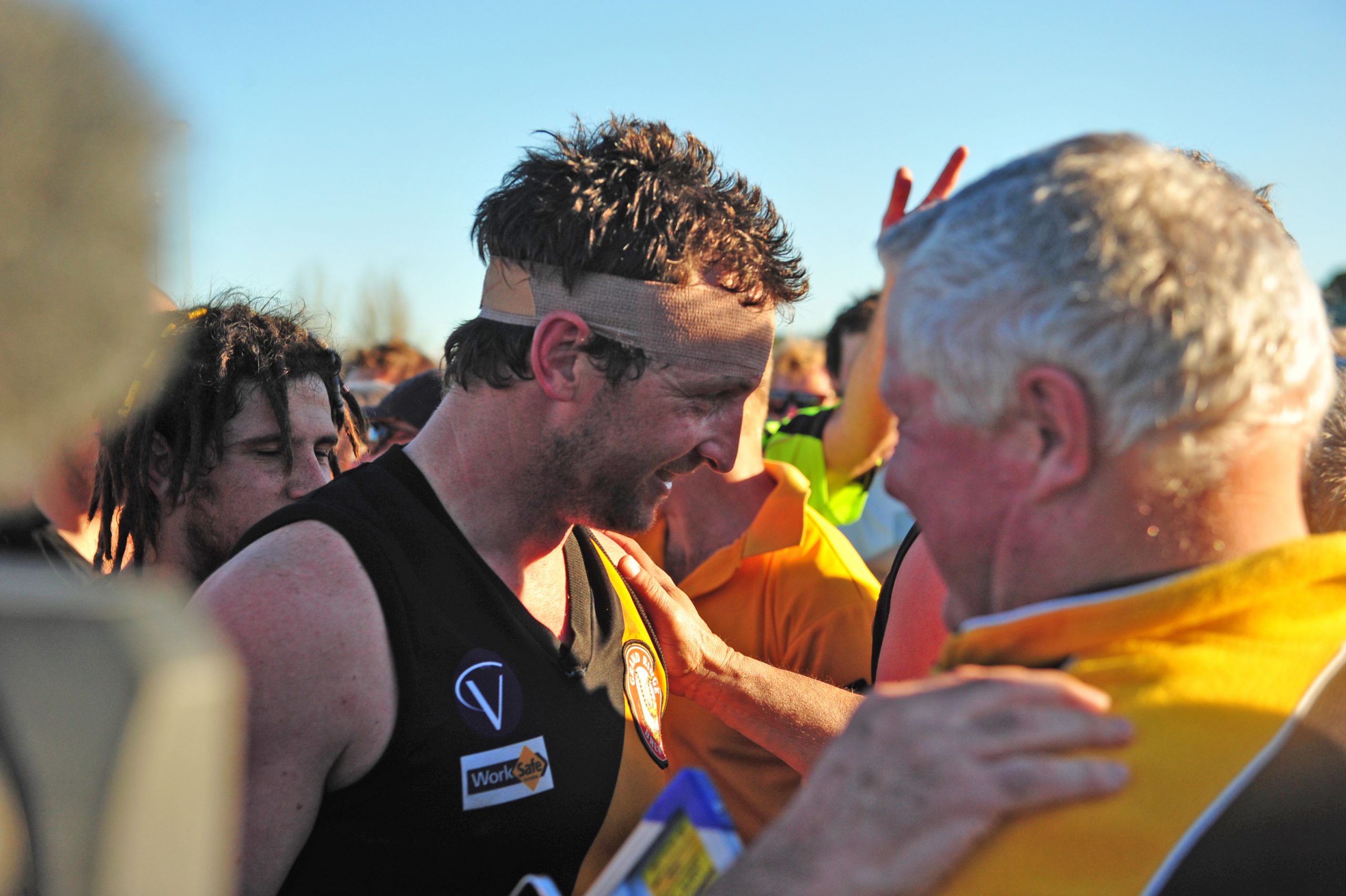 The talisman : Tim Traill
SPORTING a Rambo style headband after an early knock, league leading goalkicker Tim Traill played much like the aforementioned warrior with his back to the wall.
With two goals to his name and among the best on ground, talisman Traill was key to the Tigers' back-to-back flags.
"I think that's the best win I've ever had, it's just awesome. I'm just stoked, totally stoked. The chips were down but we came back and just kept coming and I couldn't be prouder of the boys, just awesome.
"It was a lot in doubt, but we kept coming and did the job," Traill said. Traill's reintroduction in the final term seemed to spark the Tigers into action, and his dangerous presence in the forward line created opportunities for his teammates to finish the job.
The hero : Shane Peters
With less than two minutes on the clock, Mirboo North veteran Shane Peters lined up for goal 40 metres out from the sticks with a chance to put his side in front by one.
Despite the electric atmosphere and deafening noise from the crowd, Peters kept one thought firmly in mind as he ran in to boot a memorable major.
"Put it through, pretty simple, just put it through," he said.
After graciously stepping aside for last year's final to allow Liam Nash the chance to play with his older brothers, Peters returned for the 2014 decider with something to prove. After claiming a Central Gippsland cricket title in the interim, Peters' day had a sense of destiny about it.
"That's a different story, I've redeemed myself and snuck one in this year. The cricket one was lovely and the funny thing was I've been saying for a long time if I win one I'd win two and it's bloody amazing how it goes," he said.
"On a personal note I just really want to thank my teammates, we've had an interesting five weeks. We've been thumped twice but steely resolve and sticking together, and if you have the faith in one another fairy tales can come true."
Peters kicked two goals and received the Bill McConville Medal for best on ground.
The MASTERMIND : Troy Hamilton
Mirboo North coach Troy Hamilton always knew the grand final was going to come down to the intangibles. Heart, guts, determination and desire were all key, and all came to the fore in the fourth term.
"In the end it just comes down to guts," he said.
"We were obviously two down (at three-quarter-time) and we had Matt Holland off and Drew Gardener off early so we had no real interchange. Two of them I think played on the ball the whole last quarter so it comes down to grit and grind and just keep pressing," he said.