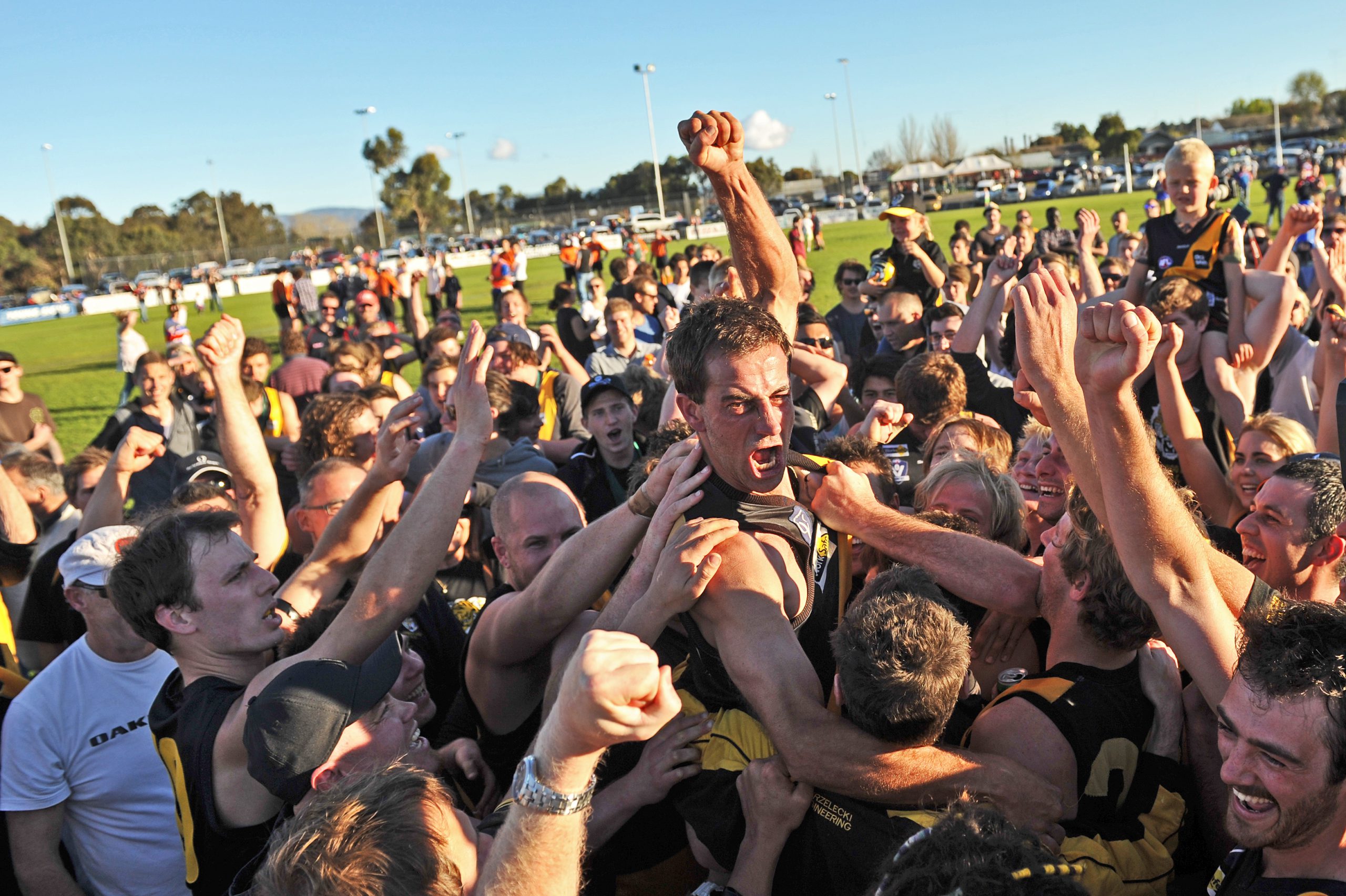 WHEN Mirboo North veteran Shane Peters split the sticks with moments remaining in the Mid Gippsland Football League grand final on Saturday, Newborough's flag fantasy came crashing down for the third straight season.

The Tigers sealed back-to-back premierships by a single point, coming from behind to nudge out Newborough in a dramatic finish to an epic final at Ronald Reserve, Morwell East.
The win was an incredible turn in fortunes since Mirboo North was dealt a 90-point thrashing by Newborough in the second semi-final only two weeks ago.
It was the second time in as many years Newborough conceded the final goal of the game to lose by less than a kick to the Tigers, last year going down by four points.
"We kicked the winning goal with probably two and half minutes to go (last year) and I think we probably kicked it today with a minute and a half to go so very similar," Mirboo North coach Troy Hamilton said.
"We always thought it was 50/50 at the end just like it was last year, and we're lucky enough to have the medal around our neck for the second year in a row and Newborough was unlucky again.
"There's not much in a game of footy or a game of tennis or a game of anything really."
After stepping aside for Liam Nash to play in last year's premiership, Peters fought his way back this season, kicked the winning goal and took out the Bill McConville Medal, after more than a decade in the black and yellow.
In a game of contrasts, Mirboo North played all over Newborough for the first half of football and controlled the game but could not punish Newborough on the scoreboard.
Both defences were on top of their games, foiling forward moves at either end.
Leading Tigers forward Tim Traill was playing up field in a move to get the ball forward quicker, while his counterpart Glenn Michie was being held by Dane McGennisken in a tight battle.
Newborough was losing the centre clearances with Mirboo North able to get away easier, but scoring was tight in excellent conditions.
Early goals to Peters and Matt Holland put Mirboo North ahead 2.1 (13) to 0.1 (1) at the first break.
Mirboo North continued its slow and steady upward trend, with frequent goals from good play as Liam Nash and Traill hit the scorecard.
Newborough showed plenty of endeavour but had no answers to a mobile Mirboo North for most of the first half.
The Bulldogs finally scored after 40 minutes but it was only a behind, and the reigning premier increased the lead to 30 points before Newborough finally raised the double flags at 45 minutes.
Josh Taylor was busy for Mirboo North and Tristan Salerno was a winner on the backline, while Newborough's usual line-up of stars were missing in action.
Right on the half-time siren Mick Gelagotis goaled for Newborough to reduce the gap at 5.7 (37) to 2.2 (14).
A whole new Newborough took the field in the second half and came out of the blocks breathing fire.
The third term yielded 12 goals, nine of which went to Newborough and seven were unanswered at one stage.
Glenn ichie banged two in to find some form, then in a remarkable period of three minutes Adam Kennedy scored three goals to bring the game back to life.
Newborough was within four points when defender Anthony Battista roamed into space and kicked truly.
When Michie snapped his third and his side's eighth for the term, the Dogs hit the front and there was still another to come before the last break.
Mirboo North dragged two goals back to regain the lead in a see-saw quarter, but again it was the leadership of Michie guiding the way as the Dogs snared the lead with two more quick goals.
By three-quarter time Newborough had reversed the trend and led by 13 points, 11.5 (71) to 8.10 (58).
Newborough flooded forward to start the fourth with three instances of forward pressure resulting in a goal to Mick Gelagotis to put the Dogs up 21 points and ready to run away with the match.
Players were going in hard and heavy knocks were felt by both sides, in true grand final style there were no beg-pardons.
It took a pinpoint Daniel Taylor set shot from the forward pocket to put Mirboo North back on track and reduce the gap to 15 points, and when Kallum Nash slotted through on the run the Tigers had their second in as many minutes.
Luke Webber steadied the Newborough ship with a long range effort from the 50 metre line sailing through the middle, before the Dogs pushed back with defenders everywhere to prevent Mirboo North kicking a major.
A brilliant piece of work from Josh Taylor saw him square for Kallum Nash who made no mistake to take scores to 13.8 (86) to 11.12 (78) with the Dogs still in front.
Traill was reintroduced to the Tigers' forward line and his presence sparked a fightback; the normally reliable Daniel Risol put his clearance into the hands of Liam Nash, whose shot and rushed behind made the margin seven.
Kris Berchtold's shot from 45 metres added another point to the score to draw Mirboo North within a kick of a draw, before Josh Taylor hit the post on the angle to make it a five-point difference.
Josh Taylor then produced a piece of magic, gathering in a bouncing ball at full pace to centre for Peters, who settled and booted the winner for Mirboo North.
With seconds remaining Newborough could not shift the ball forward and was resigned to a third successive grand final defeat, 12.15 (87) to 13.8 (86).
"It was superb, we came out with a plan in the first half and really executed it well, the goal at the half-time siren didn't help because we really felt we had control," Hamilton said.
"Obviously the third quarter Newborough were all over us, sprinting forward and bombing goals from anywhere they kicked them; they changed things up and our backline probably lost its way a little bit.
"In the end it just comes down to guts."