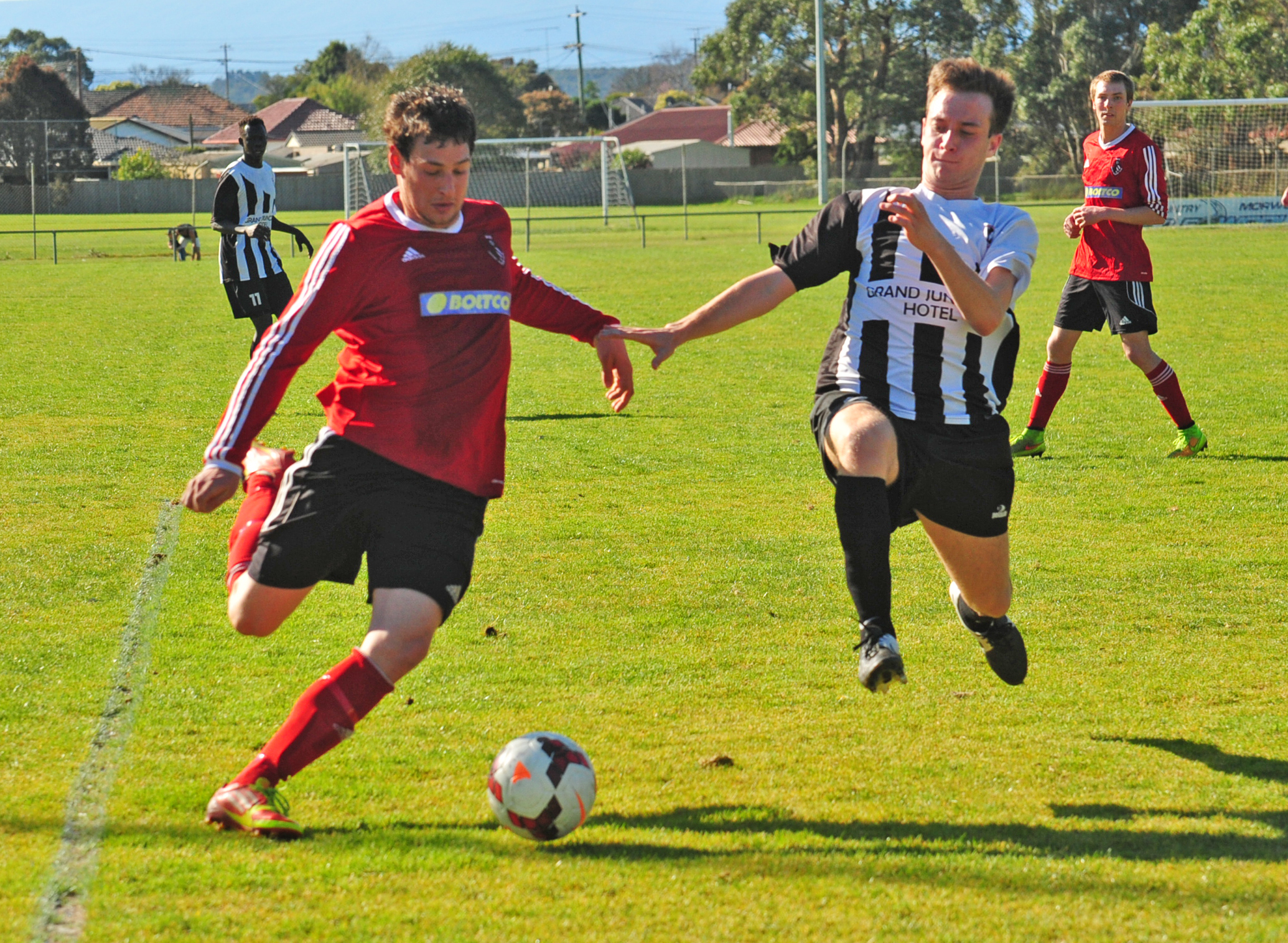 SOCCER
GSL
By Samuel Darroch
A BICYCLE kick-goal from Sale United keeper Chris Richardson salvaged Sale United's Gippsland Soccer League finals campaign at Godfrey Baldwin Reserve on Sunday.
The Swans trailed Fortuna '60 1-0 with 30 seconds remaining in the elimination final, when the Sale custodian added his frame to the fray for a last gasp free kick.
One athletic piece of magic later and the Swans were through to extra-time, where they piled on two goals to bundle the Morwell club out of the top six finals series, 3-1.
"He's a big boy but he's pretty agile… everyone went crazy," Swans coach Ross Mcwhirter said.
Kristian Phillips and Dean Nichols both struck in added time to seal the result.
This year's finals run is all too familiar for the green machine, which is again coming from fourth on the ladder to mount a challenge for a second consecutive grand final cup, which it claimed over Monash last year.
"We know we've probably got a little in the tank, we probably play our best football this time of the year, I think our September record has been pretty good the last couple of years," Mcwhirter said.
"We're hoping to replicate what we did last year, similar position, probably a bit more disappointment with what we were trying to achieve this season but we know we can definitely, come September, play our best football."
Sale will now face Churchill at Hazelwood South Reserve in a Saturday night semi-final fixture.
"They're pretty hard to beat up there, they went undefeated through the season, but all the pressure is all on them; we'll pretty much go in there, try and enjoy our football and if we bring our best know that we're a good chance of a result," Mcwhirter said.
Moe was forced to come from behind to account for Traralgon City, after Mark Bruzzese gave the Roosters a 1-0 lead before half-time at Burrage Reserve.
However, Ash Birrell and Nick Dastey struck in the second half to send City tumbling out of the finals.
The Red Devils will now do battle with Falcons in the other semi-final at Harold Preston Reserve on Sunday.
FINALS FIXTURES
Hazelwood South Reserve Churchill (Saturday)
Seniors: Churchill United v Sale United 8pm
Youth: Sale United v Churchill United 6pm
Reserves: Monash Wolves v Churchill United 4pm
Harold Preston Reserve Traralgon (Sunday)
Seniors: Falcons 2000 v Moe United 2.30pm
Youth: Monash Wolves v Falcons 2000 12.30pm
Women: Tyers Lightning v Traralgon City 10.30am
Ground No2
Women: Fortuna '60 v Monash Wolves 10.30am