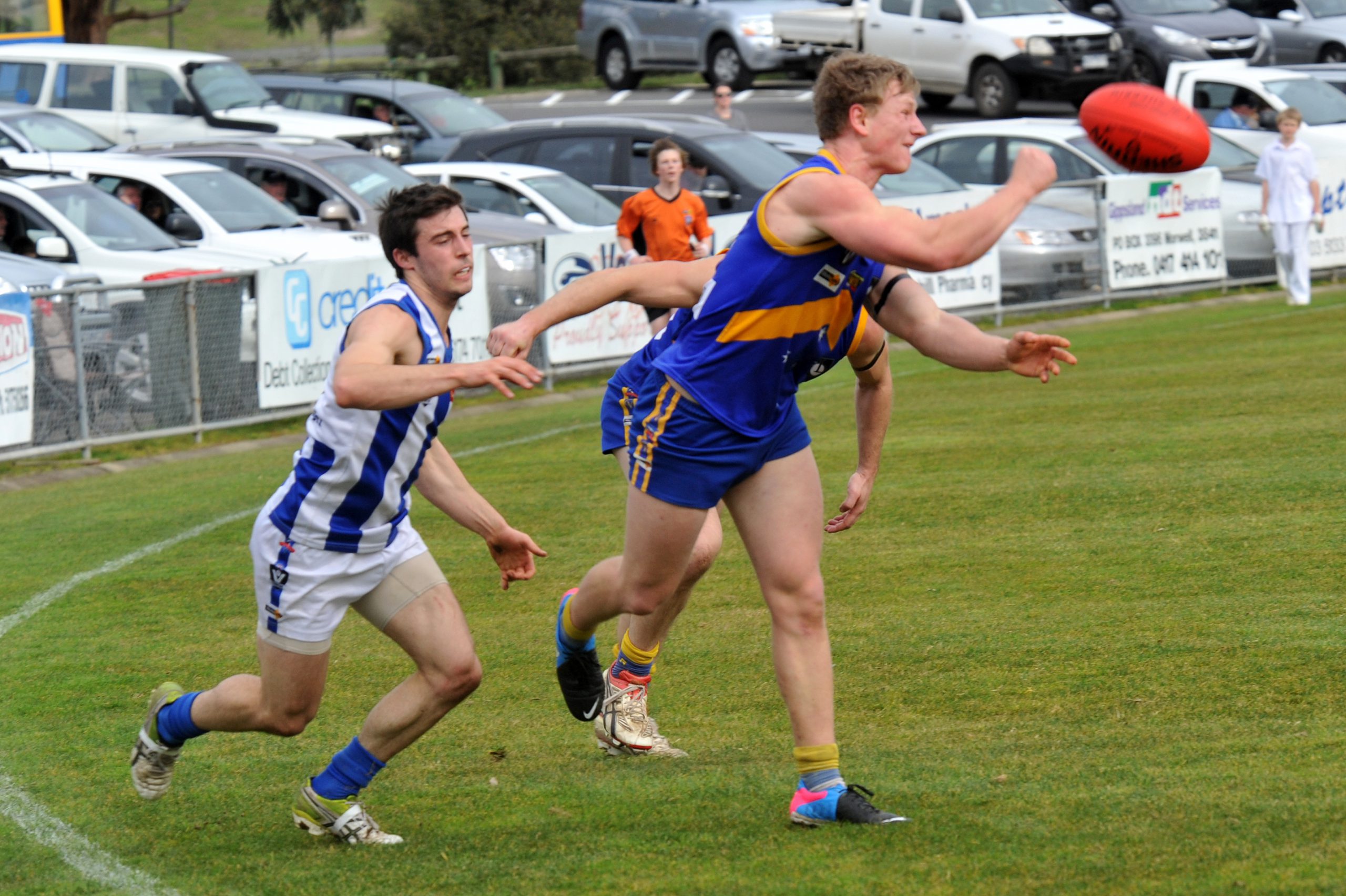 FOOTBALL
NORTH GIPPSLAND FNL
GRAND FINAL
UNDEFEATED takes on unshakeable when minor premier Heyfield squares off against Churchill in the North Gippsland Football Netball League grand final at Traralgon Recreation Reserve on Saturday.
Heyfield was a convincing winner in its round one grand final replay against Glengarry, and went on to topple every challenger en route to the decider.
The September specialists have had the wood on the Cougars this year, and routed them for the third time this season in the second semi-final by 42 points.
While the ledger is not flattering, Churchill came within three points of the 'Roos in round eight before stringing together 10 wins on the trot, only being derailed by Heyfield in their finals meeting.
The Cougars scrapped their way into the grand final by defeating a dogged Sale City outfit, thanks to an inspired cameo appearance by forward Brendan Holt that turned the tide in the final term.
Three goals within a 15-minute period by the key forward, who returned from a two-week break on the sidelines through injury, sparked a Cougar revival.
In his first year at the helm Cougars coach Allan Chandler said his goal to reach the final was at hand, and the side would hold nothing back on Saturday in search of a first flag since 2008.
"Half way through the year we were hoping to be in the big dance, we are there now and we will give it everything that we have got," he said.
"We are definitely the underdog this week, Heyfield are unbeaten and have absolutely smashed us the last two times.
"They have good players covering every line and we will need to play to our absolute best to compete with them.
"We will need to have our match ups spot on and will need some players to step up and take down a more highly rated opponent this week."
Churchill has one ace in the hole in the form of marquee player Brendan Holt, who has only faced Heyfield on one occasion this year.
"Holt is a big in for us, he inspires others to lift by his presence," Chandler said.
In the opposite camp Heyfield co-coach Damien Birss said his side would have a "red hot crack" at claiming a second title in three seasons but knows it will not come easy.
"While we have won all the other times, you just can't think that we have got it won, it doesn't work like that," Birss said.
"They have been one of the best teams all season and we will need to beat them for a fourth time.
"It's definitely not going to be one way traffic like many are anticipating, they are a quality team and it will take a lot to beat them.
"Previous results account for nothing, it doesn't matter or mean anything that we are undefeated, it boils down to this week alone, the win this week is all that counts."
With only eight players in this year's squad yet to taste premiership glory, Heyfield's depth and experience has long been the envy of opposition sides.
In his second year at the helm alongside Adrian Cox, Birss will be bursting to rectify last year's loss to Glengarry.
"It's hard to win a grand final, you need things to go your way and we are up against tough opposition," he said.
"Churchill are a dangerous team their players are renowned for stepping up, they can't be underestimated, our guys are hungry to finish off with the result on Saturday, to go through undefeated and win. It would be awesome but we have to get on with the job and not get too far ahead of ourselves.
While Holt looms as the major threat, Birss said he would not attract all the attention.
"Holt is one that we haven't come up against recently, but we can't really focus on just the one player, we need to get out balance right across the board," he said.
"They have a number of other good running players, that if we don't pay respect to we will be in for a hard game."
While goals are required to win the contest, both midfields are potent, with the Kangaroos' engine room perhaps holding the edge over Churchill.
League team of the year members, Josh Stubbe and Jack Woodland can quickly turn a game and were instrumental in Heyfield's semi-final victory.
Likewise was Daniel Saunders who stood tall in a dominating best on ground performance, which saw him run amok along the wing to provide for the three pronged forward structure.
Jesse Bedggood the star forward in the sides' previous three meetings, booting 12 goals including a bag of six a fortnight ago.
At the other end Churchill has a classy midfield of its own.
The trio of Andrew Brown, Travis Brighton and Chris Williams has been the main instigator in Churchill's dominance of the centre clearances throughout the final series.
League best and fairest joint winner Stubbe will no doubt draw the attention of Churchill's taggers in an effort to halt his impact, with dual premiership players Mitch and Nic Dowse to also gain attention with their run setting up passages of play for the Kangaroos.
In contrast Brighton will be committed to winning the contested possessions, Chandler will be marshalling the backline in his usual fashion and Brandon Mahoney is likely to shade one of the Kangaroos' key play makers while endeavouring to break lines and set up Nick Campbell, Tim Darby and Holt in front of goals.
Key players
HEYFIELD
Josh Stubbe
With league and club best and fairest honours to his name this season, Josh Stubbe is a premier player of the competition and, when on song, the midfielder's ability to blow a game apart is sublime and could prove to be the difference in a close contest.
Jesse Bedggood
Highly regarded throughout the league, Jesse Bedggood will be closely checked and pitted against one of Churchill's best defenders as they aim to shut the prolific forward out of the game. Scoring 58 goals for the season, Churchill can ill afford Bedggood to take a starring role.
Scott Anderson
The no frills back bone of the Kangaroos' defence. Scott Anderson is a strong defender who has excelled during the season, playing a key role at full-back taking a big or small key opposition forward.
CHURCHILL
Travis Brighton
Four-time club best and fairest winner Travis Brighton has had an outstanding season which culminated with the Sel Burley medal. Brighton has a huge acrobatic capacity, running opponents into the ground, his resilience and overall high level of fitness is reflected in his 'Jimmy Stynes' like record of 200 plus senior games without injury.
Chris Williams
Churchill's youngest club captain has shown maturity beyond his years. Chris Williams is a fierce competitor who gives his all every game. The Williams name is used to September success with both his father David and uncle Grieg both multiple premiership players at Churchill.
Brendan Holt
A marquee player of the competition, Brendan Holt has a proven track record in grand finals, twice being name best on ground in Mid Gippsland League Grand Finals. The high marking centre half forward has great ability to get over the ground and has a high work rate.
Team lists (likely)
CHURCHILL
BACKS
Dean DeGroot, James Hayward, Jordon Fenech, Billy Wight
HALF-BACKS
Allan Chandler, Jarrod Broadbent, Paul Metlikovec, Tyson Webb
CENTRES
Brandon Mahoney, Brendan Holt, Nathan Osborne, Brayden Kokshoorn
HALF-FORWARDS
Nick Celima, Brad Knowles, Hamish Towns, Nick Campbell
FORWARDS
Tim Darby
ROVRES
Chris Weller, Travis Brighton, Joe Whykes, Chris Williams, Dillon Leys, Andrew Brown
HEYFIELD
BACKS
Scott Anderson FB
HALF-BACKS
Nic Dowse, Brenton Dinsdale, Mark Johnston, Brett Hudson, Dave Kelly, Daniel Stevens
CENTRES
Jesse Jackway, Jayden Matthews, Mitchell Dowse
HALF-FORWARDS
Jack Woodland, Cam Garrett
FORWARDS
Kodie Woodland, Joel Dinsdale, Luke Pratt, Daniel Stubbe, Jesse Bedggood
ROVERS
Josh Stubbe, Daniel Saunders, Shaun Humphreys, Luke Jenkins, Matt Goodwin, Owen Sim
Grand Final form
HEYFIELD
Third straight GF: 2012 premiers, 2013 runners-up, 2014 contestant
Sixth grand final appearance since 2005
CHURCHILL

Fourth GF appearance since 2005

Recent grand final encounters
2009 | Heyfield 15.13 (103) d Churchill 10.14 (74)
2007 | Heyfield 11.10 (76) d Churchill 8.11 (59)
Last premiership
Churchill | 2008 Churchill
11.10 (76) d Gormandale 9.19 (73)
Heyfield | 2012 Heyfield
14.9 (93) d Rosedale 10.15 (75)
Road to the grand final
CHURCHILL

ROUND one
Churchill 13.10 (88) lt Rosedale 23.12 (150)
ROUND two
Churchill 13.12 (90) d Cowwarr 13.10 (88)
ROUND three
Churchill 17.11 (113) d Woodside 12.11 (83)
ROUND four
Churchill 23.21 (159) d Gormandale 9.5 (59)
ROUND five
Churchill 10.20 (80) lt Sale City 14.13 (97)
ROUND six
Churchill 23.17 (155) d Boisdale Briagolong 11.7 (73)
ROUND seven
Bye
ROUND eight
Churchill 12.19 (91) lt Heyfield 14.10 (94)
ROUND nine
Churchill 28.15 (183) d Yarram 9.14 (68)
ROUND 10
Churchill 21.19 (145) d Glengarry 5.11 (41)
ROUND 11
Churchill 20.12 (132) d Traralgon Tyers United 8.12 (60)
ROUND 12
Churchill 13.13 (91) d Rosedale 6.16 (52)
ROUND 13
Churchill 27.16 (178) d Cowwarr 12.9 (81)
ROUND 14
Churchill 29.20 (194) d Woodside 9.11 (65)
ROUND 15
Churchill 27.19 (181) d Gormandale 4.5 (29)
ROUND 16
Churchill 20.8 (128) d Sale City 5.9 (39)
ROUND 17
Churchill 33.14 (212) d Boisdale Briagolong 4.3 (27)
ROUND 18
Bye
ROUND 19
Churchill 11.9 (75) lt Heyfield 16.18 (114)
ROUND 20
Churchill 29.11 (185) d Yarram 10.10 (70)
Qualifying final
Churchill 17.18 (120) d Rosedale 12.14 (86)
Second semi-final
Churchill 10.9 (69) lt Heyfield 16.15 (111)
Preliminary final
Churchill 13.13 (91) d Sale City 10.11 (71)
HEYFIELD

ROUND one
Heyfield 23.19 (157) d Glengarry 13.8 (86)
ROUND two
Heyfield 19.13 (127) d Sale City5.8 (38)
ROUND three
Heyfield 15.16 (106) d Traralgon Tyers United 4.7 (31)
ROUND four
Heyfield 27.19 (181) d Boisdale Briagolong 4.5 (29)
ROUND five
Heyfield 17.11 (113) d Rosedale 14.18 (102)
ROUND six BYE
ROUND seven
Heyfield 24.17 (161) d Cowwarr 7.13 (55)
ROUND eight
Heyfield 14.10 (94) d Churchill 12.19 (91)
ROUND nine
Heyfield 16.11 (107) d Woodside 12.11 (83)
ROUND 10
Heyfield 18.14 (122) d Yarram 9.9 (63)
ROUND 11
Heyfield 25.19 (169) d Gormandale 7.8 (50)
ROUND 12
Heyfield 21.21 (147) d Glengarry 3.8 (26)
ROUND 13
Heyfield 11.18 (84) d Sale City 9.6 (60)
ROUND 14
Heyfield 22.11 (143) d Traralgon Tyers United 8.8 (56)
ROUND 15
Heyfield 24.14 (158) d Boisdale Briagolong 2.3 (15)
ROUND 16
Heyfield 21.15 (141) d Rosedale 8.10 (58)
ROUND 17 BYE
ROUND 18
Heyfield 24.26 (170) d Cowwarr 4.2 (26)
ROUND 19
Heyfield 16.18 (114) d Churchill 11.9 (75)
ROUND 20
Heyfield 11.20 (86) d Woodside 9.3 (57)
Second semi-final
Heyfield 2 16.15 (111) d Churchill 10.9 (69)
RESERVES
In a prelude to the main event minor premiers Heyfield and Cowwarr will take centre stage in the reserves.
Saturday's grand final berth is the Kangaroos' eighth in a 10 year period; however the club has only won three titles since 2005, and will go into the contest against the Saints confident of defending their title.
Holding strong in the preliminary final, the Saints were impressive, however the question remains as to whether they have the depth and finals experience to match it with a more fancied opponent.
THIRDS
Both the Churchill and Traralgon Tyers United travelled through the season rarely troubled, showing glaring dominance over the competition.
The ledger stands at one all after the Bombers railroaded Churchill a fortnight ago to advance to the grand final.
One of only two sides to defeat the Cougars, the Bombers can take some confidence into the contest.
FIXTURE
All finals to be played at Traralgon Recreation Reserve, Saturday
Football
Thirds TTU v Churchill, 9.30am
Reserves Heyfield v Cowwarr noon
Seniors Heyfield v Churchill 2.30pm