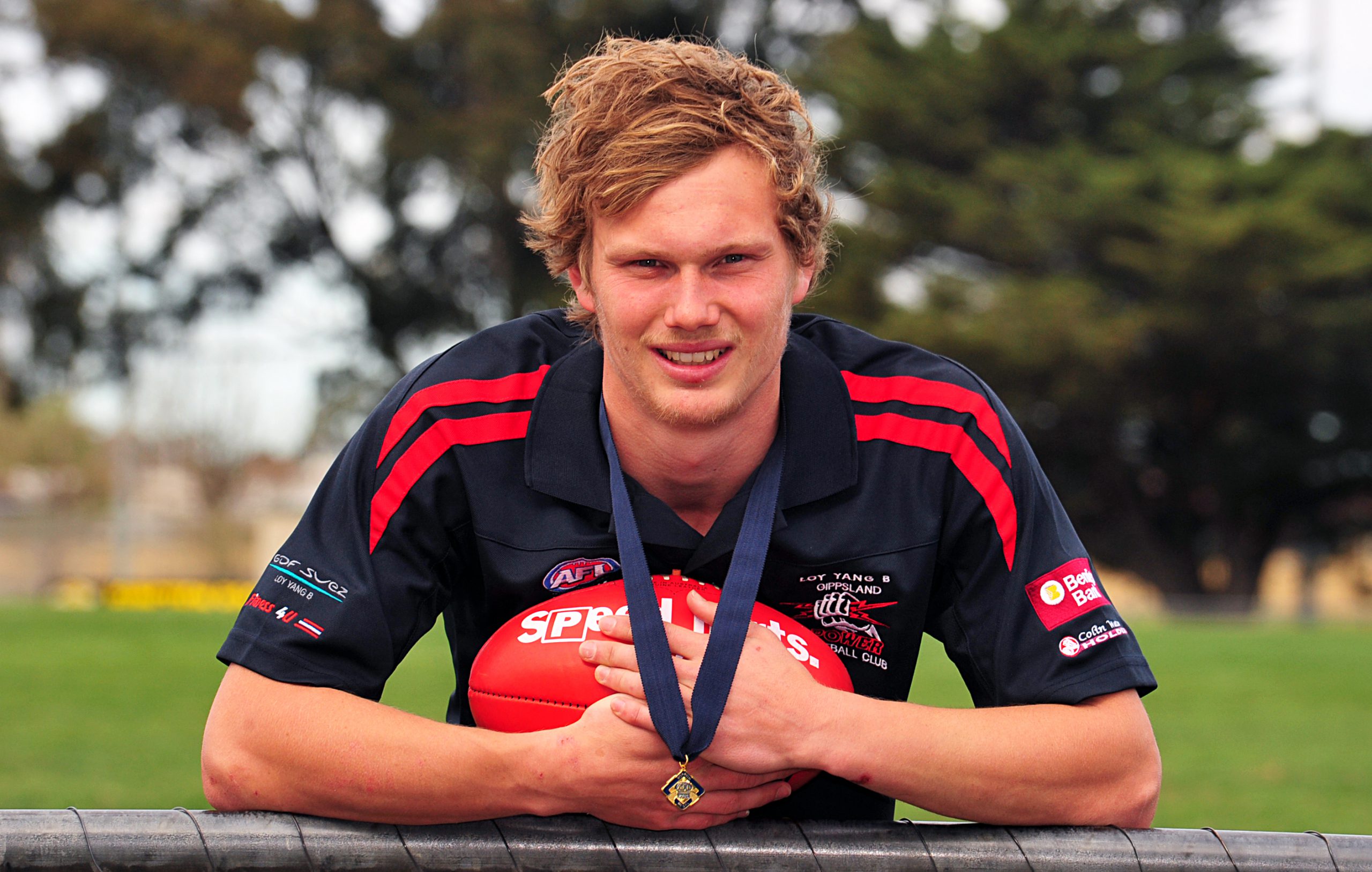 FOOTBALL
TAC CUP
By SAMUEL DARROCH
RELATED COVERAGE: Brown's boy top of the class
TWO years ago surgeons gave Gippsland Power's Alex Carr a 20 per cent chance of playing football again, when he went under the knife with a serious leg injury.
After beating the odds in 2013 by simply returning for the red, white and blues, Carr went one step further on Sunday night when he claimed the 2014 Morrish Medal as TAC Cup best and fairest.
"In the end it was a pretty intense, nerve wracking night; I wasn't going to expect much when I got there, I thought I might get a couple of votes… but as the night went on I got a little more nervous when I started polling well," Carr said.
"I didn't really know what was going on, I couldn't believe it. I was over the moon, it still hasn't sunk in yet… I'm very honoured."
Carr hobbled through the under 16 national championships in 2012, and scans later revealed the midfielder had been playing on a broken leg, with a chunk of bone off his fibia the size of a golf ball floating around his knee.
The injury saw Carr miss a full season and the 2013 pre-season, yet the resilient ball-winner managed to finish runner-up in Power's best and fairest in his comeback year.
With several clubs expressing interest in a fully fit and finely tuned Carr, the 19 year-old suited up for Power as an overage player this season and took his game to new heights under Leigh Brown.
"I improved from last year, I didn't miss a game this year so that was a benefit for me to play every game," Carr said.
"As a 19 year-old… you sort of know what to expect. I tried to take on sort of a leadership role… just to help the young boys along.
"Also my game changed a little bit to more of an inside midfielder where I was sort of an outside midfielder last year, which Brownie helped me (with) along the year."
Carr was ranked first in contested possessions for the TAC Cup and second for most clearances, and his on field leadership grew with every round.
He polled in eight of his 17 games, with four best on ground performances, averaging 24 disposals per game.
At the halfway mark of Sunday's vote count, Carr, who was best on ground for Maffra earlier that day, had polled just twice for three votes, but stormed home to finish on 17 votes, three ahead of his nearest rival, Toby McLean (Oakleigh Chargers).
"With the boys we had a slow start, we didn't get going until round nine… we won four of our last six games, so we had a pretty good second half of the year which is why I probably polled so well at the end," Carr said.
With renewed hopes of being drafted, Carr has already drawn the attention of a number of VFL clubs as a fallback.
Older brother and former Power captain Ed's club Williamstown could be an option, and a chance for the Carr boys to join forces at last.
"I've always strived to be a little bit better than him… he's had a good career at Williamstown. We haven't played footy together much so maybe I'll end up at Willy next year if I don't get drafted and play some footy with him, which would be fun," Carr said.
The win marked the third consecutive Morrish Medal for Gippsland Power, following Nick Graham in 2012 and Josh Scott in 2013.
It was the Power's fourth in five vote counts, with Dyson Heppell's 2010 win almost backed up by Danny Butcher who fell one vote short in 2011.
Carr also joined Matthew Stolarczyk (1999) and Jarryd Blair (2008) as Power's sixth recipient of the award.
As well as the Morrish medal, he was runner-up by one vote in the competition's prestigious Coaches Award and was named as the centre man in the TAC Cup's 2014 team of the year.
Reflecting on the win, Carr reckons the key to winning a Morrish Medal "might be the hairdo", following the precedent of Heppell and Graham.