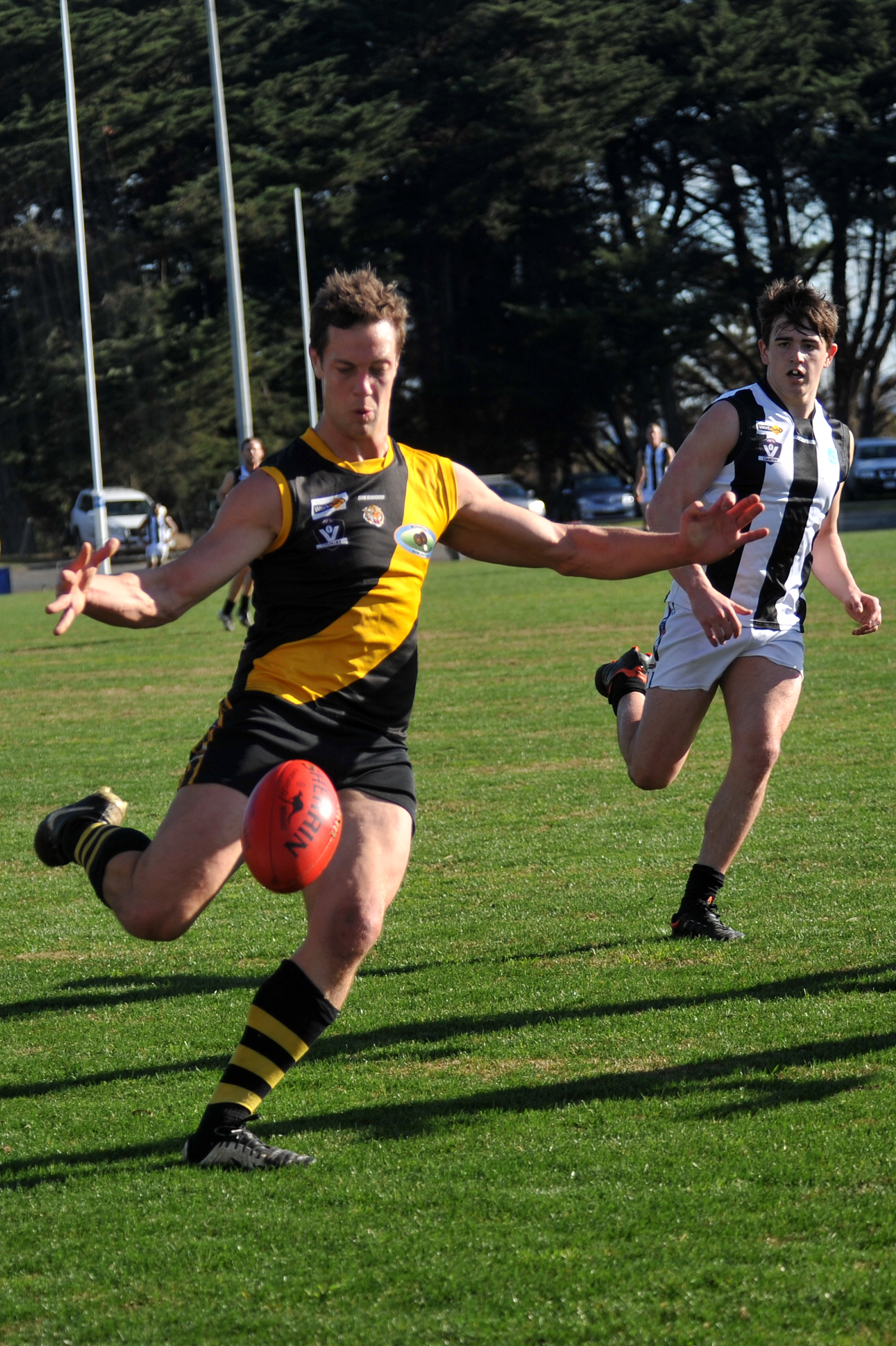 FOOTBALL
MORWELL'S Adam Bailey is the toast of the Gippsland League, after taking home the Trood Award and Rodda Medal from last night's vote count at Morwell Bowling Club.
Bailey, who notched his 200th game for the Tigers earlier this season, polled 20 votes to finish three clear of Wonthaggi ruckman Earl Shaw and Moe half-back Lloyd Williams in the seniors best-and-fairest award.
The Tigers' hard-nosed on-baller enjoyed an outstanding season and his ability to consistently win the contested ball was a major factor in his side finishing on top of the ladder and reaching a second straight grand final.
Bailey joined Morwell in 1998, having played his junior football for Churchill Kangaroos, and made his senior debut two years later at age 15.
A member of club's leadership group and former assistant coach, Bailey was part of last year's premiership team.
Wonthaggi's Tom Wells scooped the Rex Hartley Medal as reserves best-and-fairest, finishing one vote clear of Moe's William Dow and Maffra's Jeremy Jones.
NETBALL
Traralgon centre Stacey O'Brien won the A grade netball best-and-fairest award.
Lisa Shields won the B grade medal and Traralgon's Keely Bourke took home the C grade prize.
Karen Proctor was awarded life membership for her long-term and ongoing contribution to Drouin Football Netball Club, Gippsland League and netball throughout the region.
Lorraine Hutchinson (Bairnsdale), Gary Kos (Drouin), Marg Barter (Leongatha), John Vardy (Maffra), Trevor Blandford (Moe), Brian Maxwell (Morwell), Stuart Thomas (Sale), Andrew Quenault (Traralgon), Gavin Ough (Warragul) and Paul McMahon (Wonthaggi Power) were recognised for their service to football with Joe Hutchison Memorial Awards.
TEAMS OF THE YEAR
FOOTBALL

Backs: Shane Fyfe (Sale), Andrew Quirk (Sale), Tom Hutton (Morwell)

Half Backs: Justin McLay (Sale), Andrew Nelson (Bairnsdale), Byron Dryden (Wonthaggi Power)

Centres: Tom Marriott (Leongatha), Aaron Ware (Wonthaggi Power), Kelvin Porter (Maffra)

Half Forwards: Michael Geary (Traralgon), James Gibbs (Bairnsdale), Tim Northe (Traralgon)

Forwards: Nick Nagel (Leongatha), Darren Sheen (Maffra), Joel Soutar (Morwell)

Rucks: Earl Shaw (Wonthaggi Power), Adam Bailey (Morwel), James Blaser (Moe)

Interchange: Jack Blair (Wonthaggi Power), Brad Scalzo (Warragul), Josj Jennings (Traralgon), Jack Lipman (Sale)

Coach: Harmit Singh (Morwell)

Captain: Aaron Ware (Wonthaggi Power)

NETBALL

Goal Shooter : Alice Lindsay (Wonthaggi Power)

Goal Attack : Courtney Blair (Wonthaggi Power)

Wing Attack : Taylah Bott (Drouin)

Centre : Stacey O'Brien (Traralgon)

Wing Defence : Kasie Rump (Leongatha)

Goal Defence : Sarah Dunn (Drouin)

Goal Keeper : Catherine Bulmer (Bairnsdale)

Interchange : Allison Petrou (Traralgon), Rachel Allison (Morwell), Annora Virgo (Bairnsdale)

Coach : Stacie Proctor (Drouin)