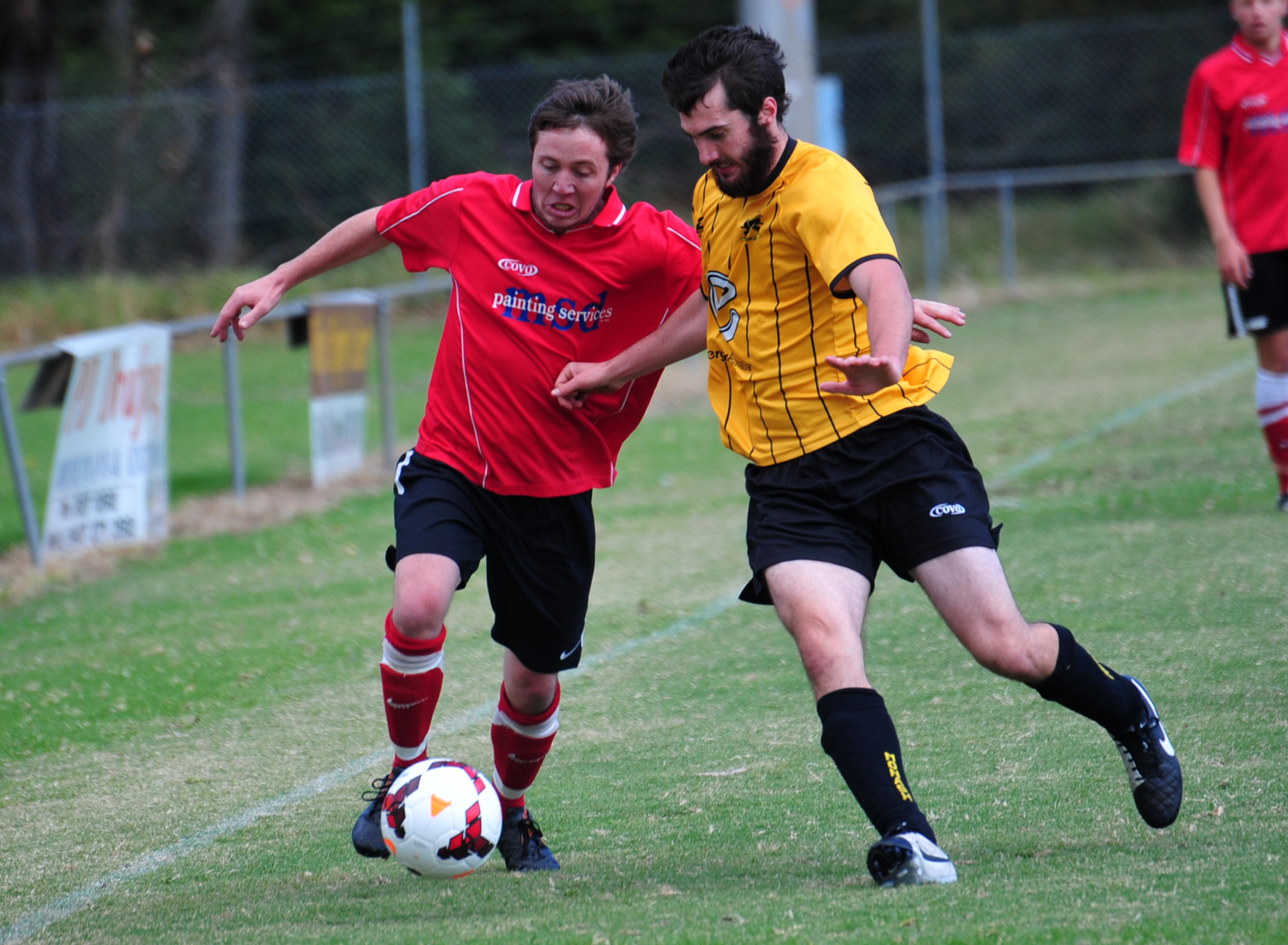 RELATED COVERAGE: GSL semi-finals review
SALE v MOE | Played: 88 | Moe won: 68 | Sale won: 13 | Drawn: 7 | 1st game 1954 Moe 6 Sale 1 | Highest Score: Moe 9-1 (1968) | Sale 4-1 (2003) | Most goals in a match: 11-2006 Moe 7 d Sale 4; 1994 Moe 9 d Sale 2

FREE-FLOWING, fluid attack versus sponge-like defence will characterise this Sunday's Gippsland Soccer League grand final between Sale United and Moe United.
The Swans took flight last week on the counter attack to slay the previously unbeaten Churchill United 5-1, and will carry plenty of confidence into the title defence.
Armed with an arsenal of attacking speedsters, including Tommy Nguyen, Ash Ross and Ray Allred, Sale will look to dictate the tempo of the game from the outset.
However, breaking through the elastic defence of the Red Devils, which kept a clean sheet against another pace-filled outfit in Falcons on Sunday, will not come easily, something Sale co-coach Ross McWhirter fully respects.
"We'll probably utilise our speed going forward and we might give them a few troubles, but we're under no illusions how difficult this is going to be," McWhirter said.
"Moe have been a great side over the last few years… they've always been in our eyes the team to beat this season… they're a very well organised, well drilled side."
Sale hit its stride in September, making deep runs in both the league finals and Battle of Britain Cup, and is hungry for more trophies after tasting a grand final title for the first time in decades last year.
"That's been our emphasis all season, we wanted a bit more silverware and I guess when you win something the previous year you want to defend that title, you know how hard you worked to get it," McWhirter said.
"There's a lot of drive around the club, last year was our first premiership in 33 years and we want to kind of show the league it wasn't just a one off."
Last time the two sides met in round 22, Moe cantered to a high scoring 6-3 win on Sale's home turf.
However on that occasion the Red Devils had captain and midfield maestro Marc Mchallam pulling the strings, who looks set to miss the final through suspension.
In his stead Joel Baldwin will shoulder most of the creative duties, and along with Ash Birrell will drive the ball forward for the likes of Luke Bathgate and Matt Shearing.
Moe coach Lee Dastey anticipated a less frivolic encounter than the nine-goal affair on Sunday.
"I'm not expecting something similar, it will be open, but fairly tight at the back because they're fairly well organised at the back and usually hard to score against," he said.
After failing to defend the coveted league championship, Moe is eager to lift at least one trophy come Sunday.
"We're out of the cup, we didn't win the league so this is it, we've had a reasonable year so we want to finish it off with a trophy," Dastey said.
"When you've got the grand final to look forward to it's an exciting week, the song was sung pretty passionately (after beating Falcons). It was good to get that win there and know we're in the finals.
"It's what you play for throughout the season, it's what the cold nights at training in July are for, having that grand final to play for in September, so we're really looking forward to it."
Kick off is 4pm, Sunday at Latrobe City Stadium.
Players to watch
SALE UNITED
Ashley Ross
SALE skipper Ash Ross is arguably the competition's finest talent.
His vision and guile in the midfield will dictate Sale's fortunes.
Look forward to his battle with Joel Baldwin.
Tommy Nguyen
AN explosive attacking talent, Tommy Nguyen led the golden boot charge by a solid margin through the first half of the fixture, and finished with 23 goals for the regular season.
Nguyen's speed off the mark and nimble footwork will be particularly dangerous in close quarters around the penalty area.
Ray Allred
A zippy utility type, Ray Allred is an up tempo midfielder with attacking potency in spades.
Capable of breaking solo the length of the field, Allred will be dangerous on the counter.
MOE UNITED
Joel Baldwin
IN the absence of Marc Mchallam, Joel Baldwin will anchor the Red Devils midfield.
Solid in attack and defence, Baldwin will fuel Moe's creative spark.
Watch for his long throw-ins to cause problems in the offensive third.
Ash Birrell
AFTER suffering a grand final defeat with Monash last season, Ash Birrell will have double the incentive to win with his new club this weekend.
Birrell's poise on the ball and potency from set pieces will be key.
Matt Shearing
MOE'S leading goal scorer provides a target in the air and from set pieces.
His partnership with Luke Bathgate should provide a solid avenue to goal.
FINALS SERIES CHAMPIONS

2004 Fortuna 60
2005 Churchill United
2006 Fortuna 60
2007 Moe United
2008 Not contested
2009 Fortuna 60
2010 Fortuna 60
2011 Churchill United
2012 Churchill United
2013 Sale United
Last three matches
Round 22 2014 – Moe United d Sale United 6-3 (Sale)
Round 11 2014 – Sale United d Moe United 1-0 (Moe)
Semi-final 2 2013 – Sale United d Moe United 2-0 (Moe)
FIXTURE

All matches to be played at Latrobe City Sports Stadium, Morwell
SENIORS Moe United v Sale United, 4pm
YOUTH Sale United v Falcons 2000, 2pm
RESERVES Churchill United v EGUFC, noon
WOMEN Tyers SC v Fortuna 60, 10am