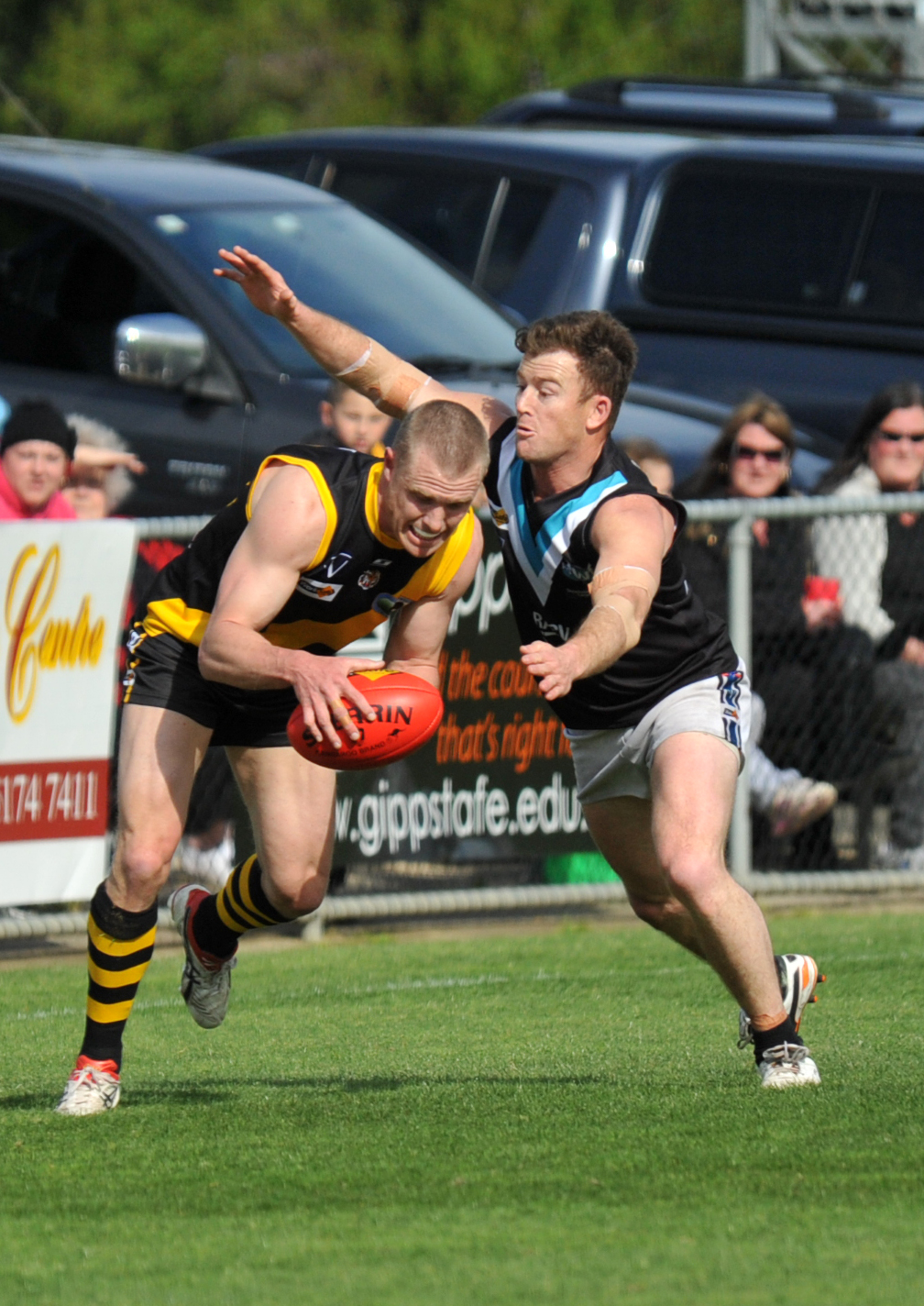 RELATED COVERAGE: Bailey on the ball
RELATED COVERAGE: GL netball grand final preview
MORWELL and Wonthaggi Power will vie for Gippsland League glory at Morwell Recreation Reserve on Saturday in an intriguing grand final match-up few predicted.
The stage was set for a replay of last year's premiership decider between the Tigers and Sale, until the Power intervened with a record-breaking fourth-quarter comeback in last weekend's preliminary final.
The 11th-hour heroics earned the Power a maiden Gippsland League grand final berth and coach Rob Railton said the club was not content with last week's extraordinary result.
"We'll discuss it at training, then move on," Railton said.
"Having a short week helps in some ways. We'll only know the answer (to whether the Power played their grand final last week) after this weekend.
"For the club and everyone that puts in the hard work to make this happen, it's very exciting and we're all looking forward to the challenge."
Wonthaggi Power was formed in late 2004 when Wonthaggi Blues and Wonthaggi Rovers merged.
The new club spent its first five years in the Alberton Football League, reaching the grand final every season for three flags, before joining the Gippsland League in 2010.
A member of the Blues' 1993 Bass Valley Wonthaggi Football League premiership team, Railton played in the defunct club's grand final defeats in 2001 and 2002, but relished having a young squad hungry for success.
"We've got a couple (premiership players) left from the Alberton days, but for our list it's another learning tool," he said.
"It's not about my premiership experience or anyone else's, it's about these players this year.
"Morwell's ball movement is really good, they like to possess the ball and find free players, so we have to be good defensively and when we get the ball ourselves we have to make good decisions and keep the ball a bit, otherwise we'll be in trouble."
After winning the premiership the hard way last year, Morwell took the direct route to this year's grand final, shaking off a third-quarter slump to beat Sale in the second semi-final – their only game since the final-round win against the Magpies on 23 August.
Morwell coach Harmit Singh said keeping preparation consistent was key.
"Every club is different. Last year we went through and won and the year before Sale had a week off and won," Singh said.
"We had a week off a couple of weeks ago and played well against Sale and everyone understands it's grand final week, so there's more hype, but as a coaching group we just try to keep it low key and go with a similar routine."
Wonthaggi is one of only two teams to beat the Tigers this season and Singh was not surprised to see the Power beat Sale.
"I thought that game would go down to the wire, but I thought it would be closer at three-quarter-time," he said.
"I rate them as a footy club, they're well-coached and to get back into a winning position was a great effort.
"They're very good with the football, put a lot of time into their defensive mechanisms and work off each other."
The Tigers face a tough week at the selection table, with Jack Weston, Ben Ainsworth, Campbell MacInnes and Zac Anderson in the selection mix.
Weston, a former Geelong AFL rookie, trained strongly last week and looks a certain inclusion, while Anderson has been a regular this season, MacInnes is a premiership player and Gippsland Power-listed youngster Ainsworth is an immense talent.
Team-of-the-year captain and on-baller Aaron Ware and key forward Troy Harley remain in doubt for the Power, but should play.
The ruck duel between Tom Crosby and Earl Shaw and the battle between Morwell key forwards Ash Close, Daniel Hutchison and Dean McDonald and Power backs Shannon Bray, Chris Wylie and Byron Dryden loom as some of the intriguing matchups.
Containing the Power's run off half-back is key for Morwell, while Wonthaggi must hold its own against the prolific Tigers midfield.
The match will be Singh's last at the Tigers, who will hope to cap an extremely successfully period with the club's 12th senior flag and first back-to-back premiership since 1952-53.
"I just hope to finish up my time at the footy club well and give the supporters something to celebrate," Singh said.
KEY PLAYERS

Morwell
TOM CROSBY
A late start to the season has Crosby peaking at the right time and should he dominate the ruck and around the ground as he has been, Wonthaggi could struggle to see enough of the ball to win the game.
TARKYN LOCKYER
More than 200 AFL games, including the 2002 grand final, Lockyer looms as a key figure when the game is in the balance and is the polish on Morwell's well-oiled engine room.
BEN KEARNS
Kearns is the Tigers' X-factor. A forward with clean skills and great awareness around goal, he is perhaps the most dangerous addition to the side that won last year's premiership.
Wonthaggi
EARL SHAW
Shaw has an enormous role to play in stopping Morwell's on-ballers getting first use of the footy by matching Tom Crosby in the ruck, but his ability to go forward and kick goals could be just as important.
JACK BLAIR
Collingwood's wretched injury run deprived Wonthaggi of Blair's services for much of the season due to his VFL commitments, but his run and carry from half-back is a crucial element of the Power's style of play.
NATHAN JONES
Jones may not be obvious star of the Power midfield, but with six goals in three finals – including two of the seven in last week's epic last-quarter comeback – his ability to impact the scoreboard is invaluable.
LINEUPS (LIKELY)
MORWELL TIGERS
1 Adam Bailey MID
2 Brandon Bailey MID
3 Daniel Hutchison FWD
5 Harmit Singh HALF-BACK
6 Joel Soutar MID
7 Boyd Bailey MID
9 Ben Kearns FWD
10 Ash Close CHF
12 Michael J Duncan BACK
13 Julian Blackford CHB
15 Tom Hutton HALF-BACK
16 Michael P Duncan MID
17 Ben Ainsworth MID
18 Rob Michaelides MID
20 Jack Weston HALF-BACK
22 Dean McDonald FWD
23 Mannon Johnston FWD
25 Tom Crosby RUCK
26 Lachlan Little HALF-BACK
27 Campbell Macinnes BACK
28 Tarkyn Lockyer MID
32 Ryan Hearn RUCK-FWD
35 Devon Soutar MID
39 Simon Noy BACK
44 Tim Ryan MID
60 Zac Anderson BACK
WONTHAGGI POWER
1 Shannon Bray BACK
2 Chris Wylie BACK
3 Dom O'Connor FWD
5 Michael Kelly MID
6 Kane McCarthy WING
7 Lachlan Jones WING
8 Troy Harley HALF-FWD
9 Tim Gilliland (Capt) MID
11 Aaron Ware MID
12 Nathan Jones MID
13 Joel Liddle MID
15 Aiden Lindsay MID
19 Jakeb Thomas FWD
20 Ben Eddy BACK
21 Byron Dryden BACK
22 Earl Shaw RUCK
26 Eli Richards FWD
27 Aloysio Ferreira-Neto MID
33 Matt Coyne BACK
34 Travis Krause FWD
45 Jarrod Membrey HALF-BACK
52 Toma Huther RUCK/FWD
53 Jack Blair HALF-BACK
STATS
All matches: Played 37 Morwell 15, Wonthaggi 22
Finals: Played 1 Morwell 1, Wonthaggi 0
Last 10 matches: Morwell 7, Wonthaggi 3
Last three matches
2013 (First semi-final) Morwell 8.17 (65) d Wonthaggi 7.6 (48)
2014 (M) Morwell 15.11 (101) d Wonthaggi 6.12 (48)
2014 (W) Wonthaggi 11.9 (75) d Morwell 10.4 (64)
Present winning sequence: Wonthaggi 1
Highest scores: Morwell 22.26 (158) (1997), Wonthaggi 29.19 (193) (2004)
Lowest scores: Morwell 4.7 (31) (2003), Wonthaggi 3.4 (22) (1995)
Greatest winning margin: Morwell 88 (1997), Wonthaggi 134 (2003)
Most goals (match): Morwell, 7 R.Taylor (1996): Wonthaggi, 11 M.Silver (2004)
FIXTURE
All finals to be played at Morwell Recreation Reserve.
FOOTBALL
FOURTHS Moe v Maffra 8.30am
THIRDS Traralgon v Maffra 10.30am
RESERVES Maffra v Traralgon 12.30pm
SENIORS Morwell v Wonthaggi Power 2.30pm
NETBALL
UNDER 13 Maffra v Traralgon 8.30am
UNDER 15 Traralgon v Moe 9.45am
UNDER 17 Traralgon v Moe 11am
C GRADE Traralgon v Morwell 12.15pm
B GRADE Traralgon v Moe 1.30pm
A GRADE Sale v Morwell 3pm
Reserves
THE top two sides at the end of the home-and-away season will battle it out for the reserves flag.
Maffra and Traralgon have not met this finals series, after Wonthaggi Power upset the Maroons in the qualifying final, with the Eagles accounting for the Power by 25 points in the second semi-final.
Traralgon beat Sale, then got its revenge on Wonthaggi with a 68-point win in the preliminary final to book its place in the decider.
Just five points separated the grand final combatants in round 15 and the premiership showdown promises to be just as tight.
Thirds
TRARALGON goes into the thirds final as the red-hot favourite, having lost just one game for the season.
The Maroons romped to victory in the second semi-final, downing Maffra by 70 points.
The Eagles bounced back to beat second-placed Sale by nine points in the preliminary final, having beaten the Magpies by one point in the qualifying final to set up what should be a good contest between two exciting young teams.
Fourths
MOE and Maffra will contest the first flag of the day in the fourths grand final.
The Lions claimed the minor premiership and sailed through the finals series with a 29-point second semi-final win against the Eagles, who reached the final from third place.
Maffra knocked off Bairnsdale in the qualifying final and, after falling short against Moe, earned a crack at the flag with a thrilling nine-point win against rival Sale in the preliminary final.