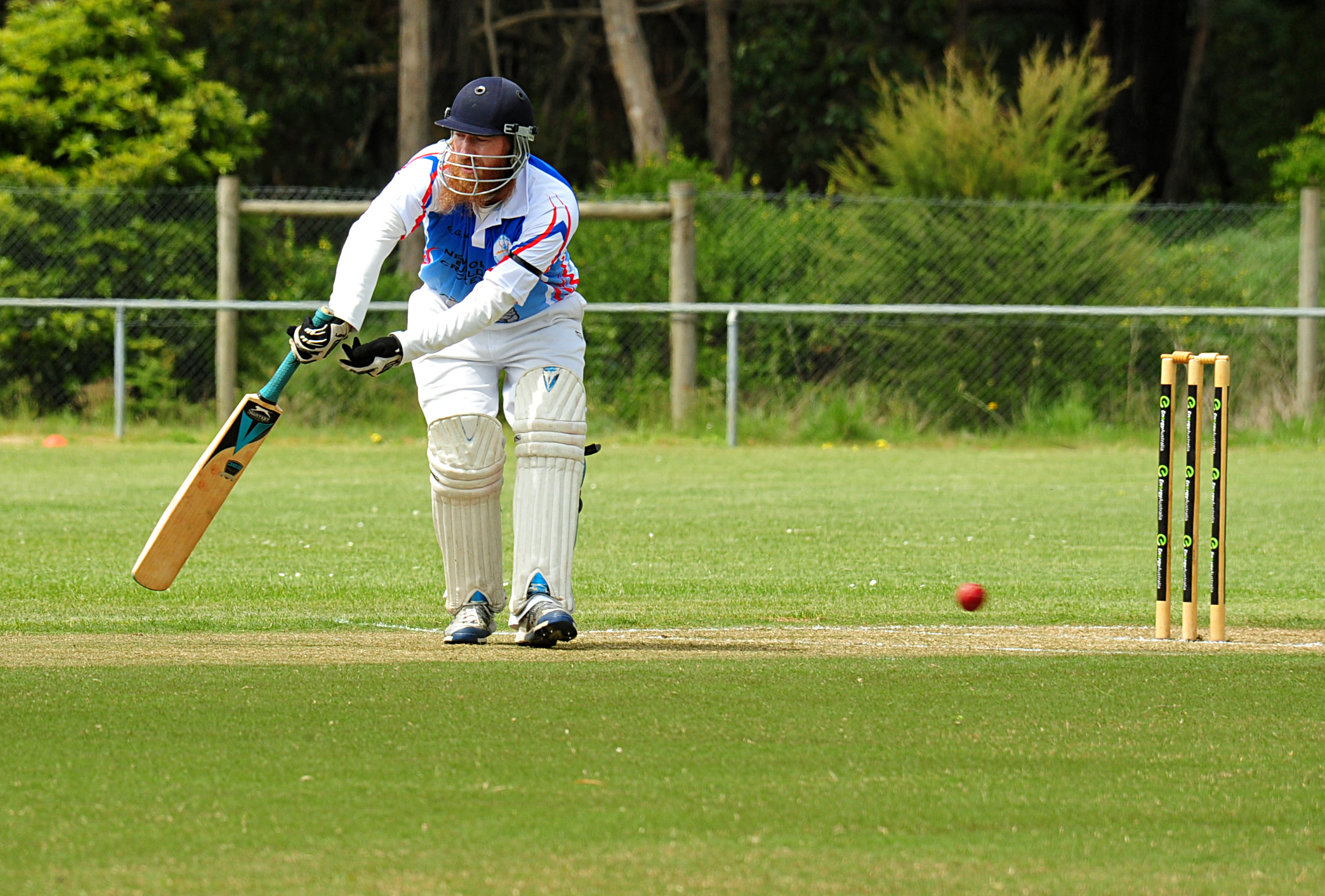 CRICKET
CGCA
Yallourn North v Trafalgar
YALLOURN North edged out Trafalgar by just two runs in a thrilling round two Central Gippsland cricket matchup.
Trafalgar captain Rhys Holdsworth won the toss and sent Yallourn North in to bat, and his decision was vindicated with the early wicket of Andrew Petrou, dismissed with the score on nought.
Aidan Vesty and Josh Keyhoe rebuilt the innings with a 62-run partnership before Keyhoe was caught behind off Holdsworth.
Vesty and skipper Paddy Spiteri then combined for a stand of 63, taking the score to 125 when Holdsworth struck again, clean bowling Vesty.
Spiteri did his best to marshal the lower order, eventually finishing with an impressive 68*, but the Bombers' middle order was unable to connect with any big hits.
There were several single figure contributions including Sam Cougle, who notched his second duck in as many games for his new club.
Holdsworth's 3/47 was the Ships' best while Will Cheatley also bowled well to finish with 2/32.
James Blaser came crashing down to earth after his massive hundred last week when he nicked one through to the keeper off Glen Sheekey to leave Trafalgar 1/0, the same position as Yallourn North faced earlier.
Chris Robinson fell soon after and Holdsworth began to shoulder the responsibility, contributing the bulk of the runs with a belligerent 62, but once he was out stumped the Ships began losing regular wickets.
Will Cheatley played with complete freedom, scoring 46 and squeezing all the runs he could from the tail, taking Trafalgar to 164 before being the eighth wicket down, and Sheekey's fourth in his 4/26, a spell that swung the game.
Tailenders David Bremner and Damien Mann did their best in a tense last couple of overs, but with just three runs needed from five deliveries, Mann was LBW to Brandon Bailey to hand the points to the Bombers in a dramatic finish.
Moe v Thorpdale
A DEPLETED Thorpdale sent Moe in on the Racecourse Turf, and Shannon Pickering struck in his first over to remove Dylan Lee for a duck.
Sean Spiteri quickly followed which brought captain and key wicket Andrew Philip to the crease, whom the Blues proceeded to drop first ball.
Philip's 28 was far from a huge knock but was the highest score of the game and enabled the Lions to post a total just beyond Thorpdale's reach.
Justin Mathison, Nathan Lee and Aaron Walshe all got starts but fell victim to the treacherous nature of the pitch, while Shannon Pickering (3/26) and Nathan Hammond, all of 15 years-old and playing his first top-level match, took 3/12 including the prized scalp of Philip.
Thorpdale lost veteran Harvey Poole early and missed his calm influence as wickets fell regularly throughout the chase, the one major stand being 26 runs between Kayne O'Connell and South African import Fraser Smith.
Smith was Thorpdale's best with 21 as the chase eventually petered out and the Blues were dismissed for 105, 33 runs short of the target.
Aaron Walshe was the Lions' key bowler, his 4/19 from 10 overs turned the game by decimating the middle order, while Justin Mathison took 2/15 from his 10, stifling the chase.
Morwell v Latrobe
LATROBE batted first against cross-town rival Morwell and was off to a poor start with main man Anthony Bloomfield out early.
Steve Freshwater made a solid 26 but the Sharks batsmen from numbers three to six all made single figure scores and at 5/29 Latrobe was in serious trouble.
The Sharks needed runs from somewhere and it was Matt Brewer, the opening batsman coming in at number eight, who stood tall with 58 to boost Latrobe's total.
David Embleton, Brandon McDonald and Brendan Brincat all bowled superbly to keep the runs down and picked up two wickets each, while Tim Dowe broke the mould of last year's bit-part role – his 3/29 the best figures for the Tigers.
Morwell was in complete control with the bat and never looked in trouble as Craig Giddens and Mark Cukier both struck 44 to guide the Tigers past the target two wickets down.
Fourteen-year-old Will Kennedy was the Sharks' one bright spot, his 2/13 a sign of big things to come.
Mirboo North v Newborough
Newborough took a dour approach in batting first against Mirboo North with its 7/77 in 45 overs coming at a run-rate of 1.7 per over.

Four Bulldogs registered ducks as Steve Rogers (2/6), Rob Phoenix (2/4) and Liam Smit (2/16) strangled Newborough's innings.

Mirboo North passed the score two wickets down at a canter before Callum Buckley (65) and Cameron Le Page (74*) made the most of the opportunity to build some confidence and seal their spots in the XI.

Robert Blunt (1/35) and Ryan Harvey (1/19) were Newborough's best performers.
Second grade
Yallourn North v Jeeralang-Boolarra
YALLOURN North's innings unravelled as soon as it started against Jeeralang Boolarra.
Adam Chester was the top-scorer with 12 as the Bombers were shot out for 42.
Glen Nijenhuis was the destroyer with 4/12 while Stan Urbanic, Peter Gilpin and Angus Peter each claimed two wickets.
The Panthers passed the target one wicket down and continued to bat on, despite there being no bonus points in second grade, with Dermott Leys' imperious 158 from number seven piling the misery on the Bombers as they chased leather all afternoon.
Latrobe v Morwell
DYLAN Day's 90 was the deciding factor in Morwell's victory over Latrobe, with Steve Bilic and Brandon Francis also chipping in with starts.
Brendan Wynne took 4/25 in his first game for the Sharks and backed it up with a supreme 77.
Ultimately the Tigers' score of 220 was too much for Latrobe which was all out for 138, as Ben Ainsworth (3/22) and Dean White (3/42) picked up wickets.
Rawson v Moe
ALEX Sword sliced 56 to power Rawson to 156 against Moe with help from Chad Williamson (37).
Zac Rendell picked up 2/3 and Daniel Atkinson 4/33 to encourage the Lions.
In reply Rawson was all over Moe like a rash, with Jack Hudson (4/17), Ben Rotheram (3/22) and Peter Falls (2/6) taming the Lions for the cost of just 93 runs.
St Vincents v Mirboo North
MIRBOO North's 156 proved too much for St Vincents despite Brett Dowdell's 5/34.
Justin Blair's 59 was in vain as Dale Banks cleaned up the Saints with 4/18, including a hat-trick.
Jarrod Speed took 3/24 to make sure of the points.
Thorpdale forfeited against Trafalgar due to wholesale unavailabilities.
Third grade
Moe v Latrobe Sharks
PAUL Kane chalked up the first hundred of the season for third grade with a serene 104*, guiding Moe to 5/205 against Latrobe Sharks.
Michael Smith's 2/16 was the best for Latrobe but the other bowlers suffered at the hands of the aggressive Lions.
Peter Mooney's 28 got the Sharks off to a solid but slow start before combining with Corey Dobson on his return, who struck 41. Ultimately Latrobe left itself too much to do, though some late power hitting from Troy Dwyer (38*) added some respectability to the eventual total of 5/158.
Latrobe Colts v Hazelwood North
DEFENDING champion Hazelwood North won its first game in a close encounter against Latrobe Colts.
Dean Burridge hit 52 and Jack Aitken 46 for the Colts as they reached 140, while Brendan Ruddell's 4/30 did the job for the Razorbacks.
Rob Byrne cleaned up the middle order to take 4/17. Dave Morrison (32) and Hayden Kimpton (30*) were Hazelwood North's heroes with the bat as they closed at 7/155, while Bailey Nikodemski (2/14) and Aitken (2/24) were the best bowlers for the Colts.
Morwell v Willow Grove
MARK Smith's 39 was in vain for Morwell as his side closed at 7/112 against Willow Grove.
Jack Brown's 3/6 was the away side's best before Brody Hams struck 60 in the chase to lead Willow Grove to victory, declaring at 3/129.
Robert Maskiell's 2/18 was the only bright spot for the Tigers.
Jeeralang-Boolarra v St Vincents
ST Vincents batted first and was bundled out for a disappointing 79 by Jeeralang-Boolarra, with Paul McGrath, Tom Beamish and Paul Howes all picking up two wickets while Jacob Cecil snared 3/10.
The Panthers then declared on 6/108 as Beamish added 38 to cap a fine match, while for the Saints Jesse Hebbard took 3/15.