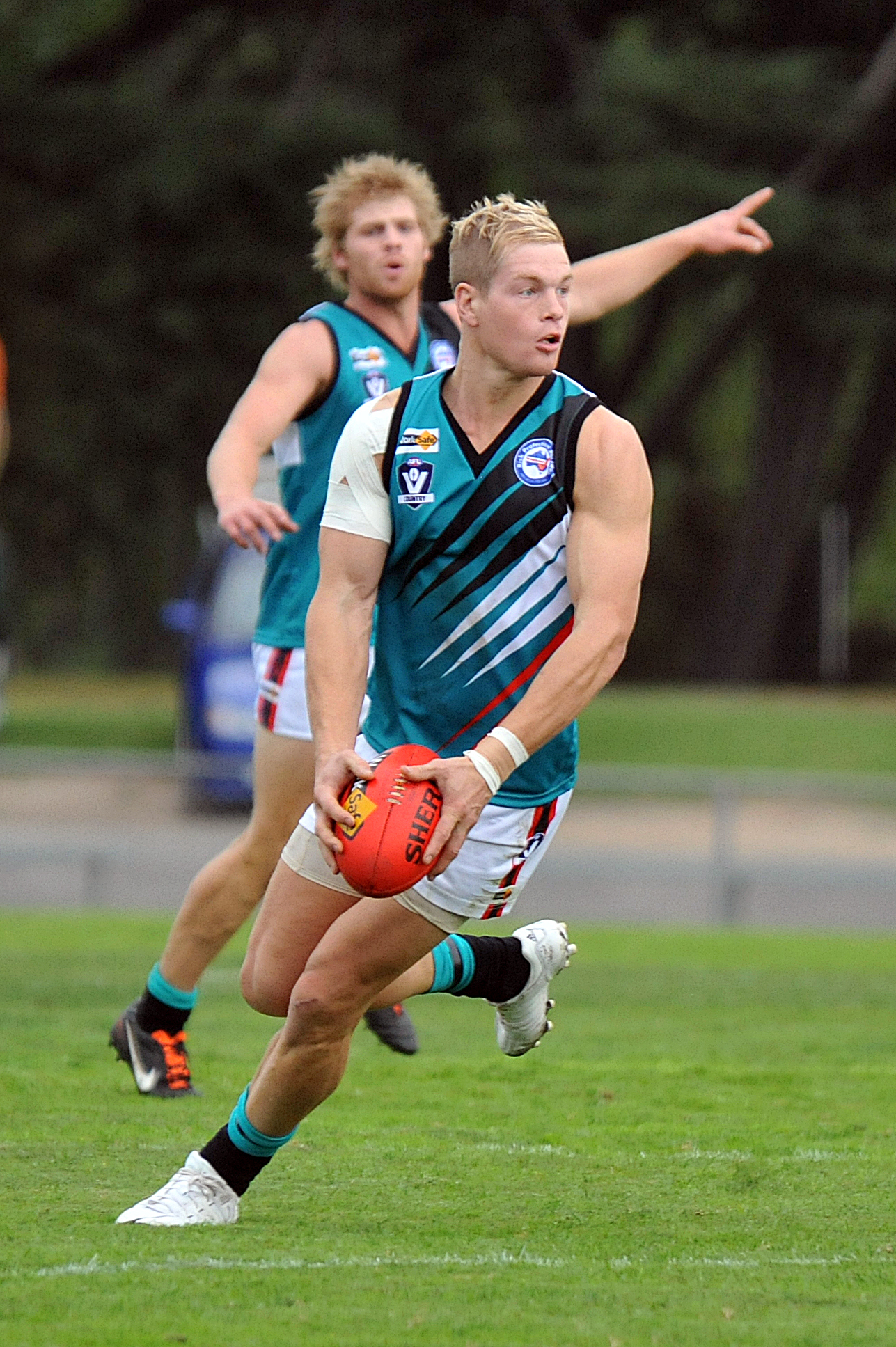 FOOTBALL
GIPPSLAND LEAGUE
By SAMUEL DARROCH
WARRAGUL Football Netball Club's member base voted up a bid to switch leagues 70-30 last Wednesday night, but the majority was just short of the 75 per cent requirement to make the move a reality.
The Gulls' potential negotiations to migrate to the neighbouring Casey Cardinia league were put on hold for at least the next two years as a result, but 2014 club president Vin Walkinshaw hoped the tight vote would put the Gippsland League on notice.
"It tells the league that's how serious we were about it and they need to do something in regard to not only Warragul, but Drouin, Wonthaggi and Leongatha," Walkinshaw said.
"The whole league doesn't revolve around Morwell, Traralgon, Sale and Maffra, the clubs in central Gippsland seem to get everything and our clubs don't seem to get a damn thing, so hopefully this is a wake up call for them, because if it's not this year, it's going to be in the next couple of years… other clubs will be testing the water elsewhere."
Walkinshaw alleged the southern and western GL clubs suffered from geographical issues and lesser support, citing a decision not to grant a preliminary final to Western Park, Warragul when Moe's Ted Summerton Reserve came up short of par as one such instance.
"Western Park was in as good a knick as the MCG or any other ground going around, but for some reason they made their mind up and no-one would tell me why," he said.
"They made a decision for the next three years, the grand finals are going to be at Morwell, Traralgon and Moe, the outer skirts don't get a look in.
"They've got a major problem in Gippsland football in regard to that type of thing… the big get bigger and the smaller just struggle."
One of the major factors behind remaining in the GL was the divergent junior structure in Casey Cardinia.
The league features under 17s and 19s and Sunday matches for the former, as opposed to under 16s and 18s on Saturdays in the GL, which Walkinshaw believes was the only sticking point in the vote.
"The 17s play on a Sunday which divides our club, now as a club that's not good," he said.
He believes Warragul juniors would be more likely to migrate to Ellinbank, where they could play under 16 football when graduating from under 14s, further diminishing an already struggling player base.
"If Casey had of had 16s and 18s I can guarantee you it would have been a 100 per cent vote (in favour of moving), we would have been gone," Walkinshaw said.
Walkinshaw said player retention was also affected by rising player payments in surrounding leagues, and while Warragul renumerated its players, it could not compete with amounts offered elsewhere.
Warragul cleared eight players to Ellinbank side Poowong alone this year as part of a broader exodus, which saw the club turn over almost 80 players throughout the season to keep a team on the park in all grades.
"I don't know the answer to money that's getting around town for country footballers getting paid either, but it's seriously got to be looked at at some level," Walkinshaw said.
"These blokes at AFL Gippsland or AFL in general, they've got people in place, that's what they're employed to do, so do your job basically.
"The money that was getting spent, waved under the players' noses, you can't knock the young blokes for taking it, it's ridiculous, it's too good to refuse."
AFL Gippsland region manager Travis Switzer said he was pleased to see Warragul remain in the area's premier competition, and pledged the ongoing support of the commission, which he said had also been offered in the past.
"We're really happy that they're staying, but we also understand some of the issues that Warragul is faced with at the moment, and no doubt we need to try and support them as much as we can… to put a plan in place to make them more sustainable moving forward," Switzer said.
"I'm happy to give up my own personal time and my staff to sit down with them and try to come together with a plan for them to have a sustainable footy club."
However, Switzer said Warragul needed to meet them halfway.
"It's not just us, it needs to come from them too. It sounds like as a club they're starting to unify a bit, which is good, so it's probably a good opportunity now… that everyone's working together, to put a plan in place," he said.
"These clubs are too strong to be playing in district footy leagues… we need Warragul in the Gippsland League and we need them to be strong and sustainable… it's going to take a fair bit of work and a fair bit of patience, but it needs to start somewhere."
Switzer said player payments was a complex issue which was being addressed at AFL Victoria level.
"We know it needs to be capped at some stage as it's escalating at a rate that clubs just can't sustain. I totally agree with Vin that it needs to be resolved, but at this stage it's sitting with AFL Victoria," he said.
"Once it is changed we will do everything we can to work with clubs and work with leagues to make sure it works."
The payments issue came to a head in December last year when it was unanimously considered a key point of concern at the annual Victorian leagues conference, when a 10-man AFL Victoria working party was formed to tackle the issue.
Recently the party determined to employ a trial system, the details for which are still being developed, for next season to address the issue, after 430 of about 650 surveyed clubs believed it was a problem.
A series of AFL Gippsland forums with local clubs revealed player payments, along with junior retention, were consistently among the top three key issues locally.
A Victorian Country Football League player remuneration guide currently offers clubs a payment guideline, but is not strictly enforced.
There is now a two-year cooling off period Warragul must wait before applying to move again, although special dispensation can be sought.