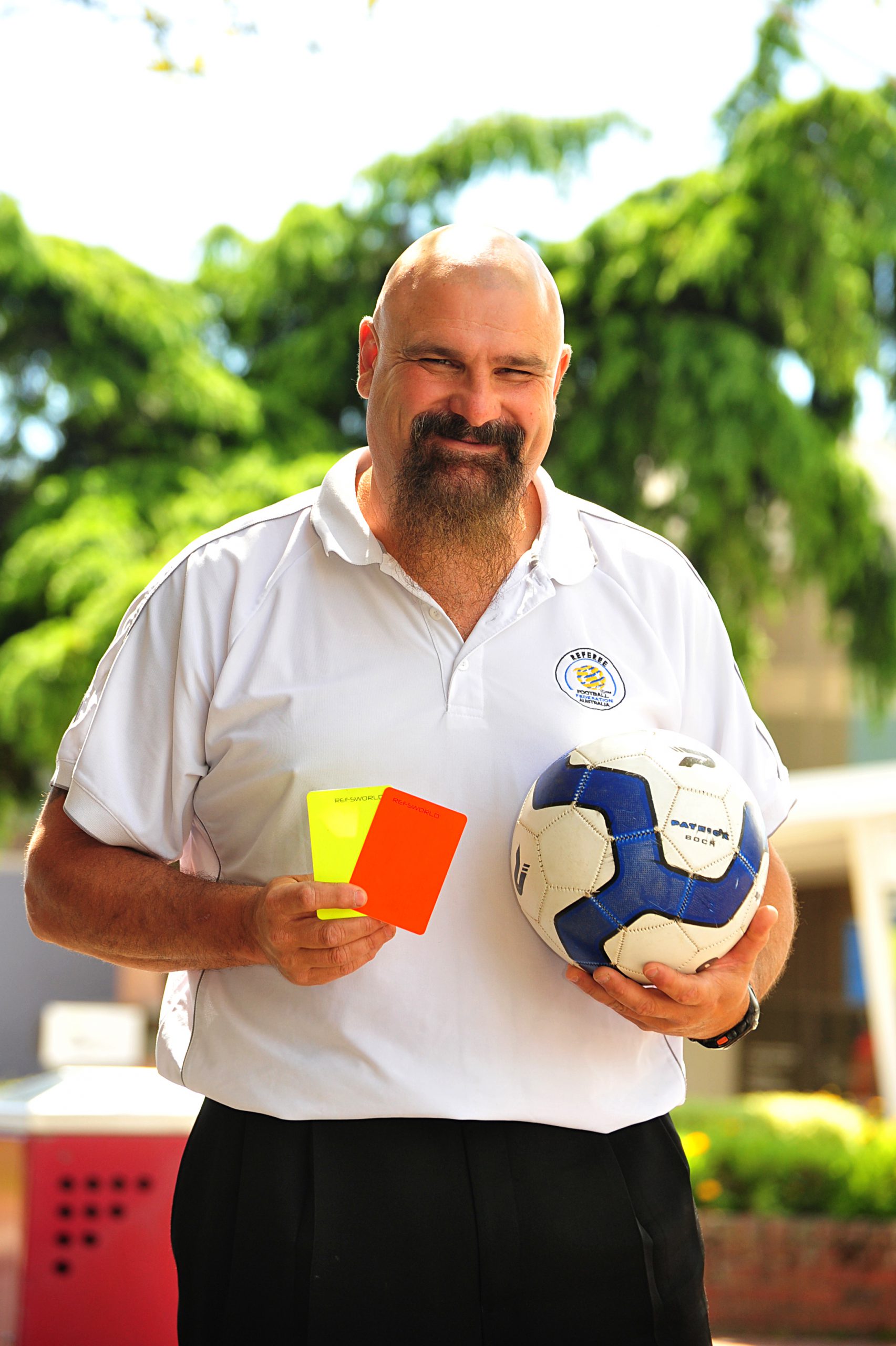 RELATED COVERAGE: Gippsland's plan for FIFA future
IT'S rare a whistleblower receives plaudits, but when Billy Wolstenholme was named Gippsland Soccer League referee of the year the room went up in a roar of approval.
The 46 year-old's first season in the GSL was warmly received by clubs, officials and players alike, and the feeling was mutual.
Weary of the politics and abuse from sections of the community in metropolitan football, the Pakenham plumber jumped at the offer of a change of pace from GSL manager Tony Coltman.
He still wore the odd jibe a man at six foot four and 100kg would never receive on the street, but the general culture in country football brought the experienced ref back from the brink of retirement.
"In the country people are very different and crowds are different; you still cop the odd bloke who thinks he's living in the '80s and gives you a spray across the fence, but people down here were very different, really appreciative of someone who is good at what they do," Wolstenholme said.
"I think there's a healthier perspective in what football is; it's a hobby and a pastime which is what it should be."
Wolstenholme began refereeing at 15 years old as a Blacktown City junior in Sydney to make some pocket money, but shelved the whistle at 18 when he became more serious about playing.
He achieved some success at National Soccer League level and state league in New South Wales before reaching a crossroad when he became "too old and slow to play at the level I really wanted to".
Unwilling to abandon the game, Wolstenholme turned to coaching and refereeing to stay involved under the tuition of FIFA referee Luke Brennan and repeat homeless world cup official Harry Milas.
A decade later and he continues to find equal reward on the field with a whistle in hand as he did with the ball at his feet.
"When you've got coaches that have just lost a game or players that have just had a hard game come up… and say 'well done you're the best referee we've had in a long time'… you kind of go well I've done what I'm supposed to do," he said.
"The sense of achievement in doing your job well is what keeps me going and when I can't do it well I'll give it up."
Wolstenholme's style is underpinned by "preparation and consistency", and his work off the pitch is as rigorous as any player.
Training up to four times a week, along with coaching a junior squad in Berwick, the qualified chef dropped 15 kilograms ahead of this season.
The other hallmark of Wolstenholme's approach is communication.
Not only does he enjoy a drink with players and coaches after the game, he has a community presence and investment in the local scene, running various clinics alongside zone development officer Mark Cassar.
"You interact with the community that you're based in and put the human face to refereeing that actually we are people… it's that interaction with the clubs at a level that's not on the park that builds relationships," Wolstenholme said.
"It's not just about turning up, whacking a uniform on, blowing a whistle and jumping up and down; I think part of the authority you carry on to the field is at some point developed by the relationship you have with the players off the field.
"I take an interest in these guys, I'm not just here to referee. I'd love to see these guys go on and become the best football players they can be."
On the back of his successful debut season in the GSL, Wolstenholme was also adjudged referee of the carnival at the Christian Football Federation of Australia national titles in Sydney by the likes of A-League match commissioner Gordon Nicholson.
Over and above the personal thrill of his accolades, Wolstenholme hopes to use his profile to better the next crop of young referees.
"When you start to work with younger referees and mentor, those sorts of things are always nice because other people will purport to those," he said.
With plans to return to the GSL next season, Wolstenholme said he would continue on as long as he was performing well and enjoying the job in the game he loves.
"I feel incredibly privileged to have been able to experience what I've experienced right throughout the game of football, and refereeing has given me another avenue to enjoy what I enjoy, and that's football," he said.