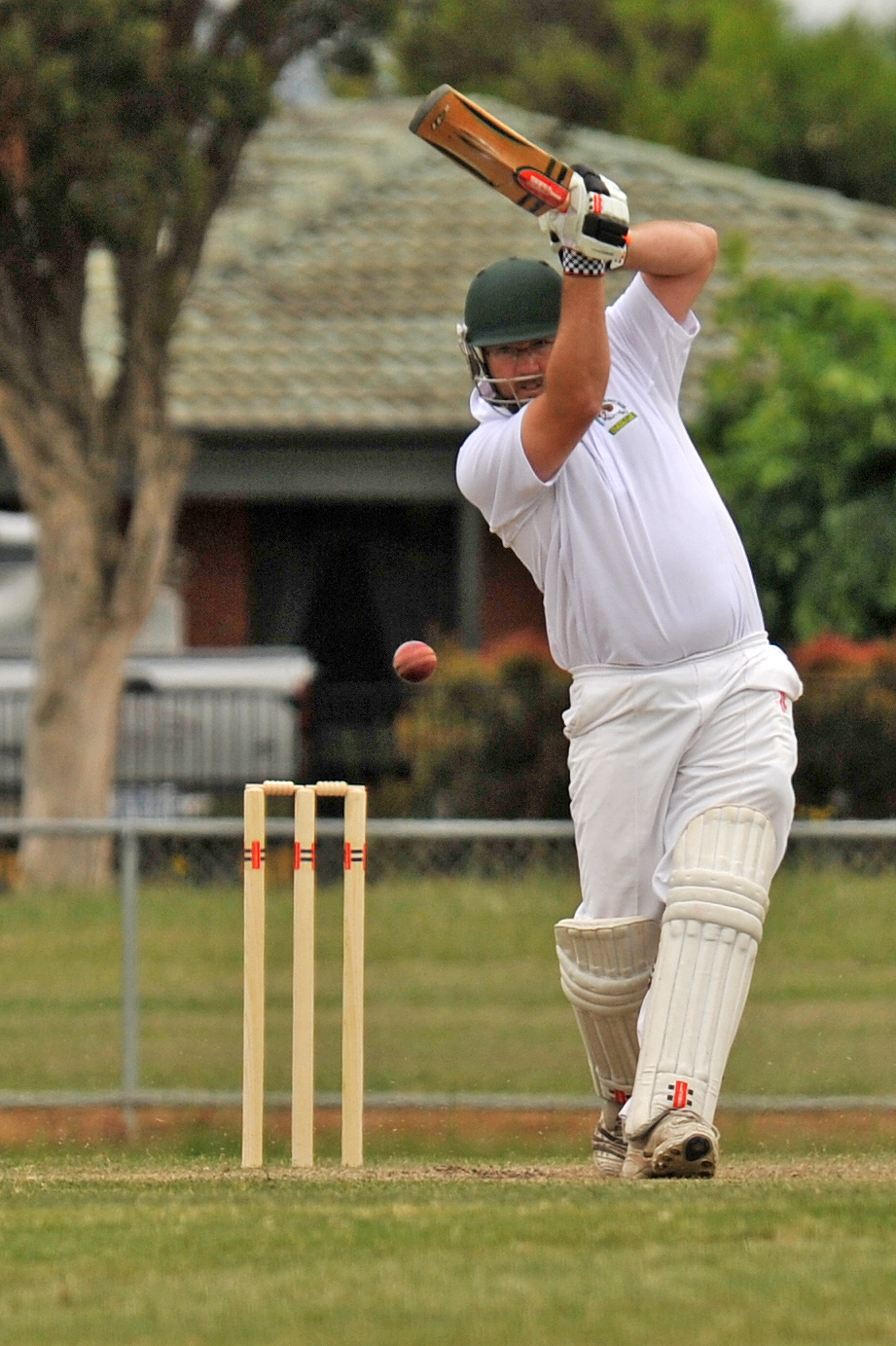 CRICKET
TDCA
FOUR sides made 200 plus on day one of a high-scoring Traralgon and District Cricket round five.
The star of the day was Traralgon West's Tim Fitch who scored his maiden A grade century.
Glengarry v Ex Students
THE Sharks won the toss and batted in the match of the round to post a hefty 9/238.
Jordan Gilmore continued his stellar form with 49, while Greg Munro (29), Dylan Spence (25) and Rick Battista (25) all contributed to the total.
Tim Spotswood was best with two wickets for Glengarry.
Rovers v Traralgon West
AT 3/29 Traralgon West was in big trouble batting first, but a great middle order fightback saw the side top the round for highest score with 241.
Batting at number five Tim Fitch remained 116 not out at stumps, marking his first century against the in form Rovers.
Hiran Rajapakse made 29, Jase Van Berkel 22 and Corey Rogers 20 to make up the other contributions to an outstanding total.
Matt Whitechurch and Todd Mann each took three wickets.
Gormandale v Toongabbie
THE Rams set a big target of 238 for Gormandale in a season defining clash.
Batting first Rob Whelidon and Jason Veneman were sensational in an opening stand of 156, both scoring 75.
Tim Dunn chimed in with a useful 48 not out as Toongabbie batted out the day. Best bowler for the Tigers was the returning Jarryd Drew with 5/50, while Adam Brady took 3/49.
Churchill v Centrals
Centrals scrambled through to make a competitive 211 after falling to 8/147. Jamie Hall batted well for 33, Corey Pollard top scored with a fine 65, while Ji Eccles batting at eight scored his first A grade half-century with a very handy 64 not out.
John Keighran was the pick of the bowlers for the Cobras with 3/67.
Imperials v CATS
SENT into bat, Imperials struggled from the start to reach 128 all out off 50 overs. Daniel Hamilton top scored with 32, followed by extras on 27.
Brad Foster nabbed three scalps for CATS, who are in deep strife at 7/80 in reply, still needing 49 to win.
B grade – round six
CATS 175 (J Pearce 3/19, R Williams 3/26, D Jones 2/18) def by Imperials 5/181 (J Thatcher 51*, R Morley 33, M Ross 31); Traralgon West 7/192 (CS Dekaste 47*, P Quinlan 33, S Carney 3/19) def Rovers 8/187(cc) (R Martin 53*, A Donoghue 33, M Rogers 2/20); Centrals 5/161(dec) (C Dunn 55, ZT Gray 33, L Pollard 27, R Harvey 2/28) def Churchill 9/146(cc) (D Loprese 3/35, C Dunn 2/20, S Perks 2/22); Ex Students 133 (D Churchill 39) def by Glengarry 7/136(cc) (C Potalej 2/16, J Kerry 2/38); Toongabbie 7/180(cc) (N Heard 4/47, S Gamble 2/23) def by Gormandale 8/182 (M Jacobsen 55, S Gamble 40, G Foenander 26).
C grade – round five
Centrals 6/180(cc) (R Patterson 70, D Kyle 55, A Baker 2/32) def Churchill 171 (J Sands 72, C Flanigan 38, W Watson 4/13 inc hat-trick); Rovers 178 (G Thompson 42, A Butt 37) def by Traralgon West
9/180 (M Senanayake 3/32, UK Madanyake 2/27); Toongabbie 8/157(cc) def Glengarry 64; CATS 74 (B Carroll 31, C Turnbull 2/14, B Jones 2/18) def by Imperials 8/240(cc) (N Turnbull 85, B McGregor 25, D Lade 2/16, B Carroll 2/34).