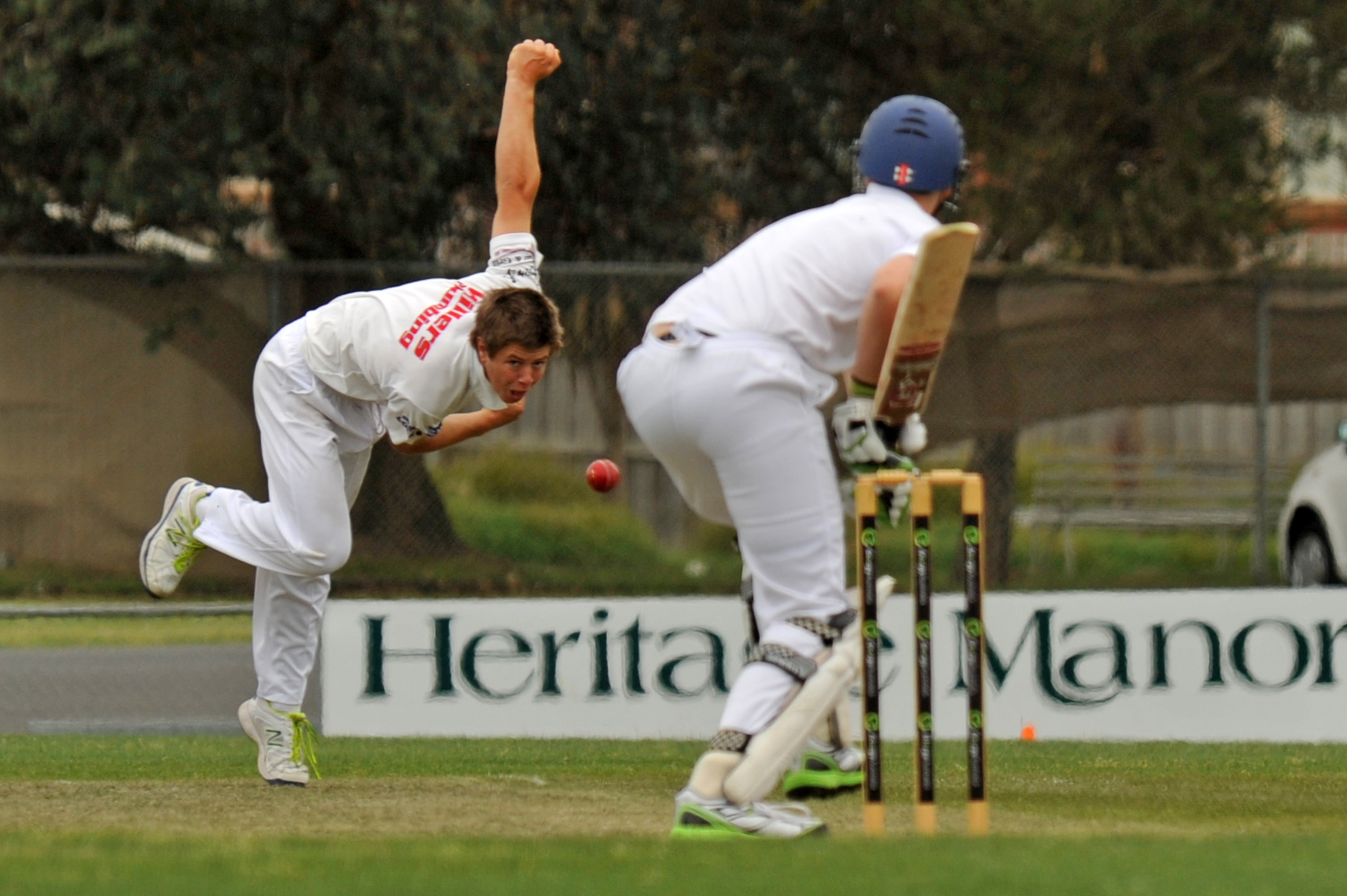 CRICKET
CGCA
Trafalgar v Latrobe
LATROBE is in a sticky situation in its Energy Australia Cup fixture against Trafalgar, after the Ships dismissed the Sharks for just 168.
Matt Brewer top-scored at the opening with 34 in an innings defined by the loss of big guns Kaushik Aphale for seven and Anthony Bloomfield for a duck.
Will Cheatley was too much for Latrobe to handle, sending down 22 overs to claim 5/48, while captain Rhys Holdsworth chipped in with 2/21.
Justin Vajler (30) and Daniel Siddle (29) both got starts but were unable to push on to a big score as Latrobe rapidly ran out of batsmen.
Trafalgar was off to a great start in reply at 0/53 before Aphale was introduced to the bowling crease, who removed both openers before Chris Johnson had Holdsworth caught behind for two.
The game is evenly poised with Trafalgar finishing at 3/58 at stumps, with all their main bats already back in the sheds.
The middle and lower order will need to work hard for the remaining 101 runs required for victory.
Morwell v Thorpdale
THORPDALE was bundled out for 115 by Morwell, with David Embleton (3/19) and Brandon McDonald (3/33) doing the damage.
Steven Hibbs top-scored with 18 while Ayden Kelly and Jason Richardson were the only other batsmen to make it to double figures.
Tim Dowe picked up 2/24 to clean up the tail and get the Tigers to the batting crease early in the afternoon.
Craig Giddens made a rampaging start with 43 but Morwell was made to work hard for runs by brothers Travis (2/28) and Shannon Pickering (2/8).
Morwell sit just four runs shy of victory and should wrap up first innings points early this weekend.
Moe v Mirboo North
ANDREW Philip struck 65 for Moe but his side was all out for 183 against Mirboo North.
Shane Zoch contributed 38 to give the final total some respectability.
Liam Smit was all over the Lions early in the piece on his way to figures of 5/50, his second senior five-wicket haul, his first having come against the same opposition two seasons ago.
Rob Phoenix claimed 2/6 and Steve Rogers 2/28, in and around Smit who sent down 28 overs.
Mirboo North faced three overs before the close of play, ending on 0/4 with Clinton Wise and Jed Alexander at the crease, both yet to score.
Newborough Bulldogs v Yallourn North
NEWBOROUGH batted first against Yallourn North and was in strife from the start of the innings.
Matt Coutts top-scored with just 13 and was the only bat to make it into double figures, while extras totalled 17.
Glen Sheekey (3/7), Will Lawrey (2/4) and Brandon Bailey (2/7) blew the Bulldogs away for just 54.
Yallourn North had 52 overs to face before the close, and reached 3/258 thanks largely to a century to Tyler Brown, who had Aidan Vesty (49*) for company at stumps.
Coutts took two wickets while Mark Whitney picked up the only other wicket to fall. The Bombers will be looking to push for outright points this weekend.
Second Grade
Mirboo North v Moe
MOE'S 9/112 looked under par against Mirboo North, but a late collapse in the run chase saw the Lions steal the points.
Jai Massesse struck a crucial 34 not out to lift the Lions' total batting first.
Todd Alexander (2/9), Connor Williams (2/30) and Brendan McKean (2/22) all bowled well to restrict the visiting side.
The Tigers were off to a shaky start but Paul Woodall's 42 looked to have them in the box seat, and even after his dismissal they looked to have the game wrapped up at 6/100 with more than 10 overs remaining.
Paul Cake made two crucial breakthroughs before bringing back Ron Whitney (4/35) to polish off the tail as Mirboo North lost 4/4 to be all out for 104.
Latrobe v Trafalgar
LATROBE obliterated the previously unbeaten Trafalgar, shooting the Ships out for 69.
Tail-ender Liam Durkin top-scored with 24 not out as Jon Hayes (4/24), Jamie Brierley (3/12) and Will Kennedy (2/15) struck at regular intervals.
Latrobe then piled up 4/224 with Kris Wells compiling an unbeaten 104 and Shayne Vallance chipping in with 81 after a scratchy start, as the Sharks completed a big win.
Rawson v St Vincent's
NORM Evans' 104 not out effectively put Rawson out of the game as St Vincents compiled 3/271.
Shine Shanmoghan (50) and Zayne Dowdell (75*) put the score well out of the Kookaburras' reach.
Ben Rotheram (2/51) was the only bowler to enjoy much success.
Rotheram then struck 59 as Rawson was all out for 108 in under 30 overs.
Brett McRae polished off the lower order with a handy 4/11, while Evans capped a fantastic individual performance by taking 3/10.
Yallourn North v Morwell
YALLOURN North was dismantled for 52 in 17 overs by Morwell.
Rob Semmler took 4/20 and round one 10-for hero Steve Esler cleaned up again, snaring 6/14.
Luke Nelson and Adam Chester were the only bats to get to double figures with 16 each as the Bombers were cleaned up without offering much resistance.
In response Morwell nearly lost the plot after going hammer and tongs early and found itself in deep trouble at 7/50. Luke Nelson took all seven wickets to fall for just 17 runs.
Steve Bilic and Lachlan Day eventually guided the Tigers home as the entire game petered out after 30 overs.
Third Grade
Willow Grove (7/119) def by Latrobe Sharks (7/151), Morwell (154) def by Moe (9/196), Latrobe Colts (7/235) def Newborough (136), St Vincents (133) def by Mirboo North (5/144).