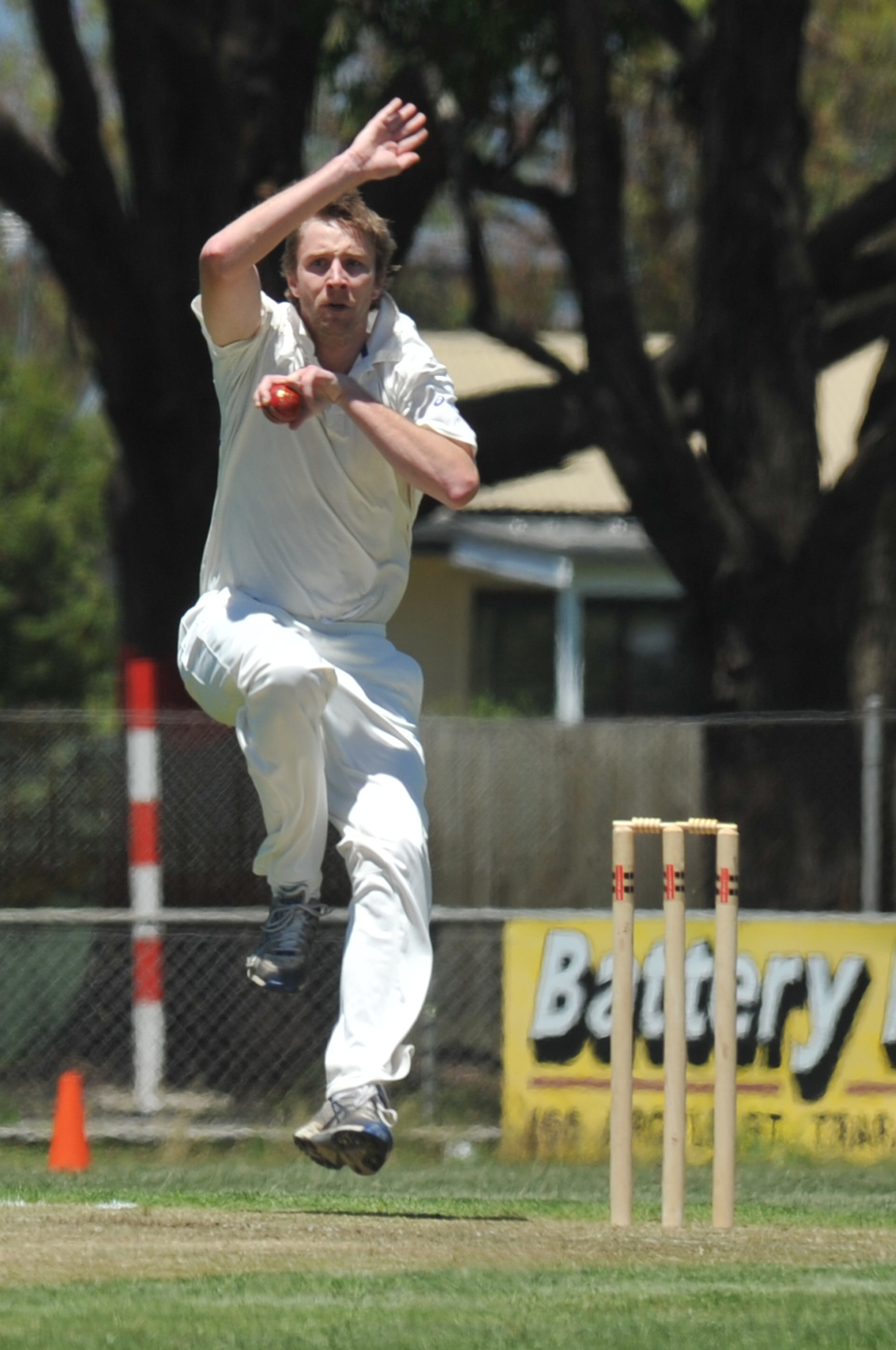 CRICKET
TDCA ROUND 7
ROUND seven of Traralgon and District Cricket opened with a bang as Churchill, hunting for its first win this year, produced a mammoth 9/389 on the back of a John Keighran century.
Churchill v Raiders
CHURCHILL produced its second huge total in as many weeks, this time a whopping 389 against MTY Raiders.
Chris Williams opened the batting for the Cobras and cruelly missed a century when he was dismissed by Matt Cowling for 92.
Captain Nick Duncan continued to feed his appetite for runs with a solid 71, but the star was gun batsman John Keighran who made a punishing 101 at second drop.
Keighran smashed shots to all corners of the ground and proved once more why he has been among the league's best for a number of years.
Ric Velardi rounded out a desolate day for the bowlers with a hard hitting 41.
Ross Whelpdale took 5/105 to be Raiders best, while the rest were put to the sword.
Glengarry v Toongabbie
THE in-form Glengarry batted first and continued its dominant run with a total of 255 against Toongabbie.
Paul Henry made 46, Ben Julin compiled a classy 47 while Ben Marks top scored with an important 66.
Tim Spotswood's 31 helped Glengarry reach its total in just 64 overs.
Toongabbie's bowling was led by Matt Golding who took 5/59 and Kevin Stoddart's 3/43.
Facing the final 16 overs of the day Toongabbie found trouble at 4/18.
Ryan Delaney has 3/10 from six overs.
Rovers v Centrals
ROVERS was in immediate trouble batting first when league leading wicket taker Marc Fenech snared Nilantha Thillekarathna for a duck.
Opening partner Simon Duff (37) and Stephan Sbaglia (17) added 41 for the next wicket before the latter departed.
Dean Gillard (26) and Todd Mann (20) made starts but Rovers was ultimately dismissed for a disappointing 149 off 58 overs.
Fenech continued his good year with 3/27, while Dylan Freitag, Corey Pollard and Dylan Loprese each took two wickets.
In reply Centrals are in a commanding position at 1/51, with Steve Hazelman (36*) and Dylan Freitag (15*) still at the crease.
Ex Students v Imperials
THE Sharks had no hesitation batting first at Traralgon Recreation Reserve and produced another big score of 9/258.
Once again Jordan Gilmore was superb with a majestic 87.
Ric Battista chimed in with 35 while Michael Stockdale was 35* at the end of play.
Luke Henderson took 4/44 to claim best bowling honours in a card featuring four run outs.
CATS v Traralgon West
CATS won the toss and sent Traralgon West into bat at John Black Oval.
The move paid dividends as the Eagles collapsed for a paltry 65.
Ryan Foulkes, Rory Hare, Luke Bence and Dan Nichols each took two wickets.
In reply CATS faced 27 overs and reached 4/121 to take first innings points.
Nichols made 45, while Jase Van Berkel claimed three wickets.
TDCA B Grade
Toongabbie 9/169(cc) (M Stoddart 60*, A Donoghue 4/43, A Perera 3/36) def by Rovers 8/176 (A Wilkes 42, M Stoddart 2/26); MTY Raiders 9/139(cc) (A Winter 4/25, B Clegg 2/17) def by Glengarry 3/145 (P Marks 40, J Porter 36); Traralgon West 6/170(cc) (J Stoddard 42, d Cropley 41, L Zammit 2/17) def CATS 85 (AT Wilhelm 27, J Stoddard 4/17); Centrals 7/132(dec) (B Doble 35, J Cooke 32, G Harvey 3/30) def Churchill 7/124(cc) (R Metlikovec 38*, C Petersen 4/20); Imperials 60 (D McGregor 5/10, C Potalej 4/17) def by Ex Students 2/65
TDCA C Grade
Centrals 3/157 (D Kyle 55*, R Patterson 39) def Rovers 61 (P Akram 4/5, C Hosking 2/18); Toongabbie 90 (D Zaffina 30, JM Shankland 3/10) def by Imperials 115 (D Campbell 52, P Mitchell 3/20); Glengarry 81 (S Wright 38, T Kosterman 3/10) def by Ex Students 88 (W Rutherford 26, T Broughom 4/14); Traralgon West 89 (N Ludowyk 3/15, MC Johnson 2/4) def CATS 57 (J King 3/8, S Falla 2/8, J Trew 2/9, SA Lindsay 2/10)