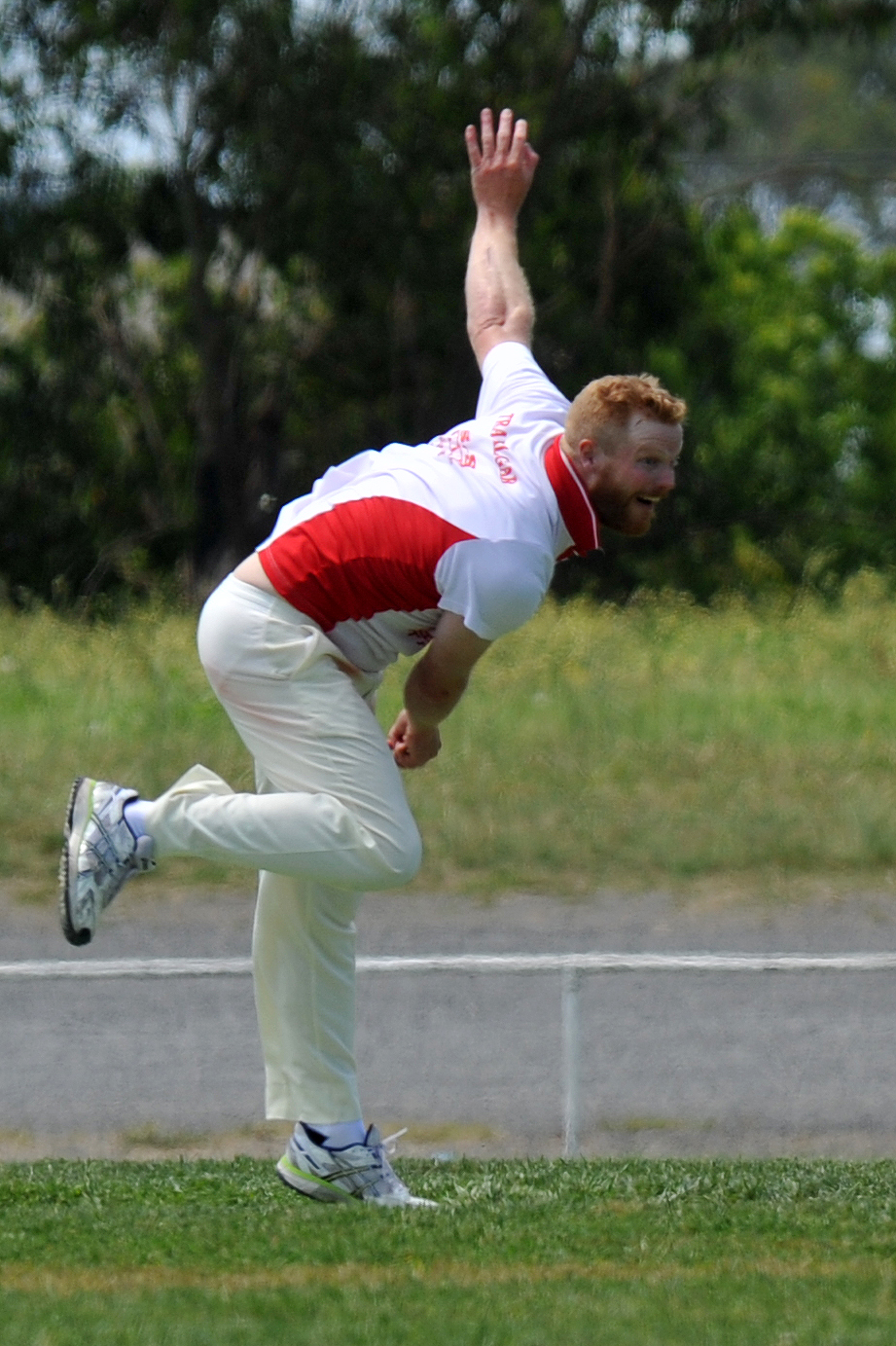 CRICKET
CGCA
Yallourn North hosts Latrobe up at the Rock this weekend after climbing back into third spot in the Energy Australia Cup.
Only four points separate the Bombers from sixth-placed Latrobe, and captain Patrick Spiteri will be confident his young players will keep doing the business.
Josh Keyhoe is coming off a century and averages 33.4 with a run tally of 301, Aidan Vesty is having a good year and averages 44 for his 264 runs, while Tyler Brown is having a breakout campaign with 311 at 38.9.
Rowan Kelly (19 wickets at 12.3) and Brandon Bailey (20 wickets at 14) have led the attack, ably supported by Glenn Sheekey, Lucas Fry and Jeremy Butler.
The Bombers' main problem has been depth, with nine of their 11 spots nailed down every Saturday but the remaining two places shuffled between Will Lawrey, Andrew Shaw, Gavin Pearson, Sam Cougle, Darren Wilkie, Daniel Martini and Ryan Nelson.
Latrobe has had a much more settled XI, albeit one that has struggled to perform at expected levels.
The middle order of Steven Freshwater averaging 11.6, Daniel Siddle (18.3) and Jamie Brierley (18.7) has exposed the Sharks' over-reliance on runs from the top-order of Anthony Bloomfield, Justin Vajler, Matthew Brewer and Kaushik Aphale.
The visitors' fielding will also be in focus after a poor showing last week.
Two places adrift of finals is short of par for the Sharks, and with four matches remaining they cannot afford to drop any more points.
Morwell v Mirboo North
The all-Tiger clash takes place with Mirboo North six points clear at the top of the table, while Morwell is fourth just two points ahead of Moe.
Mirboo North captain Robert Phoenix has been in patchy form with the bat but his bowling and captaincy have been solid.
One of his best moves to date has been the elevation of talented young keeper Hudson Kerr, who has slotted in seamlessly at first drop and relieved club legend Shane Peters of the glovework. Kerr has 273 runs at 39 including a superb century against Thorpdale.
Question marks remain over Jed Alexander (average 19.3), Josh Taylor (five wickets in four matches) and Peter Grima, whose four wickets all came in the same match against Thorpdale.
At the other end of the top four Morwell is battling to hold onto a finals spot with the competition heating up.
Moe and Latrobe are both snapping at their heels and they recently lost key bowler David Embleton to MTY Raiders in the TDCA.
If Morwell can knock off the ladder-leaders it would be a big statement by a team looking to make a first grand final appearance for the better part of a decade.
Trafalgar v Thorpdale
Trafalgar finds itself in previously undiscovered territory this weekend, with a game it should win to shore up second place on the ladder.
An outright win would all but assure the Ships of finals cricket for the first time since its readmission to the CGCA.
The Ships did all they could last round to shed the tag of 'one man band' with captain Rhys Holdsworth away at the Australian Country Cricket Championships.
Key players James Blaser and Klay Butler were also missing, but under the guidance of the assured Will Cheatley Trafalgar was able to script a famous win.
Trafalgar will welcome back its regular leader and with him the 372 runs and 18 wickets he has taken to date.
Cheatley, meanwhile, can surely be regarded as the best off-season recruit in Central Gippsland – his 25 wickets at 12.32 spearheading Trafalgar's finals charge.
Thorpdale has failed to deliver on its promise to date.
Ayden Kelly has struggled at the top of the order with 99 runs at an average of just 11, finding life tough at the top after his off-season move from Moe.
Imoprt Fraser Smith has started to kick on and is in equal second on the league run tally, although has had two extra innings on the next-placed batsman, Moe's Andrew Philip.
Jason Richardson (nine wickets at 35.67) and Steven Hibbs (105 runs at 11.67) are two senior players who need to step up.
Newborough Bulldogs v Moe
The Bulldogs are without young star Royce Colgrave through injury and Robert Blunt who has defected to Moe, and will need their bowlers to up their game to keep them in the hunt.
Leigh Colgrave has been a calm presence at the top of the order while John Murray and Mark Whitney have added stability in the middle.
Matt Coutts is a regular wicket-taker but is expensive, going at 5.33 runs per over, all too often relieving pressure on the batsmen.
Youngsters Bailey Somerville, Ryan Harvey and Josh Reynolds continue to gain exposure at the highest level but the Bulldogs hierarchy will need to do their best to ensure the kids retain their passion for the game after such a tough introduction.
Moe sits just two points outside finals contention, in fifth place, and with a big win could force its way back into the top four.
Skipper Andrew Philip has been the side's best bat so far with 353 runs at 39.22, but the two-day game is his speciality and the Newborough must take any half chance he offers.
Moe's bowlers will be the element in focus this week as outright victories against the bottom two teams could be crucial in deciding the outcome of the top four.