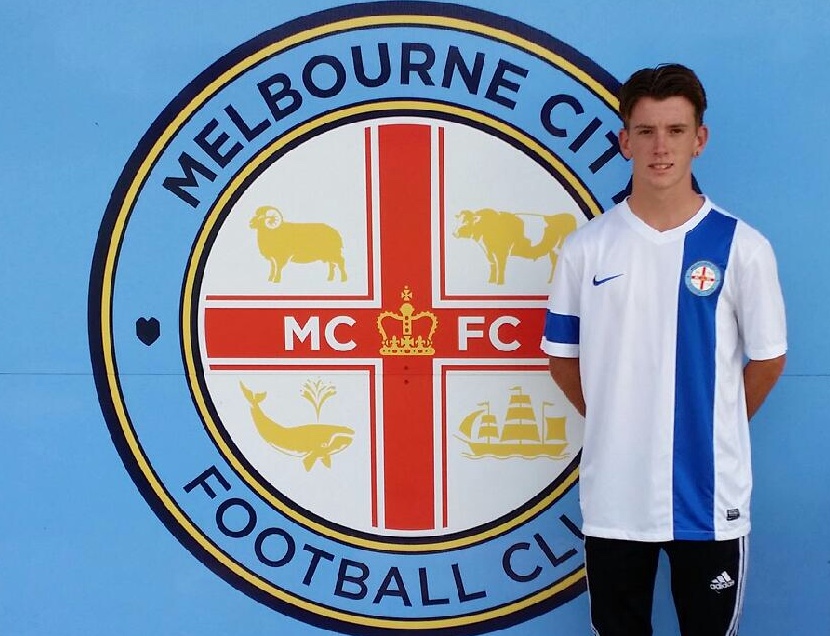 SOCCER
By samuel darroch
SINCE catching the eye of Melbourne City youth coach Joe Palatsides last year, the ball has well and truly started rolling for Baley Row.
Along with Sale's Ash Ross, the Morwell 16 year-old was invited to train with City's development squad late last year after impressing in a Gippsland exhibition against Dandenong Thunder.
Some five sessions later Row was asked to join the club's newly formed National Premier League 1 youth team for the 2015 season, a potential gateway to the A-League.
"I had a few words with Joe and he sort of hinted at it, but I was still surprised, it was awesome," Baley said.
"Looking to just take it as it comes, but hopefully just want to make that move into the (A-League) youth team, just impress them because that's obviously the next stepping stone."
Already familiar with the NPL1, having played for Box Hill in the same league last season, the midfielder has a track record of fast progress.
He was recruited for Box Hill's under 16 side, was playing under 18s by season start and became a regular for the under 20 team halfway through the campaign.
By the end of the year the former Traralgon Olympian was training and playing practice matches with the seniors.
Row said the move to Melbourne-based football had done wonders for his game.
"I loved it, definitely my best year so far," he said.
"I had a good foundation, worked on my first touch and all that when I lived here but moving to Melbourne when you're playing around better players you can't sort of hide, you need to have a good touch, you need to be sharp and always check your runs, little things like that.
"It's a lot faster game… and a lot more competitive environment as well; you're always fighting for your position and there's a lot of players."
Fast becoming a pioneer for Gippsland juniors, Row was also the first player from the region to be offered the chance to train at the Central Coast Mariners for a week under the watch of Morwell legend, and personal inspiration, John Hutchinson in 2013.
There he spent time with the under 18 academy, International School of Football and the Mariners' first team.
It proved a defining week in Row's football career, reinforcing his desire to reach the top level.
"I've always worked hard but going up there was a huge eye-opener, seeing the type of players they were I came back here and thought 'alright if I want to be like them I've got to work harder'," Row said.
"I wanted to be able to be as good as them."
With his future at the Australian football giant now in his own hands, Row said he would continue to "worry about himself, keep trying to improve" and hopefully impress the right people.
Already he has Palatsides onside.
The City youth coach was initially impressed with Row's technical ability and game awareness, but more importantly came to respect his attitude and application.
He said Row was at an age where the club could develop him over a period of time, and he had all the right attributes at this point.
"We believe we can make them (players at his age) into a future A-League player," Palatsides said.
Row will begin pre-season training late January or early February.
JUST two years in to Gippsland's relationship with Melbourne City, the region has produced a talent worthy of the A-League juggernaut's system.
Baley Row's selection in the prestigious club's NPL1 under 20s squad comes as a huge boon to the fledgling bond, established in 2013 largely by zone development officer Mark Cassar.
With the Gippsland Soccer League set to enter up to six additional teams in metropolitan competition this year as part of its Emerging Talent Program, including under 20s, Cassar said he hoped to see more talent identified for higher honours.
"We're hoping to give other players the same opportunity within our own structure here," Cassar said.
Until then, he believes Row can set a good example for aspiring Gippsland players.
"I think Baley has got a lot of the attributes that can hopefully get him to that highest level that he's aiming at," Cassar said.
"It's only an opportunity at the moment, for him to really put his head down and work hard, keep learning, ask questions and being around in a better competition with better players will give him that environment and hopefully grow."
Melbourne City youth coach Joe Palatsides said the club's interest in country areas had shown mutual benefit to date.
He said Row's selection was also a step in the right direction for the club's association with Gippsland and a guiding light for country players.
"It shows that there are talented young players that deserve to get a chance (in regional areas)," Palatsides said.
"I think now what that means is a lot of other players can see that it's a realistic dream to be involved in Melbourne City… that it isn't just a pipedream."
Moving forward the GSL hopes to offer its ETP sides, in particular the new under 20 outfit, more opportunity to engage with Melbourne City.
Expressions of interest for this year's ETP sides are now open on the GSL website or by phoning the office on 5134 8888.