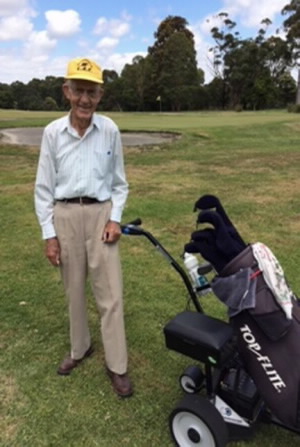 SHOOTING under 80 is a tough ask for most golfers, much less for one over 80 years of age.
However Arthur Pearce achieved that feat last month at Yallourn Golf Club, carding 77 off the stick for a whopping 50 stableford points in the club's midweek competition.
It was no fluke for the long-time member at Yallourn, who has scored well below his age of 87 on several occasions in recent months.
A fortnight prior to his 50 points playing off 19, Pearce shot 45 stableford points off 20.
With the fairways rolling since the start of summer, the veteran golfer turned in December scores of 45, 38, 50 and 36 and again bettered his age with an 83 gross, net 42 points on 31st.
When phoned for comment a week after his magnificent round Pearce had almost lost his voice, explaining it was due to all the bragging he had done.
"It was just one of those days when the weather and course were in great shape and I managed to chip and putt beautifully," Pearce said.
"When I came in to enter my score another chap was sitting in the spike bar celebrating his 49 points, his mates gave him a little bit of stick about being beaten by an old 87 year-old; he was stiff to be beaten but he still congratulated me on the score," Pearce said.
The spritely old-timer also holds the honour of being the longest continual member at Yallourn and celebrated 60 years' membership in 2013.
Pearce's golfing idols are Peter Thompson and Moe Norman, and he hopes to one day catch up for a chat over a cuppa with the former.