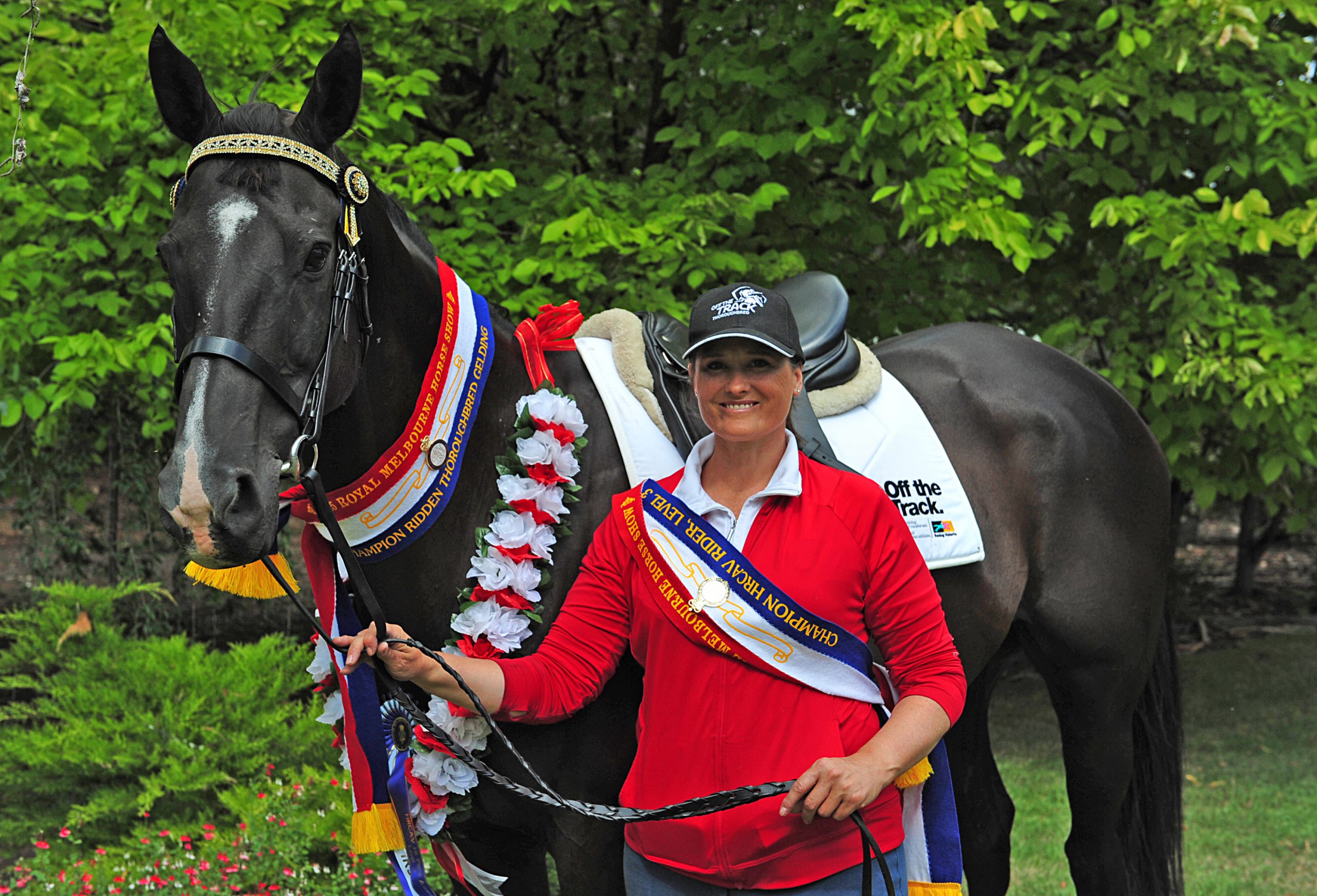 EQUESTRIAN
THEY say you can't teach an old dog new tricks, but it turns out horses are a completely different kettle of fish.

Late last month Yinnar's Shona Smith rode retired thoroughbred racehorse Flame Proof to a raft of showing championships at the Royal Melbourne Horse Show in Werribee under his new stage name 'MP Hollywood'.
The duo took out one of the feature classes, the prestigious Champion Off the Track Thoroughbred, an event supported by Racing Victoria to encourage the continuing welfare of horses post race careers.
Flame Proof, trained by now Gippsland local Catherine Hutchinson, had 42 starts in New Zealand and Victoria, winning five races and collecting more than $55,000 in prize money for his connections before he retired in 2012.
The 13 year-old's modest track career paled in comparison to some of the pedigrees at Royal Melbourne, with competitors descended from champions such as Octagonal and Lonhro.
Smith purchased MP Hollywood only a matter of months ago, after inspecting him with her sister and former racehorse trainer Alison Snell. Royal Melbourne was just his fifth outing as a show horse.
"(He was) very inexperienced considering some of the horses he was competing against," Smith said.
"His first few shows were a very big learning curve for him; you're expected to go around in an arena with all the other horses while cantering – for a racehorse that's an extremely difficult thing to ask because they've been trained to race.
"Really we took him… as more of a training exercise than a competition exercise so to win what we did there was just amazing.
"The horse didn't falter the whole time, his work was exceptional and I was blown away (when we won)."
Smith began riding with the Yallourn North Pony Club in her youth before honing her skills under renowned show rider Shelley Penny.
The 48 year-old's second competitive outing at Royal Melbourne came some three decades after her first, and with her family cheering from the sidelines the outcome was all the sweeter.
"I'm an amateur rider, I'm a mum of two kids who can barely get out there and ride every second or third day… so when you looked down the line a lot of the people I was up against were professional riders, I was completely chuffed," Smith said.
MP Hollywood won seven classes at the event, including champion ridden thoroughbred, HRCAV overall winner, riding for Strzelecki Riding Club, and off the track high point winner.
Smith said she was drawn to the horse immediately.
"He's a big moving horse, he's got lots of ground cover, he stands up very tall, he's got a lovely frame when he goes," she said.
"He hasn't been the easiest horse to get going, he does have a tendency to get a bit 'racehorsey' and a bit upright, but he's settled down."
The horse has also shown proficiency at showjumping, and has trained with up and coming rider Kyle Cant in Sale.