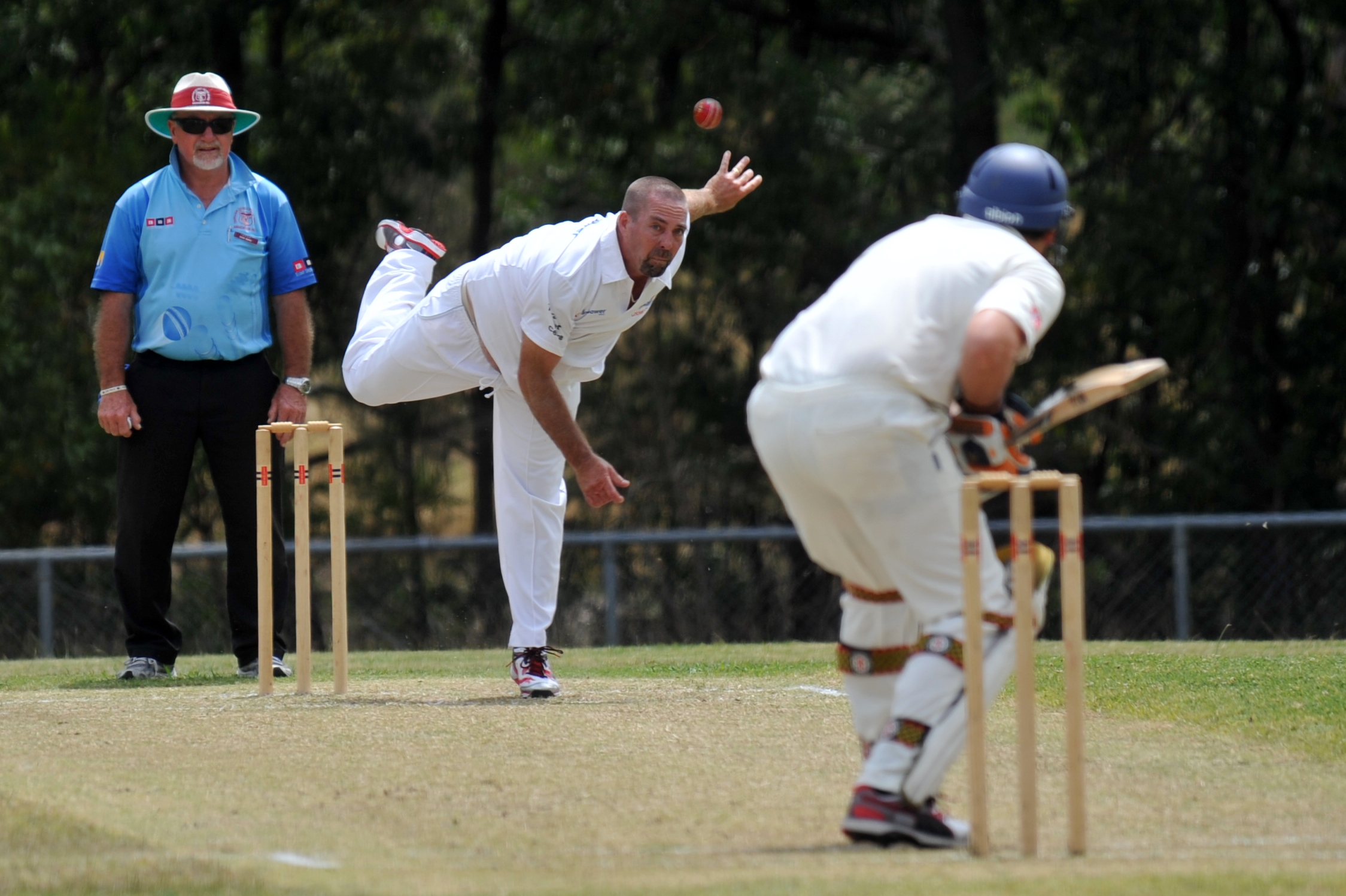 CRICKET – TDCA
Raiders has emerged as the surprise contender for Traralgon and district cricket finals success after a sensational batting performance on day one of round 11.
Liam Maynard and Matt Cowling scored tons as Raiders hit 6/357 against an uninspiring CATS attack.
In another highlight, Churchill stalwart Craig Flanigan stole the show in C grade with a blistering 212 in his team's total of 1/456 off 40 overs.
Ex Students v Centrals
In the match of the round Ex Students won the toss and batted against Centrals.
However, at 3/35, and with Greg Munro and Jordy Gilmour back in the shed, Centrals was on top.
Undeterred, the Sharks reached 204 at the close of play thanks to a middle order fightback.
Mitch Membrey top scored with 43 runs, Dylan Spence 28, Mick Stockdale 24 and Jackson McMahon 20.
Corey Pollard was Centrals' best with bowling figures of 4/41.
Imperials v Gormandale
Imperials batted first and was in trouble losing a wicket off the day's first ball.
If things looked bad then more was to with the score at 5/2.
Brett Chapman was given an extra life when the score reached six and went on to make 23 and Nathan Campbell 28 as Imperials were demolished for a paltry 78 off 27 overs.
Shaun Barbour (6/36) and Adam Brady (4/40) starred for the Tigers.
Travis Switzer (31), Kent Hammond (58), Ryan Vickery (56) and Rob Darby (28) batted well as Gormandale replied with 202 off 32 overs.
Imperials returned to bat and sit at 3/80, still 45 runs behind.
Cats v Raiders
Raiders batted first and at 3/72 with Brad Knowles, Mark Andrew and Mick Higgins back in the shed things could have become worse.
However, a magnificent fourth wicket stand of 217, a new league record, saw Raiders reach 6/357.
Maynard was brilliant with a punishing 120, while Cowling made 101.
Matt Dyke (28) and Aiden Quigley (31) batted well towards the end.
Rovers v Churchill
Churchill skipper Nic Duncan called right but decided wrong as he sent Rovers into bat, only to watch the opening pair put on 121.
Nilla Thillekarathna (45) and Simon Duff (68) batted well as Rovers strived to keep its finals hopes alive.
Dean Gillard (43) and Greg Bramwell (37) helped Rovers reach 270.
Steve Warr (3/34) was best with the ball.
Traralgon West v Toongabbie
Rob McGregor top scored with 34 and Matt Griffiths made 22, with sundries the next best with 24, as Traralgon West scored 132.
Jake Westland starred for Toongabbie with a personal best 5/38.
The Rams never faltered in their run chase closing the day at 8/185.
Tim Dunn top scored with 71, Josh Sandy 38 and Adam Mazza 28.
Ray Falla was best with the ball taking 5/58.
B grade
Morwell Tigers Yinnar Raiders 8/161(cc) (CS Stanlake 68, JL Findlay 43) d CATS 9/152(cc) (JL findlay 3/32, M Van Loon 2/15, J Winters 2/31); Toongabbie 139 (R Taylor 58) lt Traralgon West 5/164(cc) (L Miller 2/15, C Sandy 2/37); Centrals 8/216(cc) (C Dunn 85, B Doble 32, C Ashton 2/34, C Potalej 2/36) lt Ex Students 4/235(dec) (MN Robertson 138, D Caulfield 31, C Petersen 2/37); Churchill 8/199(cc) (P Metlikovec 60*, G Harvey 45) d Rovers 9/153 (G Harvey 3/19, P Metlikovec 3/39); Gormandale 5/201 (Lm Churchill 63*, B Wass 45, N Parsons 35, W Jenkins 28*, P Dunstan 2/29, R Matthews 2/34) d Imperials 5/200(cc) (B Wells 68*, S Aitken 48, J Pearce 25, Lm Churchill 2/29, S Henley 2/34).
C grade
Churchill 1/456(cc) (C Flanigan 212*, B Kearns 145, K Hutchinson 61*) d Toongabbie 119 (P Van Rossum 3/22 (inc. hat-trick), M Allan 3/30, B Flanigan 2/17); CATS 9/191(cc) (W Leech 2/13, D Ross 2/29, J Main 2/37, A Perera 2/38) d Rovers 184 (D Ross 45, UK Madanyake 29, H Willaton 26); Ex Students 6/252(cc) (N Oates 79, J Kurrle 49, D McDougall 42, W Rutherford 31, W Watson 3/43) d Centrals 159 (A Cowley 44, S Warfe 38, T Kosterman 3/12, B Pratt 3/45, J Jones 2/13).