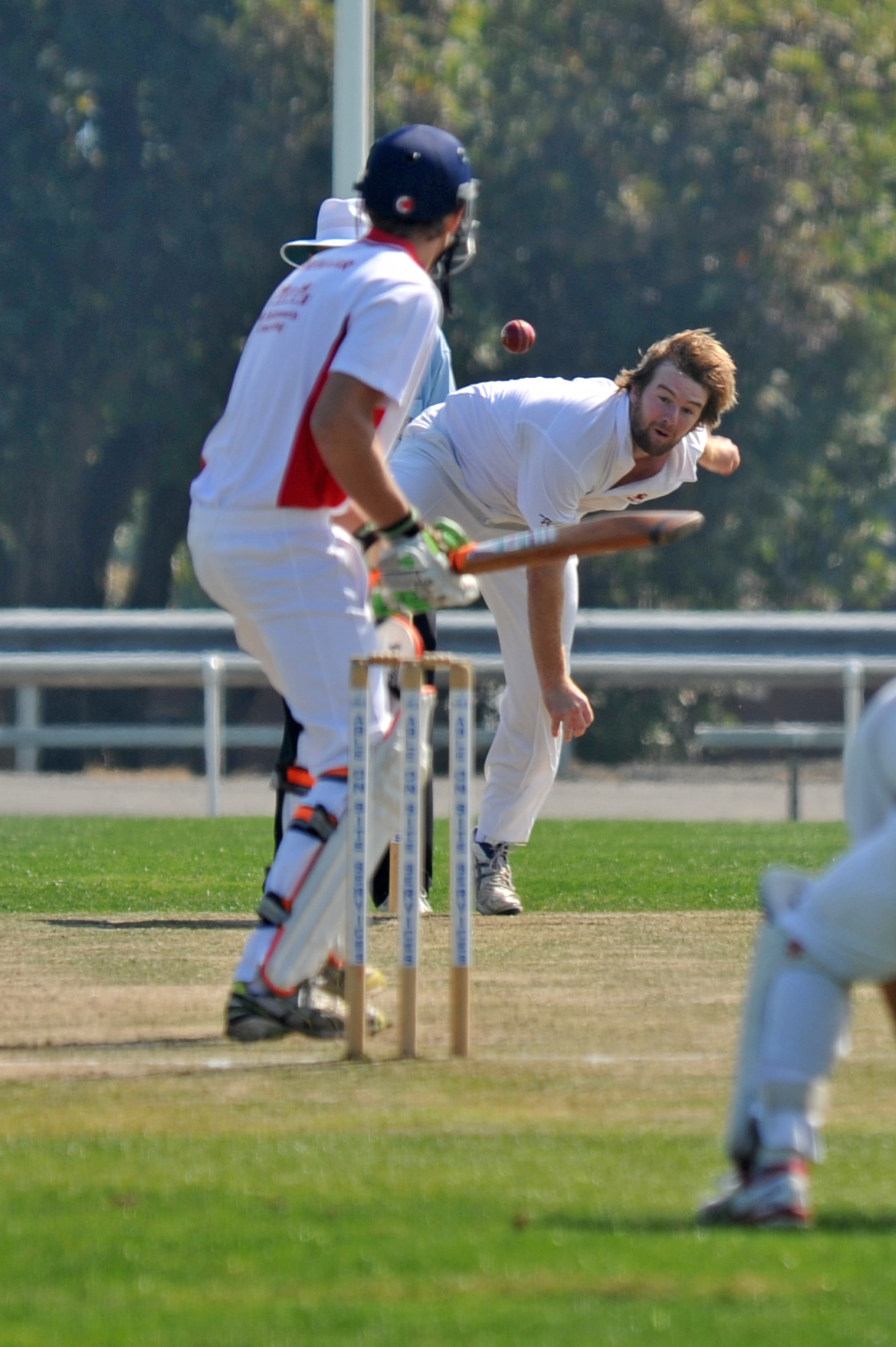 CRICKET
CGCA
TRAFALGAR and Latrobe will contest the Central Gippsland Cricket Association grand final this weekend, after knocking out minor premier Moe and defending champion Mirboo North respectively in the semi-finals.
Moe v Trafalgar
TRAFALGAR posted a towering 316 in semi-final one against top-placed Moe, led by an imperious century to James Blaser.
The opener struck the ball to all parts of the ground and demoralised the young Moe bowling attack on his way to an influential 103.
The Ships lost Rhain Howarth-Ross early on 10, before the aggressive strokeplay of Nathan Simpson (39) helped them put on 111 for the second wicket.
Aiden George played some classy shots during his 30, before captain Rhys Holdsworth, moving himself down the order to number five, piled on the misery for Moe by compiling an outstanding 79.
The tail-end did its job by pushing for quick runs, and in the end only Nick Clarke (3/37) and Aaron Walshe (2/43) retained respectable bowling figures.
Moe lost Dale Walshe for zero and things did not improve from there for the Lions. Wickets fell regularly around captain Andrew Philip (22) as Will Cheatley (3/22) and Holdsworth (3/16) used their experience to good advantage. Only Philip (22), Sean Spiteri (11), Jayden Mathison (14) and Luke Mulqueen (15) scored in double figures.
The Lions eventually capitulated for 101, which saw Trafalgar through to the grand final in its first finals series since re-joining the CGCA.
Mirboo North v Latrobe
LATROBE posted an excellent 8/270 in semi-final two thanks largely to contributions from Steven Freshwater (54*) and Tim Cranwell (44).
The Sharks' lower order chipped in with a few runs to boost the total; Justin Vajler, Matt Brewer, Daniel Siddle and Brendan Evans all got 20 or 30 plus, with aggression late in the innings making a huge difference.
Mirboo North struggled to create regular breakthroughs to stem the flow of runs, with only skipper Robert Phoenix (2/35) and spinner Jarrod Speed (2/56) having much luck.
In the chase, Shane Peters was the only man to stand up for the home side with a sublime unbeaten 42, however his partners fell cheaply around him.
The Tigers were dismayed to lose Phoenix second ball without scoring to star Sharks bowler Chris Johnson, who nabbed 4/32 to clean up the top order.
The other bowlers all took one wicket each and with two runouts and the last, by substitute fielder Will Kennedy, ended the innings for 106 and sent Latrobe through to the grand final.
Jeeralang-Boolarra v Latrobe
JEERALANG-Boolarra was upset by fourth place finisher Latrobe in semi-final one.
The Panthers were in early trouble at 5/51 thanks to a sharp burst from Nathan Nikodemski (4/32), who nailed Bradley King, Peter Gilpin and captain Stan Urbanic for ducks.
An 89-run partnership between Thomas Beamish (35) and Dermott Leys (76) put them right back in the game, with Leys particularly harsh on the bowling, launching some big hits.
Jeremy Brewer (3/40) eventually disturbed Leys' stumps to get the Sharks back on top, before he and Brendan Wynne (2/21) knocked over the tail to have Jeeralang-Boolarra all out for 192.
At 3/24 early in the chase Latrobe was in serious trouble and needed a big partnership. Kris Wells (31) and Evan Sheekey put on 76 before they were separated by the canny bowling of Peter Gilpin (4/34).
Sheekey shared in partnerships with Ian Kennedy and Brad Aitken but it was the big man who played the biggest part in the Sharks' successful chase.
His stellar 98* made sure Latrobe would be contending for top honours come this weekend.
Morwell v Mirboo North
MORWELL was off to a nightmarish start against Mirboo North in semi-final two, losing Michael Mooney for zero in the second over to Clinton Wise.
A 58-run partnership between Tony Spiteri (33) and Kris Fortuin (27) got them back on track before Andrew Soplakow (2/38) removed the former, while the latter was run out by Brendan Van Heurck.
When first grade wicketkeeper Hudson Kerr removed Morwell skipper Martin Giddens for a duck, Mirboo North was in the ascendancy at 4/68.
Rob Semmler (29) and Dylan Day (69*) provided the impetus to put Morwell back in charge, and gave it 185 to defend.
Van Heurck (42) and Wise (17) started well for Mirboo North, but after that the side lost wickets regularly as the momentum flowed back and forth.
Contributions from Jacob Blair (21), Spolakow (23), David Woodall (30) and Kerr (18) helped out Mirboo North, while for Morwell Roger Henry (1/23 from 9.1 overs), Steve Esler (1/30 from 10 overs) and Day (4/16 from five overs) swung the pendulum back the other way.
In the end Mirboo North crept over the line nine wickets down with Jesse Buxton and Brandon Bradshaw at the crease when the winning runs arrived.
Latrobe Sharks v Hazelwood North
LATROBE Sharks made a good start against Hazelwood North, with Jamie Coltman (51) and Peter Mooney (48) putting the top side in a perfect position at 2/122.
Hazelwood North was in trouble early at 3/35 and needed a big partnership to get back into contention.
Captain Hawkins has always been the key man for the Razorbacks but he needed partners to stick around, and found just that in Liam Faltum (19).
The pair put on 43 for the fourth wicket before the stand was broken by Jody Capp (3/33).
The tight bowling of Glen Steele (2/6 from 10 overs) played a huge part in restricting Hazelwood North to 132, allowing the Sharks to squeeze through to the last game of the season.
Willow Grove v Moe
MOE won the toss and sent Willow Grove in. When the Wolves lost their usually dependable top order cheaply it looked to have been an inspired move.
Robert Fiddelaars (41) and Alex Pearman (28) fought their way back into the contest and helped the home side reach 133, enough to defend if they bowled well.
Steve Rennie (3/12 off 10 overs) was the star with the ball, while Ron Whitney, Craig Veenman and Zac Rendell picked up two wickets apiece.
Paul Kane (46) and Gary Clerks (21) got Moe off to a good start after losing Chris DeVent early, with Liam Bednarksi (30) chipping in as well.
But once the top order was swept aside, Simon Noy (3/16), Nathan Perkins (3/41) and Fiddelaars (3/22) got the Wolves over the line by just six runs, with the last three wickets falling for no score.
TRAFALGAR won the toss against Moe Maroons and opted to bat first.
The move backfired when only Liam White (30) and Leo Connolly (13) managed double figures, leaving the top-placed side to be rolled by the Lions for 119.
Jack Hudson (4/29) was the chief destroyer, while Liam Barry (3/24) and Ryan Sim (2/20) also had the batsmen in trouble.
The Maroons lost Sim and then Barry early, however Noah Kane (38*) and Jai Massese (46*) masterminded the chase and the Lions lost no further wickets as they cruised past the target.
Zack Brown and Leo Connolly (both 1/16) were the wicket takers for the Ships, while Massese picked up the Alex Jones Medal for player of the match, adding another accolade to his under 16 season batting average trophy.