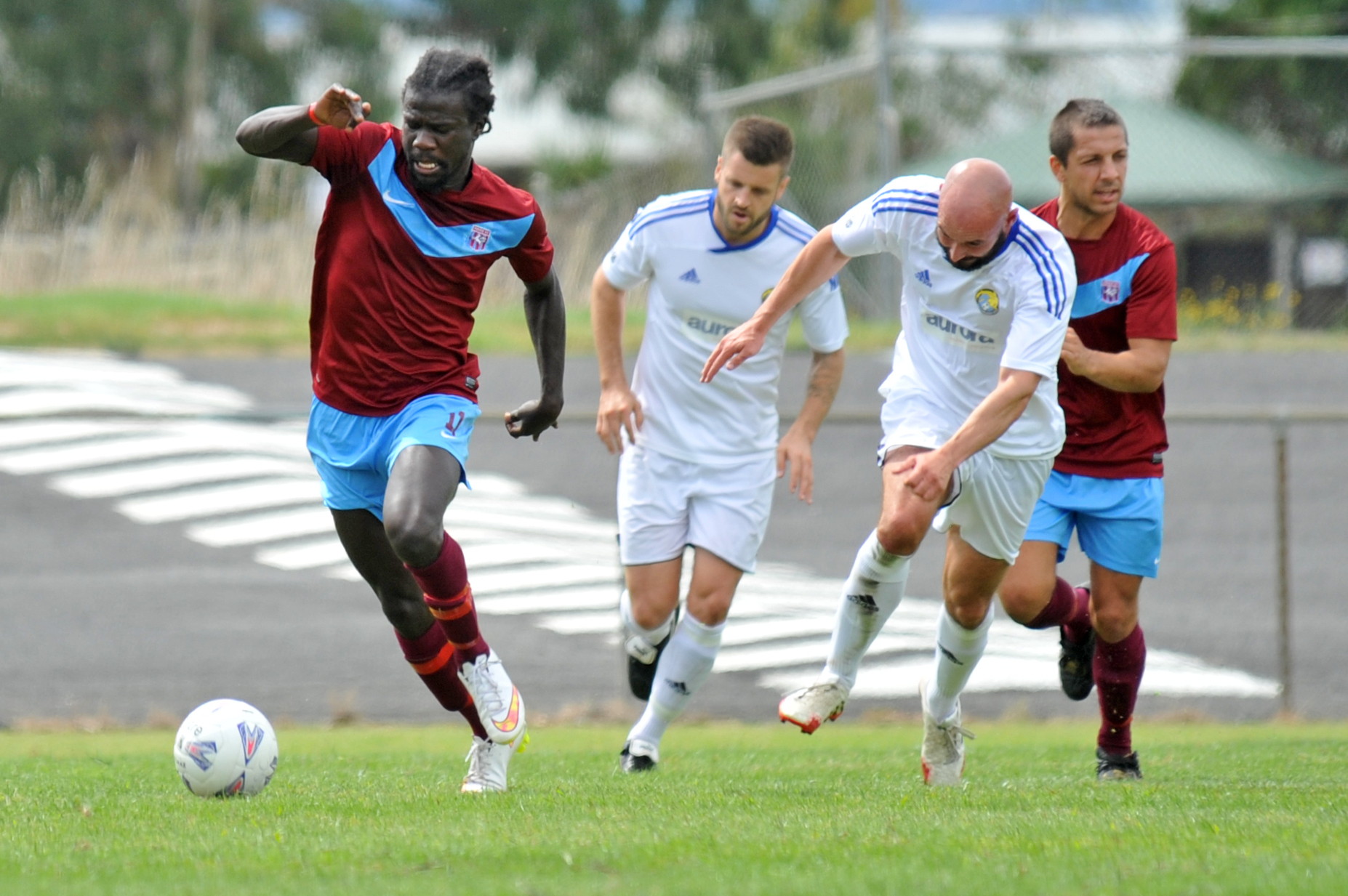 IF Morwell Pegasus' form in the FFA Cup is any guide to its State League South East Division One prospects this season, the Horsemen are saddled up for glory in 2015.
Pegasus advanced to round four of the nation-wide club competition after defeating Beaumaris last fortnight, and at the weekend destroyed NPL1 side Murray United 6-2 away from home.
Now awaiting its next fixture, scheduled for 15 April, Pegasus is potentially two wins away from the round of 32, where it would face A-League and NPL opposition.
Emulating the fairytale run of Bentleigh Greens in the inaugural cup competition is now within touching distance.
However, second year coach Luke Cheney is looking no further ahead than this weekend's state league season opener against South Springvale.
"It's a rewarding feeling for what we've done through the pre-season, we've worked really hard… a lot of kilometres up and down the highway and then did a lot of k's to do that game," Cheney said.
"We can only get better from what we did at the weekend, to come up against something like that takes me to round one with a lot of confidence.
"They've now set a benchmark for the season… we nip it in the bud and we focus on getting three points this week."
The former Gippsland Soccer League star's agenda to provide Latrobe Valley players the chance to compete at higher levels of the game has culminated in a spate of new signings this season.
Counting the FFA Cup run as the ideal climax to pre-season, Cheney has enjoyed the opportunity to blood some of his new locally sourced talent against quality opposition.
Some eight new recruits have come from GSL clubs, with the likes of ex-Ram Tim Dawson and teenage Traralgon City goal keeper Liam Anderson part of the Murray United demolition.
"That's why they're there, because they can match it with the best and I'm proud and happy to have local guys who are willing to have a crack," Cheney said.
Pegasus only endured a handful of major losses in the off-season, with about three quarters of the existing squad in tact.
Last season's co-captain Robbie Wynne and key midfielder Ash Cattermole have gone to NPL1 side Dandenong City, while goalkeeper Pierce Morrison has returned home overseas.
Two Irish signings, Craig McCarthy and Niall Burke, along with French goal keeper Axel Learissi will be joined by Frazer Rock (Dandenong City) and Mat Luak (Altona City) as Cheney's big pick ups.
"I feel confident in the squad, that I have a good group of young men that want to play as one, and play as a team," Cheney said.
"I don't have the superstars, I have one or two in that group but they're still going to do the team thing."
After sitting third in seniors and unbeaten in reserves around the halfway mark last season, Pegasus was decimated by the final transfer window when several fringe players moved to lower leagues.
Cheney believes this year's group will stick it out to the end, with every member of the squad hungry for first team game time.
With goals to win the reserves league and push for top spot in the seniors, Cheney said his familiarity with the league since returning to Pegasus in 2013 was a big plus.
"It was a big learning curve last year, I'm a lot more comfortable this season in myself and my decision making," he said.
One side which looms as a wildcard is the promoted Warragul United, which Pegasus will face in round four.
The local derby has sparked plenty of interest, which Cheney hopes translates into more support for the region's state league sides.
"Having Warragul in the league can only help the league around here," he said.
"We'll respect Warragul, but the reality is we've been state one, they've stepped up to us, they need to come to this level now so maybe there's a little bit more pressure on us because we're the ones that have been here."
Pegasus kicks off its season at home on Saturday against South Springvale.
Pegasus Squad List
INS: Axel Learissi GK (France), Liam Anderson GK (Traralgon City), Craig McCarthy (Ireland), Niall Burke (Ireland), Tim Dawson (Churchill), Cam Sayce (Dandenong City), Frazer Rock (Dandenong City), Mat Luak (Altona City), Bryson Tanti (Fortuna '60), Daniel Holt (Traralgon City), Jack Lester (Traralgon City), Manny Tombra (Falcons 2000), Paul Kuol (Traralgon City)
OUTS: Robbie Wynne (Dandenong City), Ash Cattermole (Dandenong City), Pierce Morrison (overseas)
LOCAL LADS: Dragan Milesevic, John Kuol, Steve Maselli (c), Chris Beasley (reserves c), Deng Maica, Orin Giesber, Stu Ashdown, Liam Anderson GK, Tim Dawson , Bryson Tanti, Daniel Holt, Jack Lester , Manny Tombra , Paul Kuol , Hayden Ross-Schultz.
METRO MEN: Chris Wynne, Leigh Coffey, Malesh Hova, Craig McCarthy, Niall Burke, Saj Sugrim, Stefan Ciccarelli, Cam Sayce, Frazer Rock, Mat Luak, Nass Mohammad, Jackson Gore, Thom Lino