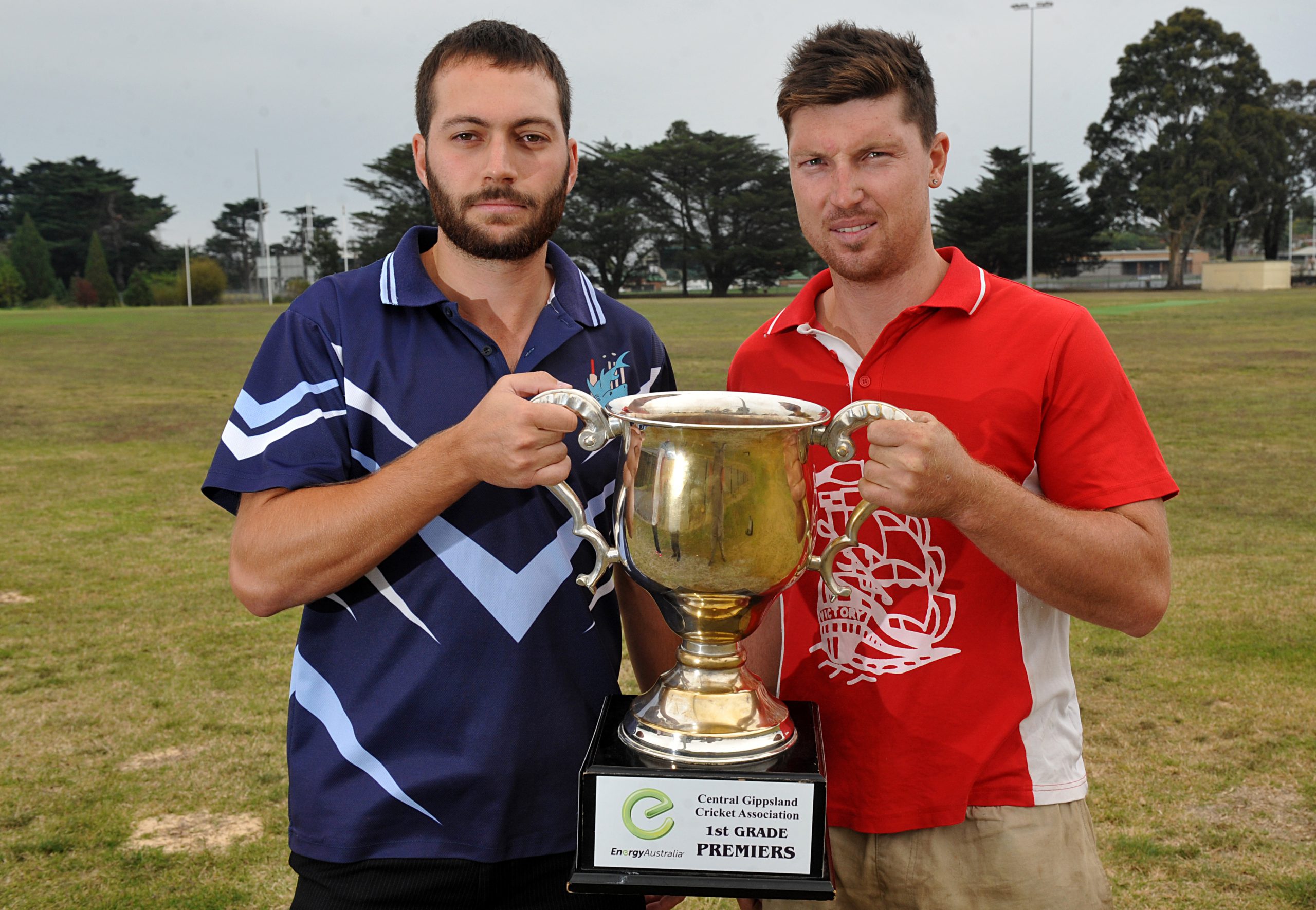 CRICKET
CGCA
By SAM DARROCH
THE tales of the two combatants in this weekend's Central Gippsland Cricket Association grand final could scarcely be more divergent.
Latrobe enters its fifth consecutive A grade decider with nothing to show for the past four years but a mess of runner-up medallions, while Trafalgar is contesting its first finals series since returning to the league from Warragul.
The Ships have never won the CGCA flag in three attempts at a grand final, on two occasions falling to the Sharks in 1997/98 and 1999/2000.
Latrobe is shooting for a fifth A grade championship, the last coming in 2004/05 before Moe began its run of eight in-a-row.
With history against both sides, new Latrobe skipper Brendan Evans hopes the demons of the past will act as motivation rather than a distraction.
"We've all been there four years in a row now and we know the feeling, what it's like to lose, we really want that feeling to win so hopefully it gives us a bit of motivation and desire to push us over the edge this year," Evans said.
"The first couple of losses you get that motivation and desire, after three or four… you start to question yourself and question the team, but we've been in some really good form lately and we have been for the last five years.
"It's just a matter now of redemption and trying to get the cup into our hands."
The Sharks are contesting all three top grade finals and are out for a trifecta of trophies to liberate years of toil.
"It would mean a great deal to the club with the effort we've put in over the last five years as a whole club, not just A grade; it would mean a lot to the club, supporters, life members, sponsors and whatnot to bring back three cups," Evans said.
Crucial to Latrobe's chances is bowling spearhead Chris Johnson, who will again be called upon for breakthroughs with the new ball.
Despite missing three matches, Johnson has incredibly claimed more than 40 scalps – about a third of the Sharks total wickets – and has relieved the pressure on the rest of the attack.
"He's allowed the likes of myself, Mitch Cowell and Bloomy (Anthony Bloomfield) to take a step back this season and to do his work and he's done a fantastic job," Evans said.
"The rest of the bowlers have been pretty good this season and worked around him, and it's all about working in partnerships I believe."
Evans said the opening stand with the bat was equally pivotal, andhe hoped to replicate last year's effort against Mirboo North with another 50-plus stand between Bloomfield and Justin Vajler.
The reliable Kaushik Aphale is the big wicket, though the Sharks have proven they bat deep in recent weeks from the experienced lower order of Steven Freshwater and Tim Cranwell all the way down to number 11.
For Trafalgar, the toss will be crucial.
The Ships have lost just once batting first this season, and last week showed their potency by posting 300-plus against Moe in the semi-finals.
"There's obviously a lot excitement but we're keeping a lid on it, all well and good winning last week but we knew that was only half the job," skipper Rhys Holdsworth said.
"We were taking it quarter by quarter and we're at half-time now, hopefully we get the result we're after and I'm sure we can."
The return of Will Cheatley has been immense for Trafalgar this season.
Not only has he single-handedly procured a quarter of his team's wickets, and some useful runs, he brings finals experience which is otherwise largely lacking in the Ships' ranks.
"He's a big in for us, past player, good experienced player especially in finals, obviously he's won a few flags at Gormandale and he's been really good for us," Holdsworth said.
The captain pinpointed the duel between big-hitting batsman James Blaser and Johnson as the key battleground for ascendancy.
Holdsworth said he was happy to carry the underdog tag into the clash, though was quietly confident of his team's chances.
"They've lost the last four… all the pressure's on them, we'll go out there, do what we do best and wthe result will take care of itself," he said.
The final will be staged on Saturday and Sunday at Ted Summerton Reserve, Moe from 11am both days.
B grade grand final – Mirboo North v Latrobe at Burrage Reserve, Newborough
C grade grand final – Latrobe Sharks v Willow Grove at Maryvale Reserve, Morwell.