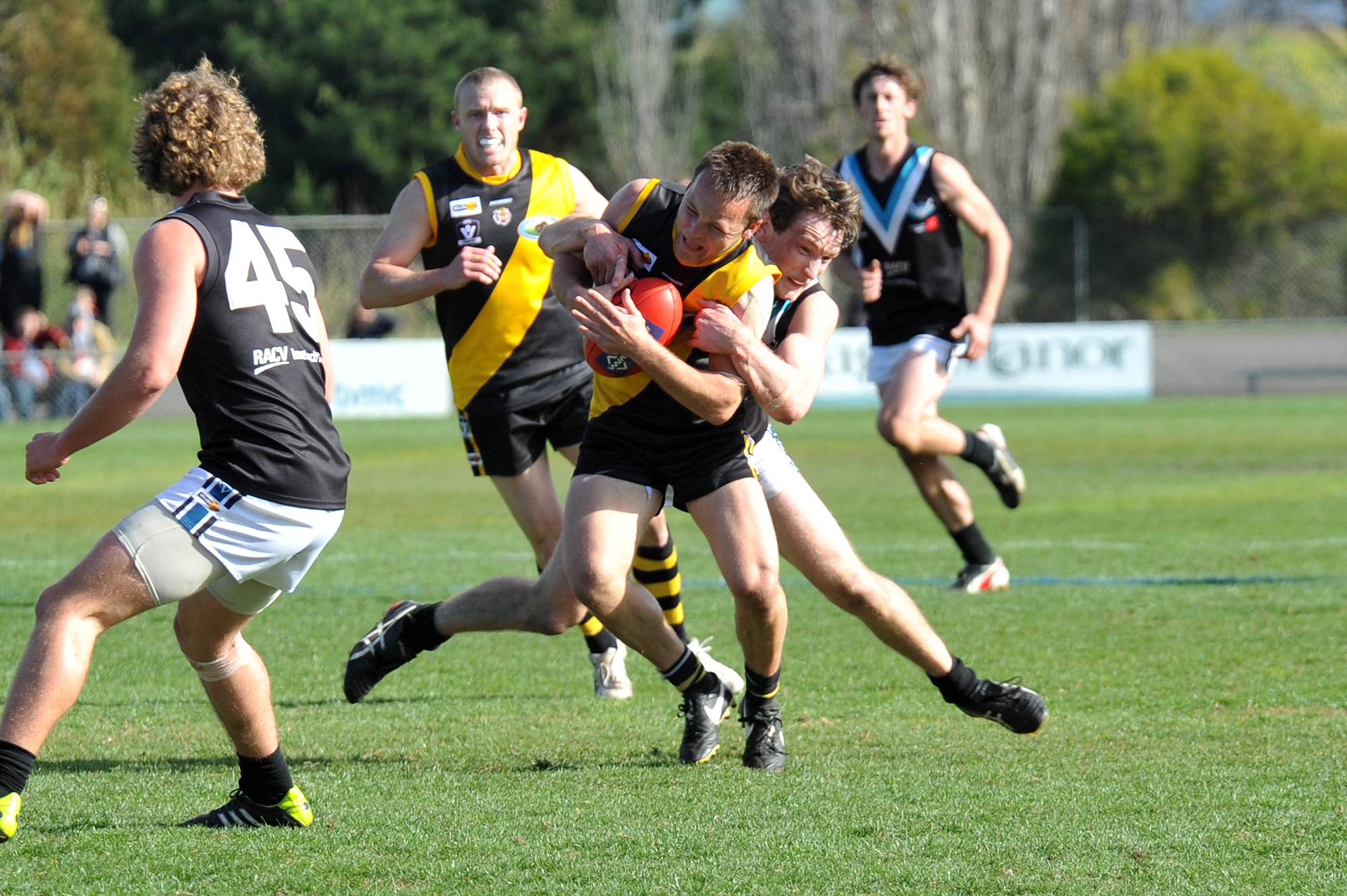 RELATED COVERAGE: Gippsland League season outlook
RELATED COVERAGE: State League stars divide to conquer (GL netball)
A grand final re-match between two-time reigning premier Morwell and Wonthaggi will highlight the opening round of the Gippsland League.

A change of guard at the Tigers has seen the departure of a number of players from last year's group.
Dual premiership coach Harmit Singh has been appointed senior coach of Northcote Park in the Northern Football League.
Ex-AFL star Tarkyn Lockyer and two metre-tall weapon Ash Close followed suit, while best and fairest Adam Bailey has departed for the top job at Yallourn North, taking Tom Hutton with him.
It's not all bad news for the reigning premier, which has secured the services of level three coach and former VFL defensive specialist, Dean Warren, who was assistant coach at Box Hill when it won the VFL flag in 2011.
"I've been lucky enough to coach 24 VFL players who have gone on to play AFL football," Warren said.
Warren's experience as second in charge of defence at Coburg may however be of most benefit to the Tigers along with the return of Jack Brown from Morwell East.
"We want our guys to learn how to defend," Warren said.
"They've been really good at being a front running side… I'm working hard to make sure that when they use the ball they use it well and when they haven't got it they have got to learn to shut it down and win the ball back.
"Lots of young guys are really standing out at training and I am prepared to play them."
First up the Tigers have a round one clash with last year's runner up Wonthaggi. Power coach Rob Railton said he would not be dwelling on the past come Saturday.
"We can't do anything about 2014, we will watch them unfurl the flag and bask in their glory," he said.
"You always try to make the finals but there are nine other teams that are all keen and have recruited well. We have got to try to improve with them."
Editor's pick – Morwell
The stats

(1995-2004, 2010-14)

All matches: Played 38 Morwell 16, Wonthaggi 22
At Morwell: Played 19 Morwell 7, Wonthaggi 12
Last 10 matches: Morwell 7, Wonthaggi 3
Last 5 years at Morwell : Morwell 3, Wonthaggi 2
Last match: 2014 (Grand Final) Morwell 8.7 (55) d Wonthaggi 5.7 (37)
Present winning sequence: Morwell 1
Highest scores: Morwell 22.26 (158) (1997), Wonthaggi 29.19 (193) (2004)
Lowest scores: Morwell 4.7 (31) (2003), Wonthaggi 3.4 (22) (1995)
Greatest winning margin: Morwell 88 (1997), Wonthaggi 134 (2003)
Most goals (match): Morwell 7 R.Taylor (1996): Wonthaggi 11 M.Silver (2004)
A new look Sale will take on its arch rival Maffra in the first 'Battle of the Birds' for 2015 on Sunday.
After two years as coach of Old Ivanhoe, Travis Ronaldson has returned home to Gippsland to fill the position vacated by Matt Ferguson.
"I'm from here originally; played for Gippsland Power and grew up in Woodside so I am familiar with the area and the competition," Ronaldson said.
"I'd say it's a little bit of a fresh start for the club, I wouldn't say it's a rebuild.
"We have a really strong list and I'm planning to give some of the players who were starved of opportunities when the club was so strong, a go."
Ronaldson has been focusing his attention on retaining local talent in the offseason, rather than recruiting from outside. After booting 108 goals for Maffra last year, Darren Sheen is set to spearhead the forward line at the Eagles, despite being linked to former club Heathmont Jets in the offseason.
Three-time premiership winner Wayne Butcher will coach in his second consecutive year since returning to the helm. Butcher has managed to lure son Danny back from South Australia to the Eagle ranks.
"We were knocked out in the second final last year and we are hoping to improve on that," Butcher said.
Editor's pick – Sale
The stats

(1901- 1953 (GFL), 1960-2014)
All matches: Played 276 Maffra 133, Sale 140, drawn 3
At Maffra: Played 125 Maffra 77, Sale 46, drawn 2
Last 10 matches: Maffra 2, Sale 8
Last 5 years at Maffra: Maffra 2, Sale 3
Last match: 2014 (M) Sale 11.18 (84) d Maffra 4.10 (34)
Present winning sequence: Sale 4
Highest scores: Maffra 27.14 (176) (2009), Sale 31.13 (199) (1995)
Lowest scores: Maffra 1.1 (7) (1902), Sale 0.3 (3) (2004)
Greatest winning margin: Maffra 131 (2005), Sale 162 (1987)
Most goals (match): Maffra 11 A.Paynter (1994), D.Stubbe (2009): Sale 10 R.Christie (1978)
LESS than three years after the on field collision that left him a quadriplegic, Beau Vernon has been appointed senior coach of Leongatha.
"I've always been a pretty good thinker of footy; I've never just gone out and played, I've always analysed it," Vernon said.
"Dad coached when I was younger maybe that encouraged me to think about coaching."
Vernon last month gave an emotional address at the AFL launch about his journey post-injury.
"Two and a half years ago I had a decision. Did I want to bury my head? Wonder why me? Blame other people for what had happened and go through life with resentment and have people do everything for me or did I want to look towards the future?," he said.
Now Vernon is married to wife Lucy, has his driver's licence, is nearing the completion of a business degree with a high distinction average and is about to make his senior coaching debut.
Bringing with him TAC Cup and VFL experience, Vernon has teamed up with former Gippsland Power teammate and good friend Tristan Francis, who will coach as an assistant from the sidelines after undergoing a hip replacement last year. After a middling seventh place finish in 2014 Vernon is hopeful his side will improve with an aim to play finals.
In a family affair at the Parrots, Vernon will coach brother and last year's best and fairest Zac.
"I love coaching blokes like him. It meant a lot to me that he loves going down to training" he said.
Leongatha's opponent this weekend is Traralgon, which also has a new coach.
Mark Collison has returned to the club where he played his juniors, after stints in the VFL and NEAFL, with high hopes for the Maroons to return to finals.
"I've been involved in state league footy for four years and will bring good training habits and a freshness to game structures as well," Collison said.
Editor's pick – Traralgon
The stats

(1936 – 53 (CGFL), 1969 – 2014)
All matches: Played 142 Leongatha 56, Traralgon 83, drawn 3
At Leongatha: Played 61 Leongatha 29, Traralgon 29, drawn 3
Last 10 matches: Leongatha 6, Traralgon 4
Last 5 years at Leongatha: Leongatha 2, Traralgon 3
Last match: 2014 (L) Traralgon 12.19 (91) d Leongatha 9.9 (63)
Present winning sequence: Traralgon 1
Highest scores: Leongatha 23.24 (162) (1995 Grand Final), Traralgon 29.14 (188) (2009)
Lowest scores: Leongatha 2.7 (19) (2006), Traralgon 1.14 (20) (2003)
Greatest winning margin: Leongatha 87 (2003), Traralgon 127 (2009)
Most goals (match): Leongatha 10 W.Ryan (1936): Traralgon 12 T.Aitken (2009)
AFTER six years at two AFL clubs, Campbell Heath's move home has highlighted a big pre-season at Bairnsdale.
"He has had a fantastic pre-season; he's a great person and certainly brings a lot of experience having played under some great coaches and quality players at AFL level," coach Shaun Mooney said.
Mooney returns to the helm of the only club in the competition without reserves, for a third year.
Instead the Redlegs have an agreement with the East Gippsland Football League, which gives it access to the competition's best players.
Each week Mooney selects his side from a squad of about 35, with those that miss out able to go back and play at their clubs, in a similar arrangement to that seen in the TAC Cup.
"From a senior coach point of view it's fantastic because I get to spend a lot of time with local guys who want to test themselves at a higher level," Mooney said. The Redlegs finished fifth last year and hope to continue the improvement in 2015.
"We still have deficiencies and we have been working on those; we want to be hard to play against week in week out," he said. Round one will see Bairnsdale travel to Drouin to take on a side that is expected to be among the competition's big improvers after a winless year.
New coach Bob MacCallum is among a long list of returning and new recruits, which includes a string of players from the Hawks' 2010/11 grand final sides, along with a former captain and best and fairest.
"We think Bairnsdale is going to be a bit of a yardstick. It will be a really good test for us. They played finals last year and that is going to make them pretty tough," Drouin club president Eric Bott said.
Editor's pick – Bairnsdale
The stats
(1960 – 1964, 2011 – 2014)
All matches: Played 13 Drouin 5, Bairnsdale 8
At Drouin: Played 7 Drouin 4, Bairnsdale 3
Last 10 matches: Drouin 4, Bairnsdale 6
Last match: 2014 (D) Bairnsdale 27.19 (181) d Drouin 4.4 (28)
Present winning sequence: Bairnsdale 4
Highest scores: Drouin 27.27 (189) (2011), Bairnsdale 27.19 (181) (2014)
Lowest scores: Drouin 2.6 (18) (2014), Bairnsdale 4.7 (31) (2012)
Greatest winning margin: Drouin 112 (2011), Bairnsdale 162 (2014)
Most goals (match): Drouin 10 A.Cook (2011): Bairnsdale 12 J.Gibbs (2014)
WARRAGUL'S new coach Steven Kidd says his focus this year will be on improving and developing the club's young list.
"We are trying to develop a good foundation; trying to improve the culture and we want everyone to enjoy themselves," Kidd said.
The new coach insists he is in for the long haul to turn things around at the club which last year finished ninth.
Its opponent in round one, Moe is also focusing on improving.
"It was always going to be difficult to turn things around overnight," Lions president Manny Gelagotis said.
After taking up the presidency last season, Gelagotis is pleased with the club's youth programs and coaching structures under the likes of fourths premiership coach Lachlan Sim, whose assignment in recent years has been to build for the future.
Past players Dean Abbott and Paul Walsh have returned to the club to coach the reserves and thirds respectively.
"They are both popular guys and they will do a great job," Gelagotis said.
Adrian Burgiel remains at the helm for a second year, where he will have a big influence both on and off the field.
"We want to sneak into the finals if we can. We won four games and lost three by under a goal so if we can improve on that, that might get us close to fifth spot," Burgiel said.
Editor's pick – Moe
The stats

(1909-11, 1915, 1920-26, 1928-53 (CGFL), 1954-99, 2005-14)

All matches: Played 193 Warragul 105, Moe 85, drawn 3
At Warragul: Played 91 Warragul 58, Moe 33
Last 10 matches: Moe 7, Warragul 3
Last 5 years at Warragul: Warragul 2, Moe 3
Last match: 2014 (W) Moe 11.11 (77) d Warragul 5.3 (33)
Present winning sequence: Moe 2
Highest scores: Moe 26.18 (174) (1999), Warragul 36.22 (238) (1997)
Lowest scores: Moe 2.3 (15) (1996), Warragul 3.3 (21) (2014)
Greatest winning margin: Moe 135 (2014), Warragul 205 (1997)
Most goals (match): Moe 13 I.Jennings (1969): Warragul 10 H.Farmer (1932)