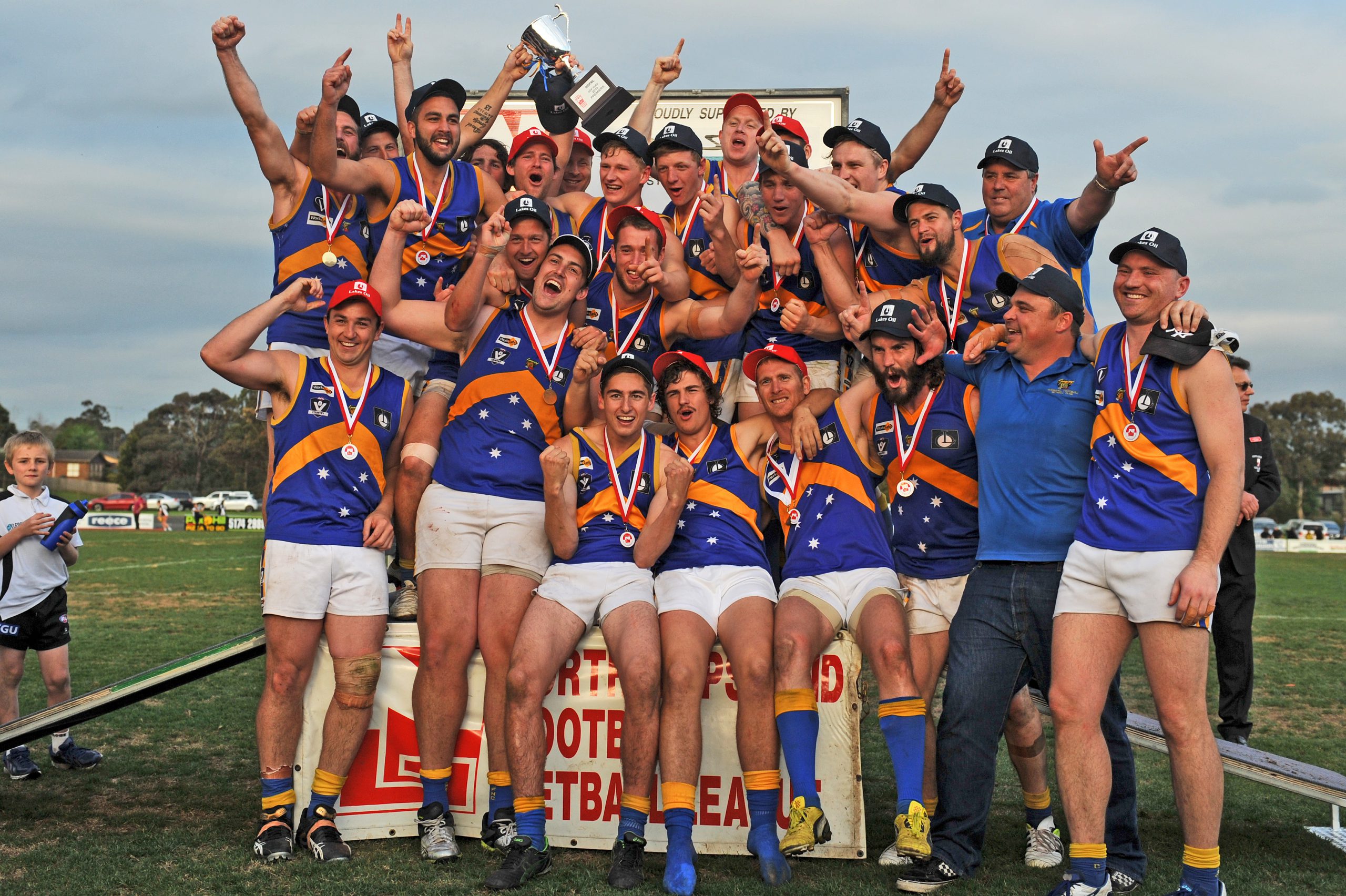 RELATED COVERAGE: Cougars become the hunted
RELATED COVERAGE: Gormy exodus shakes up NGFNL netty
Last season: Premier – 14W, 4L, 2nd
Coach: Allan Chandler
Last Premiership: 2014
Ins: Luke Brereton (Morwell), Dean Jenkins (Yarra Valley Mountain DFL)
Outs: James Hayward (EFL), Joe Whykes (Morwell East)
WHAT a ride it has been for Churchill coach Allan Chandler, the first outsider to lead the Cougars in more than a decade.
Taking command of a talented list last season, the new coach deemed nothing less than a finals berth as a pass mark in 2014 and got more than he bargained for when his men claimed their second flag in six seasons.
"Our aim is to do it again this year, obviously the key is to make the top three and go from there," Chandler said.
"If you make finals anything can happen as we saw. This year looks as though it will go back to being a very even competition so I don't think that there will be any easy beats any week.
"We're ready to go this week against Heyfield, we know that they will be a hard side and they will have that something extra to play for, we have been on the other side of it, and know that we will have to play our best."
Last season: Runner-up – 18W, 0L (minor premier)
Adrian Cox and Damien Birss
Last premiership: 2012
Ins: James Beha (Western Region FL), Wayne Knight (Omeo and District), Andrew Lambie, James Conway
Outs: Lucas Jenkins (Yarram), Dave Kelly retired, Mitch Dowse (Eastern FL), Callan Egan (Wy Yung), Owen Sim (East Gippsland FL)
Dual coaches Adrian Cox and Damien Birss ensured their club continued to dominate the competition last year, when an unbeaten home and away season parlayed into a third consecutive grand final appearance.
Railroading the opposition week in week out, the Kangaroos became the hard luck story of last season.
Despite their dominance, the Kangaroos received a taste of their own medicine on grand final day, but Birss believes he has the antidote to bounce back.
"We are confident that we can be competitive, we have lost a few – Dave Kelly has retired, Mitch Dowse will be playing in Melbourne and last year's captain Brenton Dinsdale will be out with a knee that he did in the grand final," Birss said.
"We believe that we have covered those that we have lost through the return of a number of former players including, Wayne Knight, Andrew Lambie, James Conway and former local James Beha.
"The past doesn't make a difference. Each year is different, and this year will be a different story."
Last season: 1st semi-finalist – 13W, 5L, 3rd
Coach: Ben Macreadie
Last premiership: 2001
Ins: Ben Macreadie – coach (SANFL), Brad Caldwell (Maffra), Jake Mowat
Outs: Jed Hickey (Yinnar), Hayden Mowat, Ross Carpenter
Favourite son Ben Macreadie returns to Rosedale after a stint with West Adelaide in the South Australian Football League.
In his first senior coaching role, Macreadie expects great things from a strong line-up.
Macreadie has recruited personnel including former Blues Brad Caldwell as assistant coach and Jake Mowat in a bolstered list.
"We have seen a few changes over the off season, we have lost Jed Hickey and Hayden Mowat is taking the year off footy, Jake Mowat comes back after being overseas which will bring a bit of experience back into the group combined with Brad and myself," Macreadie said.
"The feedback that I got from last year's playing group is that they lacked a bit of experience at times, with the side getting overawed at key points of the contest.
"We are hoping that the experience of the older guys will help in our improvement this year."
Last season: Preliminary finalists – 11W, 7L, 4th
Coach: Hayden Burgiel
Last premiership: 2011
Ins: David Piasente (Mallee FL), Harry Kaandorp (Sale), Evan Johnson (Gippsland League)
Outs: Byron Shingles
Under the watch of new coach Hayden Burgiel, the Dogs were the competition's biggest improvers in 2014, coming within 20 points of a grand final berth.
It was a remarkable turnaround for a club which struggled to win four matches the year prior.
Introducing a new game plan, inking key signings and commanding more from the club's second and third year players including Nick Grainger, Mitch Bennett and Byron Shingles, Burgiel demonstrated why he was chosen as the man to teach the Dogs some new tricks.
"We're looking okay, we have recruited what we wanted, we have picked up Harry Kaandorp which will bolster our ruck, David Piasente which will fill the void of Byron Shingles who is taking the year off footy and Evan Johnson who will add speed playing on the wing," Burgiel said.
"We have been practicing getting our set ups right, and having the seniors and seconds play to the same game plan, which we have tested out in practice matches."
Last season: Elimination finalist – 9W, 9L, 5th
Coach: Daniel Risol
Ins: Daniel Risol – coach (Newborough), Gavin Stevenson (Traralgon)
Outs: Luke Anneda (Yarram), Justin Staley (Yarram), Chris Pettitt (Yarram), Adrian Fazioli (Mid Gippsland FL)
It was a tough initiation for first year coach Daniel Risol when the Wildcats were handed an 85 point drubbing from rivals Yarram in the opening match of the split first round.
Fully aware of the gaps that key departures have left, having been on the receiving end of their class and ability, Risol has urged his current crop of players to "step out of the shadows" of departed players and make history for themselves.
"We are a relatively young side an average age of 22 to 23, what I will be looking for is for those guys that have played senior footy over the past two to three seasons to just not fill the spots, but to take the game on," Risol said.
"I will be looking for them to bring the brand of football that served them well in the closing stages of last season, we have spoken as a group how I want the guys to stand up and take charge."
Last season: 9W, 9L, 6th
Coach: Anthony Pavey
Ins: Luke Anneda (Woodside), Justin Staley (Woodside), Chris Pettitt (Woodside), Andrew Kiely (Nepean FNL), Matt Sheridan (Gormandale)
Outs: Daniel Vardy
Much of the preseason talk has been centred on Yarram, its key signings and the threat it poses.
Non-playing coach Anthony Pavey has returned, taking the reins from Griffin Underwood who Pavey was quick to compliment on laying solid foundations in the Demons' first NGFNL year.
"Like any side at this time of year we are striving to make an appearance come finals, the club finished one place off that last season, but we know when you look at other clubs and the improvement that has been made we too will have to work hard," Pavey said.
After falling shy of a finals berth by a mere six percentage points, the Demons have recruited well in a bid to breach the five.
The inclusion of tall timber trio, Lukas Jenkins (Heyfield), Justin Staley and Chris Pettit (Woodside) along with the fired up engine room trio of Underwood, Corbin Sutherland and Gippsland Power squad member Jari McDonald proved a winning combination in round one.
Last season: 8W, 10L 7th
Coach: Luke Cooper
Last premiership: 2006
Ins: nil
Outs: Shane Galea (MGFL)
Cowwarr was one of the middle table sides which made a late dash toward September action last year.
Along with the likes of Glengarry, TTU and Gormandale, the Saints enter 2015 with plenty to prove on the back of late season success.
After enduring an indifferent season, Cowwarr marched up the ladder to land four points shy of a finals berth for the second season running.
With the list another year older the Saints know their premiership window is right now.
Last season: 6W, 12L, 8th
Coach: Robbie Cahill
Last premiership: 2013
Ins: Leigh O'Mara (TTU), Daniel Van Dyke (South East FL)
Outs: Dean Brooks (MGFL), Ryan Potter (Nepean FL), Mark Engley (Gippsland League), Aaron Winkler (Alberton Football League)
Despite winning the silverware in 2013, the Magpies have endured a raft of departures in a short period of time as players move onto new challenges and opportunities.
Putting his hand up to coach the seniors, last season's reserves coach and senior player Robbie Cahill has felt the impact of the departure of premiership quartet of Dean Brooks, Ryan Potter, Mark Engley and Aaron Winkler, but is showing no signs of being overawed ahead of the side's clash against Cowwarr.
"We have lost a few good players there is no doubting that, but we have picked up a few and while we won't be as tall of a side as we have been we should have a bit more speed which was lacking last year," Cahill said.
"We certainly will be a very young and developing side, and hope to be very competitive. We will be aiming for a top five finish but know that we won't dominate the top three.
"We will field some exciting players, Michael Diaz will be like a new recruit for us, he played several senior games last year on the ball and was very exciting – his speed and skills saw him named among the best in those games."
Last season: 5W, 13L, 9th
Coach: Jay Neagle
Last premiership: 2004
Ins: Jay Neagle – coach (Northern FL)
Outs: nil
A standout 2013 saw the Bombers catapult back into finals contention for the first time in about a decade with a second place finish on the ladder.
Fast forward 12 months and the result was not as complimentary.
The Bombers will be among the hungriest squads in the competition looking for redemption.
Bombers captain Luke Middleton described the energy and structure that new coach and former Essendon player Jay Neagle has brought to the club as refreshing.
"The guys have really adapted to Jay's way of coaching, the structure and game plan that he has brought," Middleton said.
"Obviously playing at the elite level he has come to the club with different ideas and instilled a professionalism about the way that they guys go about training and playing.
"We know as a club that we underperformed last year, with a new coach and focus, our aim is to stick to the structures that we have been working on, like any coach Jay is encouraging the side to take it one week at a time."
Last season: 5W, 13L, 10th
Coach: Luke Henderson
Last premiership: 1995
Ins: nil
Outs: Adam Jaensch (Gippsland League), Matt Sheridan (Yarram), Blake Slater
In his third year as senior coach Luke Henderson is confident that his groundwork will pay dividends as he aims to elevate the senior list.
"Three years ago the club won two games as a club, the seniors winning just one, we have made significant improvements since then and this year is not just about being a five game club it is about being a 10 game winning club. It's about a continued year of improvement," Henderson said.
"We have a difficult draw playing only one in our first four games at home, but that's not an excuse, to win at home is important with three hard road trips against Heyfield, Yarram and Rosedale to follow.
"Like every club we will be playing every game to win, internally the expectation is with the new inclusions that we have and the different game styles that we can win 10 games this year."