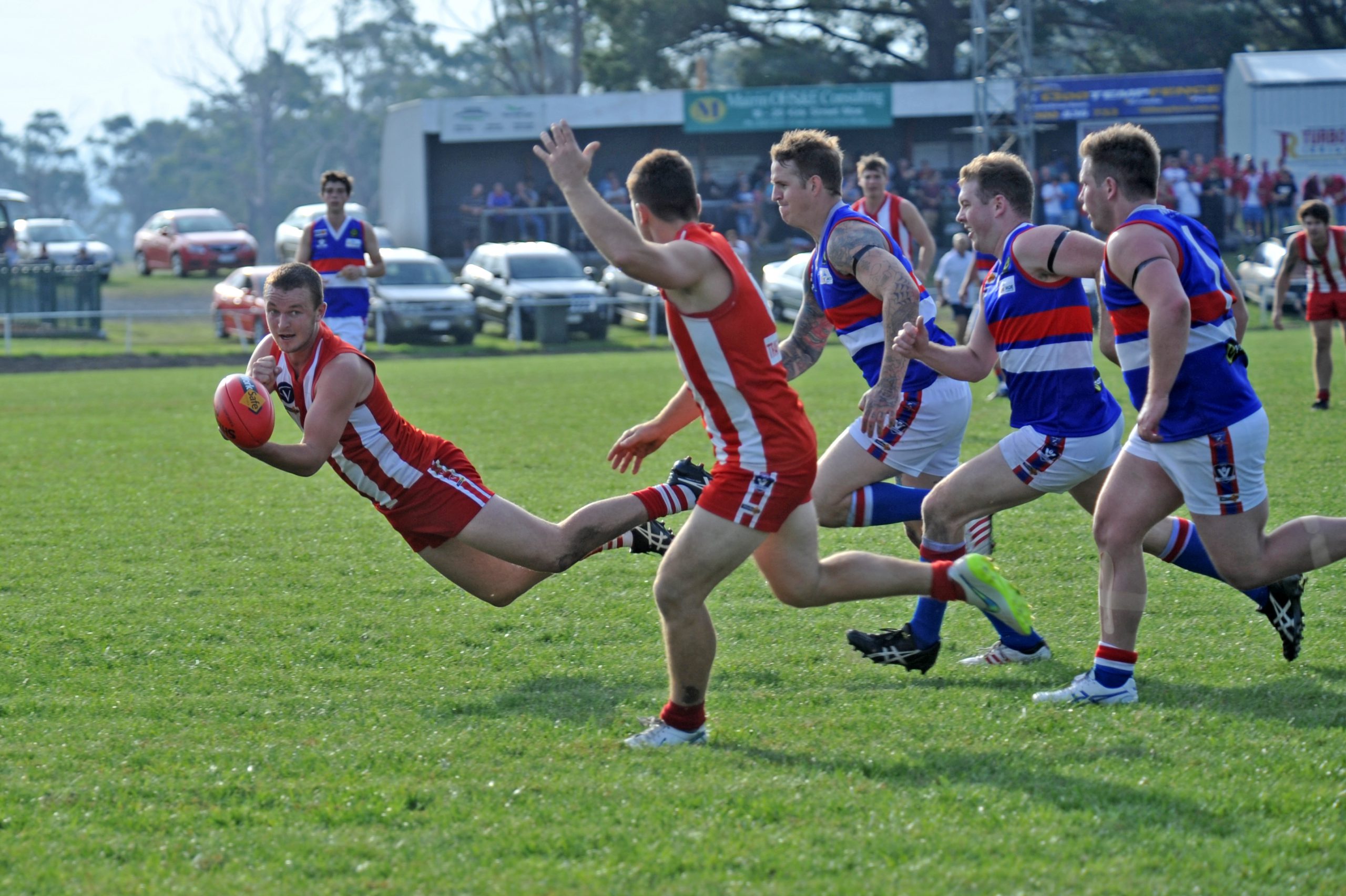 FOOTBALL
MID GIPPSLAND FL
ALL winners were handsome in round one of the Mid Gippsland Football League, which saw consistently strong deficits in each match.
The closest margin was 29 points between Morwell East and Thorpdale, while the biggest was 50 points for Boolarra over Yarragon.
Trafalgar enjoyed a 44-point win over Newborough, Mirboo North beat Hill End by 39 points and Yinnar won by 38 points over Yallourn Yallourn North.
WITH seven players missing from the 2014 grand final line-up, Newborough found it tough going away to Trafalgar in Saturday's match of the round.
The Bulldogs trailed all day against a more systematic Trafalgar side, but was still in the hunt trailing by 18 points at the last change.
Trafalgar decided to crank up a notch in the last term and, with the assistance of the Farrell brothers – Dylan, Michael and Hayden – and a more mobile forward line led by Darcy Brock (three goals), looked the better to double Newborough's score and win by 44 points.
Newborough found scoring difficult and with a match tally of 6.7 (43) would have been disappointed.
Daniel Drowley managed a couple to be the Dogs' top scorer.
Joel Bragagnolo, Darcy Brock and the returning Chris Kyriacou were Trafalgar's best while for Newborough Daniel Halstead, Chris Hancock and Luke Mulqueen worked hard.
Trafalgar ran out winners 12.15 (87) to Newborough's 6.7 (43).
AN opening term of 5.4 (34) to 1.0 (6) against Hill End showed Mirboo North will again be a strong force going into 2015.
The Tigers dominated the first half and by led by 56 points at the main break.
New players Jonathon Burge and Paul Hinkley were playing strong football but it was forward Jack Robinson who did the early damage with some excellent goals.
After half-time the game evened out with Hill End able to match it against more fancied opposition and managed to outscore the premier 48 to 39.
However the early damage was too much for Hill End to overcome as the Tigers ran out 39-point winners.
Robinson booted five goals while Budge and Hinkley picked up three each, to be among the side's best along with grand final hero Shane Peters.
For Hill End, Ben Rotheram, John Warren, Dylan Briggs and Justin Rea were voted best while Mirboo North won 16.13 (109) to 9.6 (60).
BOOLARRA kicked the highest score of the round with a 17.12 (114) to 9.14 (64) win over Yarragon.
Both teams fielded a raft of fresh faces to Mid Gippy football, particularly Yarragon which had a bulk of the new picks.
Boolarra broke away early with big forwards Ken Towt and Jesse Giardina busy and able to establish a 5.1 (31) to 2.1 (13) break in the first term.
Yarragon had other ideas and forced the issue over the next two quarters, outscoring Boolarra 7.10 (52) to 5.7 (37), but Boolarra still led at three-quarter time by three points.
The Demons unleashed their fury in the last, banging on 7.4 (46) to the Panthers' three behinds to run out winners by 50 points.
Ten players shared the Boolarra goals with Towt (4) and Giardina (3) scoring the bulk.
Sam Mazou, Mark Buglisi, Jonathon Holmes and Alan Thorpe were among the Dees' best.
For Yarragon, Ben Damschke scored twice while Jade Jensen, Jeremy MacDonald and Troy Lehman were best.
IT was near top and bottom of 2014 playing off at Yinnar, but it was a new-look YYN under the guidance of exciting prospect Adam Bailey which led to increased expectation on the Bombers. Despite the wholesale changes, YYN's zeal was no match for a powerful Yinnar side.
The Magpies opened the floodgates in a first quarter barrage of 7.1 (43) to leave the Bombers bewildered in a tough initiation for the new coach.
After the brief storm the game settled down as YYN began to match it with Yinnar, but the damage had been done.
Over the course of the next three terms play was even with Yinnar just outscoring the Bombers by three points.
Sam Mills was on top of his game with four goals and Tim Aitken bagged three as seven players got their names on the scoresheet.
YYN's best was returnee Tim Phillips with three majors.
Damien Yates, Jesse Sleswick and Jaime Aitken were best while for YYN Jason Stevens, Mark Gore, Bailey and Tyler Brown were the picks as Yinnar ran out winners 14.12 (96) to 9.4 (58).
THORPDALE mounted a late charge, keeping Morwell East goalless in the last quarter, but went down by 29 points at Ronald Reserve in the closest match of the round.
Morwell East broke loose against Thorpdale in the first term, banging on 6.3 (39) to 2.0 (12) and stayed ahead all day.
The East was winning the ball out of the centre and kicking long, especially to the northern end, giving forward Lucas Towns every opportunity to score.
New players Dean Brooks (Glengarry) and assistant coach Joe Whykes (Morwell) were busy around the packs, giving the East plenty of drive.
With the aid of the breeze Thorpdale made an early charge in the second to just outscore the host 3.2 (20) to 2.3 (15).
The Hawks made it hard for the Thorpdale forwards with pressure on at every turn, however the Blues fought to within 22 points by half-time with new recruit Ilan Osman scoring three goals. Morwell East consolidated in the third with 4.4 (28) to Thorpdale's three behinds after 17 inside 50s, with the Hawks' defence well on top.
Brandon Francis and Frankie Marks were strong around the sticks.
A different Thorpdale side emerged from the three-quarter-time huddle and consistently attacked the goals, but inaccuracy was brought to the fore as the visitor scored six successive behinds. Morwell East struggled in the final term to only score four behinds and was lucky Thorpdale was off target, ending the term with 2.10 (22).
A straighter kicking Thorpdale may have seen a different result but Morwell East ran out winners 12.14 (86) to 7.15 (57).
Brendan Evans, Eric Semmler and Dion Grace were among the East's best while for Thorpdale, Kris Bedford, Adrian Fazioli, Rhy Gieshen and Adam Tagliaferro were best.