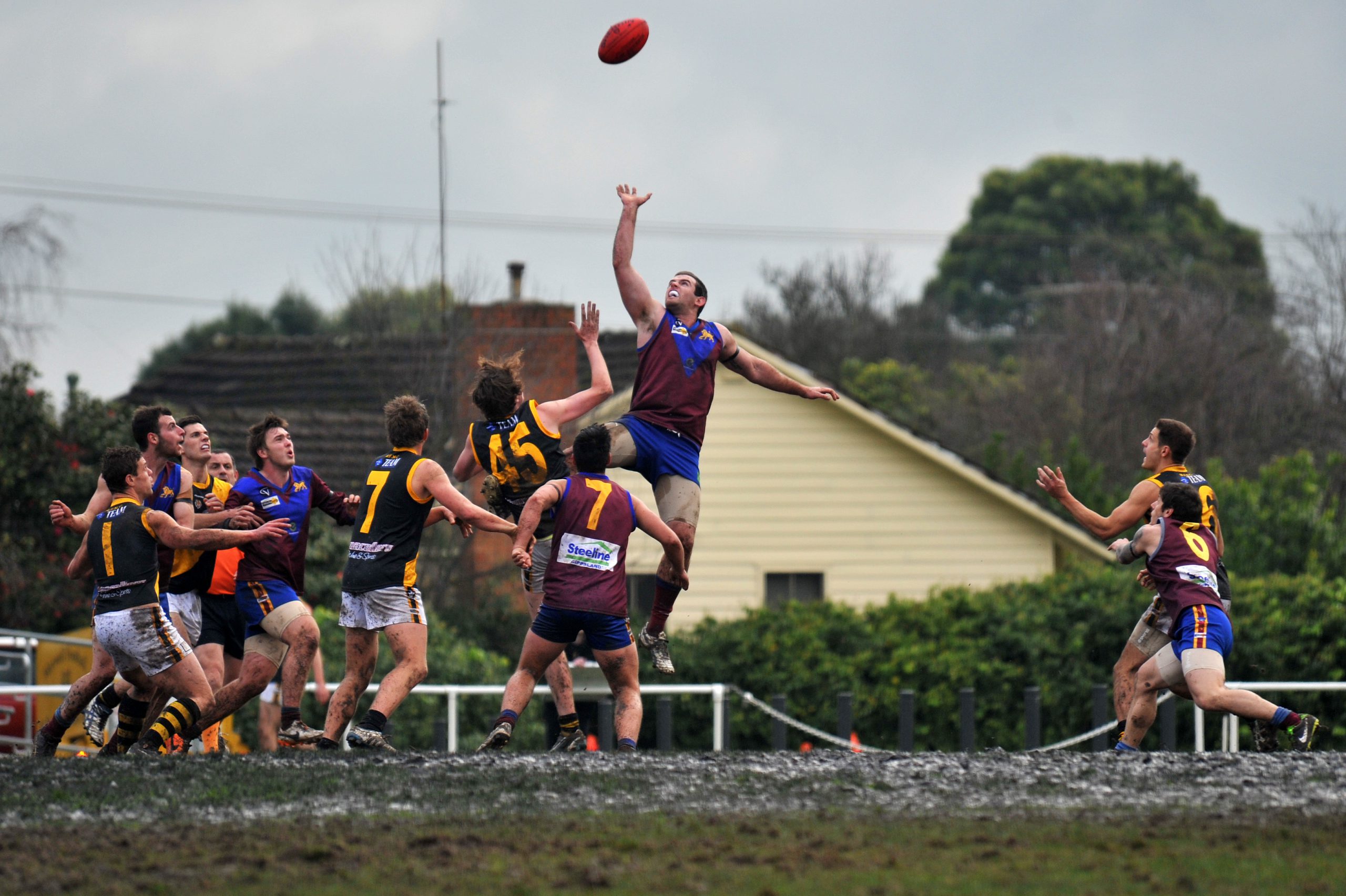 RELATED COVERAGE: Warren sacked as Morwell coach
AN Anzac Day clash between rivals Moe and Morwell will highlight a big round three of the Gippsland League.
It is among three Anzac Day matches on Saturday, with the remaining two games to be played on Sunday.
The big talking point will be the coaching debut of Joel Soutar for Morwell, who fills the role following the sacking of Dean Warren after just two rounds.
For more information about the sacking click here
Soutar's opposite number in Lions coach Adrian Burgiel said he was excited by the prospect of an Anzac Day debut.
"It will be fantastic. I have never done it before, it will be a new challenge for me but it will get the boys up and about and hopefully we can go alright," Burgiel said.
The much-improved Lions are one-and-one after two rounds, while the reigning premier Morwell is still winless, making this weekend's battle of the big cats more exciting than ever.
"That's a bit of a challenge for us to bounce back as well, they won't be an easy beat. Hopefully we can play well, get our skills right and get our pressure up and we will be half a chance," Burgiel said.
DROUIN will be looking to make it three wins on the trot when it travels to Traralgon to take on the Maroons on Sunday afternoon.
"It's definitely been the start we were after but obviously we are not going to get too far ahead of ourselves," Drouin coach Bob McCallum said.
"We obviously have got a fair few boys who played the last two years, so there was lots of emotion after the first round. It means a lot to them."
Traralgon has not been a happy hunting ground for the Hawks, who have won there just four times in 20 visits.
However the larger ground is something McCallum expects will suit his new look team.
"We have spoken a fair bit about that. We are happy to be playing on the larger grounds. We had a couple of hit outs during the pre-season on larger grounds and they really suit us," McCallum said.
Fresh from the Maroons' first win of the season, Traralgon coach Mark Collison is also quietly confident.
"If we bring the same effort as we did last week, there is no reason we can't win," he said.
In a major boost for the Maroons, Tim Northe will return from injury.
"He could have played last week but we just wanted to monitor him," Collison said.
However the Maroons' will not be taking anything for granted against the competition's biggest improver.
"They have got some really good players. I really rate their ins, but at the same time so do we. We just need to concentrate on our habits, make sure we do the right things every game and achieve what we want to achieve and the result will take care of itself," Collison said.
BOTH undefeated after two rounds, Maffra and Leongatha will do battle in the clash between first and third on the ladder.
The Parrots are coming off a good win in tough conditions over Wonthaggi, while the Eagles defeated Bairnsdale by 10 goals last weekend.
History is on Maffra's side – the Eagles strung together 22 consecutive wins over Leongatha between 2003 and 2011.
BAIRNSDALE will be vying for its first win of 2015 when it plays at home for a second consecutive week.
Out-played by Maffra last weekend, the Redlegs will host bottom of the table Warragul.
The Redlegs have won their past five against Warragul, with James Gibbs starring with bags of no less than six majors in every encounter.
However Gibbs was a notable absentee in last week's loss to Maffra.
ONE-and-one after two rounds, Wonthaggi will host Sale in its first home game of 2015.
"We have a great challenge this week at Wonthaggi and I am looking forward to seeing how we measure up against arguably the best side in the competition," Sale coach Travis Ronaldson said.
The Power will be without Aloysio Ferreira who will return to Gippsland Power, while Matt Jones missed last weekend's match against Leongatha after breaking his hand at training on Thursday night.
"It is another big game but I think we know a bit more about ourselves after last week," Wonthaggi coach Rob Railton said.
Sale and Wonthaggi have not met since last year's preliminary final at Moe, which saw the Power produce the competition's biggest ever last quarter come back to secure a spot in the grand final by just two points.
(1932-53 (CGFL), 1954 – 2014)
All matches: Played 180 Moe 80, Morwell 97, drawn 3
At Moe: Played 83 Moe 42, Morwell 39, drawn 2
Last 10 matches: Moe 4, Morwell 6
Last win at Moe: Moe 2012, Morwell 2014
Last match: 2014 (Mo) Morwell 7.16 (58) d Moe 5.6 (36)
Present winning sequence: Morwell 5
Highest scores: Moe 23.13 (151) (1994), Morwell 44.15 (279) (1997)
Lowest scores: Moe 3.2 (20) (1953), Morwell 1.3 (9) (2001)
Greatest winning margin: Moe 106 (2001), Morwell 233 (1997)
Most goals (match): Moe 14 K.Rainsford (1994): Morwell 13 D.Jorgenson (1954), R.Taylor (1997)
(1969 – 2014)
All matches: Played 106 Maffra 56, Leongatha 50
At Maffra: Played 48 Maffra 32, Leongatha 16
Last 10 matches: Maffra 7, Leongatha 3
Last win at Maffra: Maffra 2014, Leongatha 2012
Last 5 years at Maffra: Maffra 4, Leongatha 1
Last match: 2014 (M) Maffra 8.14 (62) d Leongatha 5.9 (39)
Present winning sequence: Maffra 2
Highest scores: Maffra 30.22 (202) (2006 & 2007), Leongatha 32.19 (211) (1978)
Lowest scores: Maffra 1.3 (9) (1997), Leongatha 1.4 (10) (2002)
Greatest winning margin: Maffra 186 (2002), Leongatha 177 (1978)
Most goals (match): Maffra 14 A.Burgiel (2007): Leongatha 9 C.Brown (1994)
(1995-2004, 2010-14)
All matches: Played 40 Wonthaggi 25, Sale 15
At Wonthaggi: Played 18 Wonthaggi 13, Sale 5
Last 10 matches: Wonthaggi 1, Sale 9
Last win at Wonthaggi: Wonthaggi 2010, Sale 2014
Last match: 2014 (Prelim.F at Moe) Wonthaggi 13.12 (90) d Sale 13.10 (88)
Present winning sequence: Wonthaggi 1
Highest scores: Wonthaggi 26.19 (175) (2001), Sale 30.15 (195) (1996)
Lowest scores: Wonthaggi 5.4 (34) (2012), Sale 5.7 (37) (1996)
Greatest winning margin: Wonthaggi 132 (2004), Sale 125 (1996)
Most goals (match): Wonthaggi 10 G.Noonan (2004): Sale 12 M.Ferguson (2011)
(1909, 1936-40 (CGFL), 1960-64, 2005-14)
All matches: Played 44 Traralgon 32, Drouin 12
At Traralgon: Played 20 Traralgon 16, Drouin 4
Last 10 matches: Traralgon 9, Drouin 1
Last win at Traralgon: Traralgon 2014, Drouin 2007
Last match: 2014 (D) Traralgon 30.27 (207) d Drouin 0.1 (1)
Present winning sequence: Traralgon 9
Highest scores: Traralgon 30.27 (207) (2014), Drouin 17.20 (122) (1936)
Lowest scores: Traralgon 4.9 (33) (1962), Drouin 0.1 (1) (2014)
Greatest winning margin: Traralgon 206 (2014), Drouin 53 (2010)
Most goals (match): Traralgon 9 T.Johnston (2014), L.Stockdale (2014): Drouin 7 J.Hoskins (1936)
(1960 – 1998, 2011 – 14)
All matches: Played 86 Bairnsdale 33, Warragul 53
At Bairnsdale: Played 41 Bairnsdale 20, Warragul 21
Last 10 matches: Bairnsdale 7, Warragul 3
Last win at Bairnsdale: Bairnsdale 2014, Warragul 1998
Last match: 2014 (B) Bairnsdale 34.20 (224) d Warragul 3.4 (22)
Present winning sequence: Bairnsdale 5
Highest scores: Bairnsdale 34.20 (224) (2014), Warragul 22.30 (162) (1985)
Lowest scores: Bairnsdale 1.13 (19) (1998), Warragul 1.9 (15) (1963)
Greatest winning margin: Bairnsdale 202 (2014) Warragul 130 (1985)
Most goals (match): Bairnsdale 10 M.Sellings (2011): Warragul 11 M.Cumming (1997)