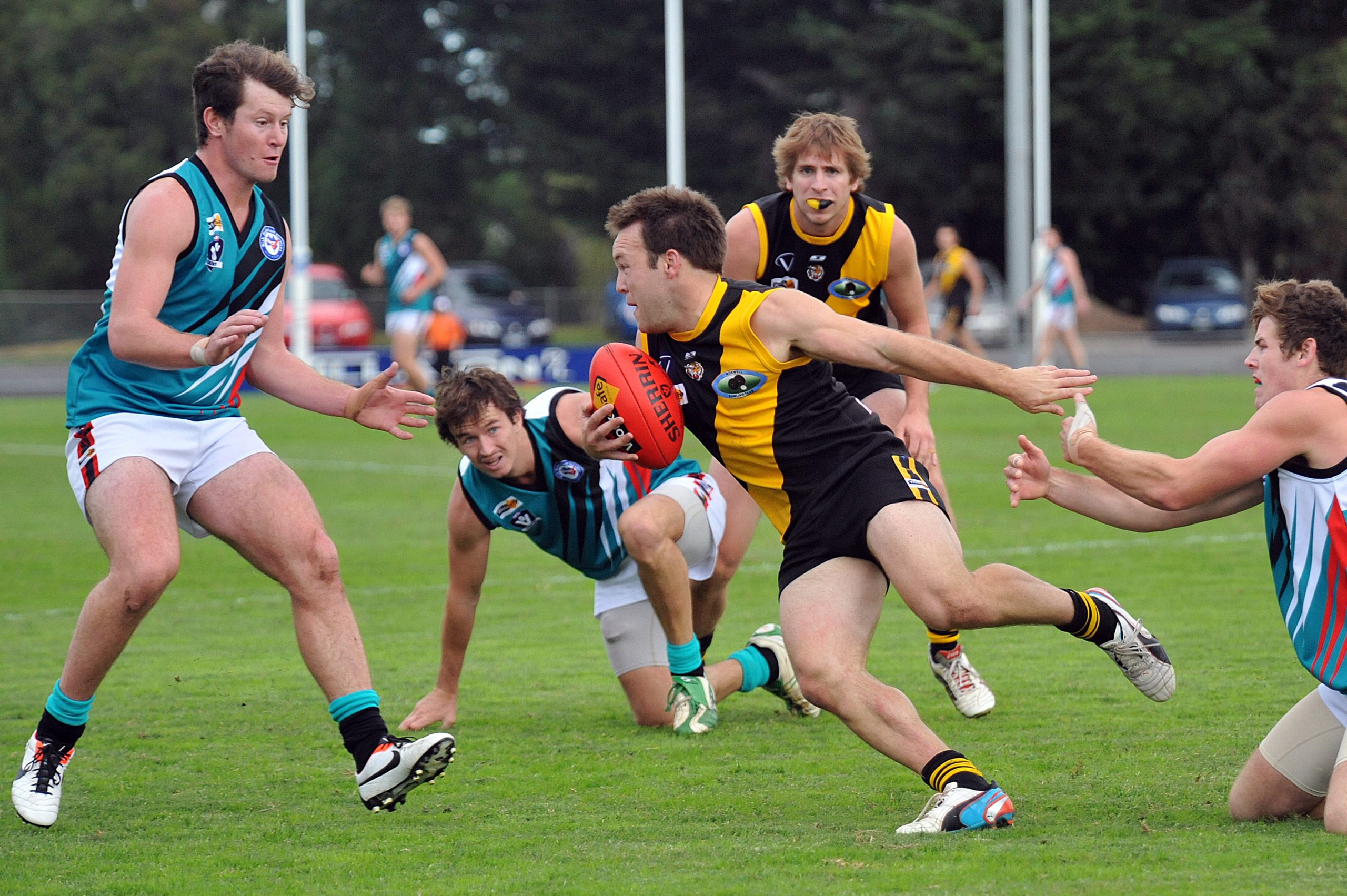 FOOTBALL
GIPPSLAND LEAGUE
MORWELL will be vying to make it two wins in a row under new coach Joel Soutar, when it hosts Warragul in round four of the Gippsland League.
Fresh from a 57-point win over Moe, the two-time reigning premier will take plenty of confidence into the match.
Morwell has beaten the Gulls in their past 14 encounters.
However the Tigers will not be taking their improving opponent lightly.
Last week Warragul fell just 10 points short of last year's finalists, Bairnsdale.
"They are an up and coming side as well. They have a lot of young players and we won't be taking anything for granted. Hopefully we can get over the line," Soutar said.
The Tigers will wait until the latest possible moment to select a side, to give it access to its VFL players if they are available.
Sale v Traralgon
SATURDAY will mark the 150th time Sale and Traralgon have met since the Latrobe Valley Football League was formed in 1954.
Fresh from consecutive wins over Moe and Drouin, the Maroons have shown huge improvement since an opening round loss to Leongatha.
"After round one it was all doom and gloom and now we are two and one, and just knocked Drouin off by 70 points. So it can change quickly, but at the same time we can't get too comfortable," Traralgon coach Mark Collison said.
Saturday's clash will see former Frankston team mates turned Gippsland League coaches Collison and Travis Ronaldson, go head to head.
"Big Travo is my mate down there so hopefully I can get the first go on him and get a win," Collison said.
"They are a good side. He's a good coach, really structured and they have some good players but we will just focus on what we can do as a side. We don't look too much into the opposition as long as we are doing everything right," Collison said.
Sale came off second best against Wonthaggi last week but will take plenty away from the game.
Leongatha v Bairnsdale
THE only unbeaten team left in the competition, Leongatha will be aiming for its fourth straight win when it returns home to host Bairnsdale.
Despite the strong start to the year Parrots coach Beau Vernon said he would not be taking anything for granted.
"I watched Bairnsdale at Leongatha last year and they gave us a fair touch up. They are a hard team and we are looking forward to the challenge," Vernon said.
Vernon said the pressure on spots in the senior line-up would ensure his team did not get ahead of itself.
"We have a few really good junior players putting their hands up for spots. Everyone is fighting for a spot in the team and if they are not doing the team thing, no matter who they are, they'll find themselves playing in the reserves," Vernon said.
"The pressure on spots will keep people level headed. The playing group we have wants success. It's player driven, they have set a precedent for themselves and they have to live up to it."
The Redlegs can expect tougher competition than when the sides met in round 10, last year.
Under lights at Bairnsdale, the clash saw the home team post its biggest score ever to beat Leongatha, which in turn recorded its lowest score against the Redlegs.
"They've played some really good football, it's going to be a huge challenge for us," Bairnsdale coach Shaun Mooney said.
Drouin v Maffra
MAFFRA can expect a tough contest when it travels up the freeway to take on Drouin in a re-match of the 2010 grand final.
The Eagles are coming off a loss to ladder leader Leongatha in terrible conditions at home, while Hawks coach Bob McCallum admitted his side was not at its best in its 70-point loss to Traralgon.
"Another big one. I think from here on, every game is a finals game for us. But we relish the challenge and we can't wait," McCallum said.
"We always knew we were going to come up against the good sides pretty quickly. Now the boys know what they have to train for, and they know what benchmark to hit."
Moe v Wonthaggi
MOE came agonisingly close to a major upset when it hosted 2014 runner-up Wonthaggi in round 10 last year.
A six-goal-to-three third-term saw the Lions get within a goal of the Power, however on that occasion the visitor held on to win by 12 points.
Power coach Rob Railton conceded that match would be at the back of his mind when his side travels to the Valley to take on the Lions this weekend.
"When we were up there last year, they came at us. And we expect them to continue cracking in and give us one hell of a contest," Railton said.
Moe v Wonthaggi
(1995-2004, 2010 – 2014)
All matches: Played 38 Moe 10, Wonthaggi 28
At Moe: Played 18 Moe 5, Wonthaggi 13
Last 10 matches: Moe 2, Wonthaggi 8
Last win at Moe: Moe 2010, Wonthaggi 2014
Last match: 2014 (W) Wonthaggi 15.17 (107) d Moe 6.4 (40)
Present winning sequence: Wonthaggi 8
Highest scores: Moe 22.20 (152) (1998), Wonthaggi 32.13 (205) (1996)
Lowest scores: Moe 4.6 (30) (1997), Wonthaggi 6.9 (45) (1998)
Greatest winning margin: Moe 106 (1998), Wonthaggi 153 (2004)
Most goals (match): Moe 10 J.Meikle (1998): Wonthaggi 12 M.Silver (2004)
Morwell v Warragul
(1932 – 53 (CGFL), 1954 – 99, 2005 – 2014)
All matches: Played 181 Morwell 105, Warragul 74, drawn 2
At Morwell: Played 78 Morwell 54, Warragul 24
Last 10 matches: Morwell 10, Warragul 0
Last win at Morwell: Morwell 2014, Warragul 2008
Last 5 years at Morwell: Morwell 5, Warragul 0
Last match: 2014 (M) Morwell 24.14 (158) d Warragul 0.5 (5)
Present winning sequence: Morwell 14
Highest scores: Morwell 35.14 (224) (1992), Warragul 24.14 (158) (1976 & 1978)
Lowest scores: Morwell 3.3 (21) (1995), Warragul 0.5 (5) (2014)
Greatest winning margin: Morwell 174 (2014), Warragul 74 (1976)
Most goals (match): Morwell 13 D.Preston (1999): Warragul 12 A.Singline (1976)
Leongatha v Bairnsdale
(1969 – 1998, 2011-14)
All matches: Played 70 Bairnsdale 15, Leongatha 54, drawn 1
At Bairnsdale: Played 34 Bairnsdale 8, Leongatha 25, drawn 1
Last 10 matches: Bairnsdale 3, Leongatha 7
Last win at Bairnsdale: Bairnsdale 2014, Leongatha 2013
Last match: 2014 (B) Bairnsdale 19.10 (124) d Leongatha 2.7 (19)
Present winning sequence: Bairnsdale 3
Highest scores: Bairnsdale 19.10 (124) (2014), Leongatha 28.15 (183) (2012)
Lowest scores: Bairnsdale 0.7 (7) (1997), Leongatha 2.7 (19) (2014)
Greatest winning margin: Bairnsdale 105 (2014), Leongatha 171 (1998)
Most goals (match): Bairnsdale 11 J.Gibbs (2014): Leongatha 9 C.Brown (1992), T.Traill (1998), J.Best (2012)
Drouin v Maffra
(1960 – 64, 2005 – 14)
All matches: Played 28 Drouin 7, Maffra 21
At Drouin: Played 14 Drouin 5, Maffra 9
Last 10 matches: Drouin 2, Maffra 8
Last win at Drouin: Drouin 2011, Maffra 2014
Last 5 years at Drouin: Drouin 1, Maffra 4
Last match: 2014 (M) Maffra 36.15 (231) d Drouin 2.5 (17)
Present winning sequence: Maffra 6
Highest scores: Drouin 22.9 (141) (2009), Maffra 39.17 (251) (2013)
Lowest scores: Drouin 2.5 (17) (2014), Maffra 5.11 (41) (1962)
Greatest winning margin: Drouin 39 (2011 Prelim.F), Maffra 213 (2013)
Most goals (match): Drouin 6 D.Carmody (2008), B.Carmody (2009): Maffra 17 A.Burgiel (2006), D.Sheen (2013)
Sale v Traralgon
(1914 – 1935 (GFL), 1954 – 2013)
All matches: Played 210 Sale 97, Traralgon 110, drawn 3
At Sale: Played 98 Sale 54, Traralgon 43, drawn 1
Last 10 matches: Sale 6, Traralgon 4
Last win at Sale: Sale 2014, Traralgon 2011
Last 5 years at Sale: Sale 3, Traralgon 2
Last match: 2014 (T) Sale 13.11 (89) d Traralgon 12.8 (80)
Present winning sequence: Sale 6
Highest scores: Sale 23.17 (155) (1931), Traralgon 29.15 (189) (1994)
Lowest scores: Sale 1.5 (11) (1968), Traralgon 1.10 (16) (1959)
Greatest winning margin: Sale 83 (1934), Traralgon 161 (1994)
Most goals (match): Sale 10 D.Orr (1931): Traralgon 12 P.McCulloch (1994)