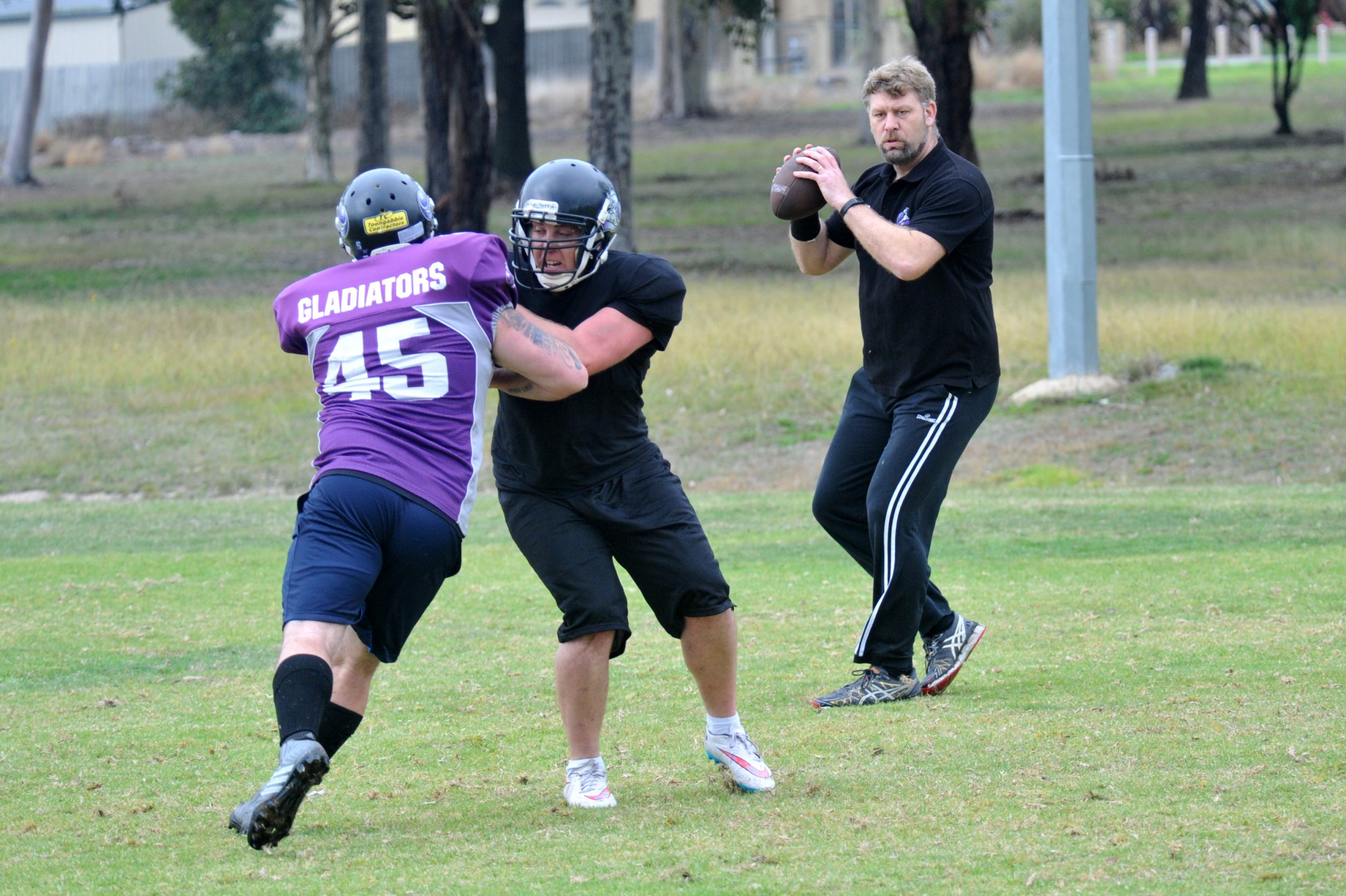 AUSSIE Rules is not the only code Gippsland footballers excel at.

The region's American Football team, the Gladiators, is set to begin its Vic Bowl division two title defence this weekend at home, aiming for back-to-back championships in 2015.
Gippsland defeated Ballarat 12-0 in last year's grand final to claim its first league crown since forming in 2010 and will face the same opponent in the season opener on Saturday at Maryvale Reserve, Morwell.
Foundation member and club president Paul Fotheringham said twin titles was the dream, but with an "80 per cent" new team they would have hurdles to overcome.
"We want to back it up, that's our main goal to get it again," Fotheringham said.
"I think there's only seven of us that returned from last year, a lot have gone away, we lost four players to Pakenham… because they're working there and it's closer for them.
The Gladiators are used to rebuilding, with high player turnover commonplace within the club's ranks from year to year.
After its debut season in 2011, when it finished runner-up, the club went from 40-plus players to a group of about 25.
However, this season the team nucleus – which has stuck together for the past four years – has finally splintered, heralding a new era for a fresh breed of Gladiators.
The squad is currently at just over 30 players – with 35 to 40 the target number – and Fotheringham conceded it would be tough to replace seasoned veterans overnight.
"We're starting all over again… I think we can get up there, I don't know about backing it (the title) up but I'm confident we're going to be competitive," he said.
Aiding the cause, a sleuth of AFL converts has bolstered the ranks in pre-season.
Fotheringham said they came ready made with most of the skills required to excel in grid iron, and had taken to the sport with enthusiasm.
"We've had a few decide already – they've only played one little scrimmage a couple of weeks ago – that this is the sport for them, they're not going to go back to AFL," he said.
"The only thing we've got to work with and change majorly is ball security, they run with the ball a bit different."
On hand to fine tune the squad is the club's only other returning foundation player, and now senior coach, Don Veale.
Veale held the head coach role in 2012, when he also returned to the field as a player, and will lead the squad with renewed tactical prowess.
Since his last stint in the top job, Veale has toured with a junior all stars training camp and learned from American coaches.
With the first three matches of the season to be staged at home, the Gladiators are on the lookout for more troops to join the ranks.
"It's a sport for all different shapes and sizes, you don't have to be a terrific athlete that can run all day, we need different skillsets," Fotheringham said.
"There's guys that don't have to run much, they just have to hit people and move them out of the way."
The side trains Wednesday nights from 6pm to 8.30pm at Maryvale Reserve, Morwell and any prospective players are invited to attend.
For more information phone Paul Fotheringham on 0428 128 730.