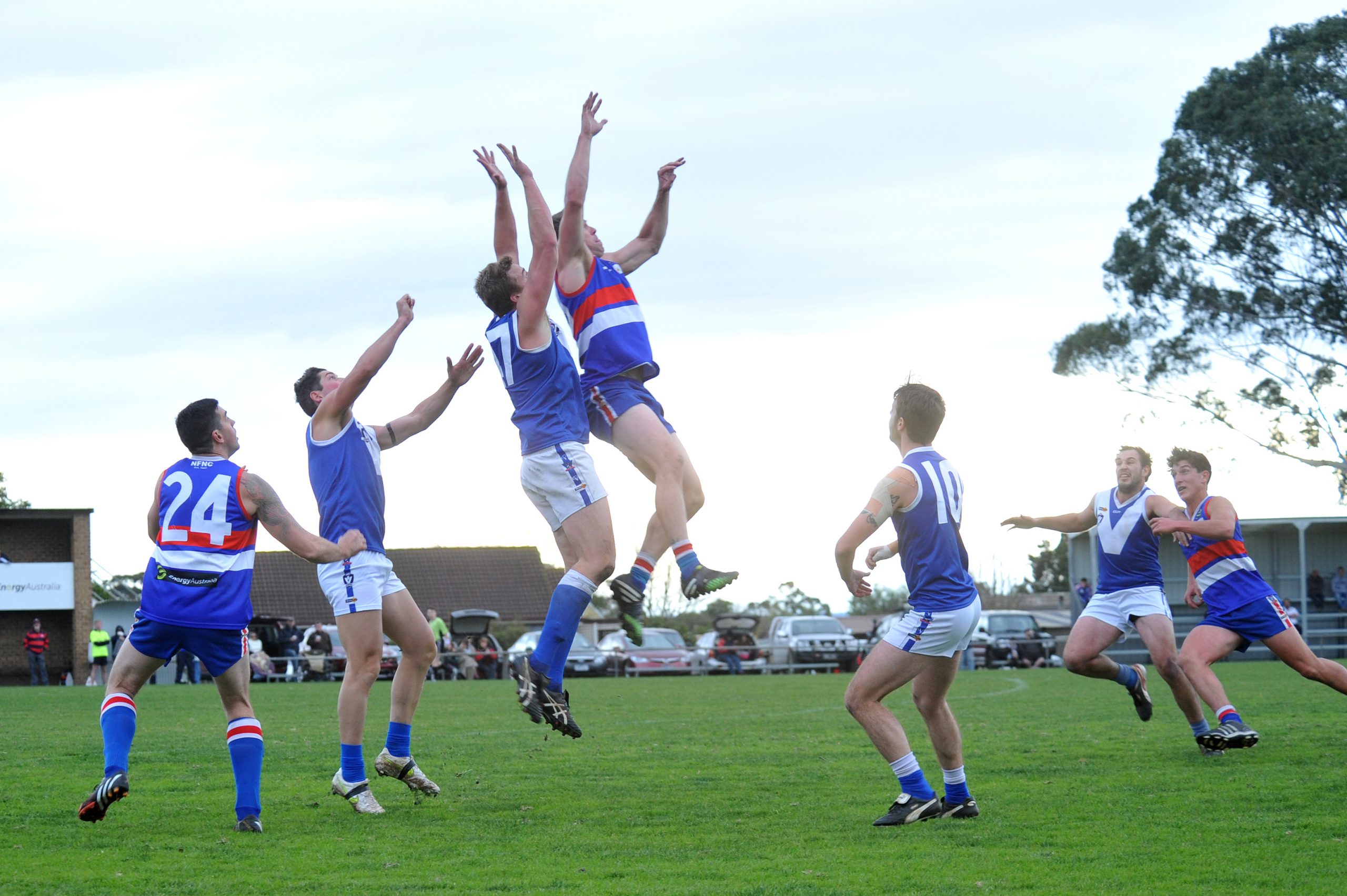 YARRAGON wrested the Waterloo Trophy back from Trafalgar after six years of trying with an impressive 16 point win at Dowton Park Reserve on Saturday.

Not only did Yarragon regain the historic relic, it broke through for its first win of the season.
Trafalgar had nobody to blame but itself after missing big chances in the second term to record 1.6 to 1.1.
Gusty conditions did not make for good football as both teams made constant mistakes in an error-riddled match.
After leading at half-time Yarragon surrendered the lead to trail by three points by the next break.
The last quarter was a sting in the tail as Yarragon, aided by the wind, kicked out of trouble with 3.3 (21) while holding Trafalgar to two points to take the game 8.8 (56) to 5.10 (40).
Panthers coach Stewie Edwards was a proud man having led his side to a much needed win.
The Harvey boys showed out for the victor with Paul kicking three goals to be second best while James received the best player honours.
Zac Regester, David Bates, Josh Bourke and Tim Farthing also stood tall.
For the Bloods Ash Payne, Lincoln Weymouth, Jamie Hines and Damien Mann were all effective but their side lost it up forward with five single goal kickers.
Mirboo North v Yinnar
MIRBOO North showed more grit and determination to inflict Yinnar's first defeat of the season and win the Vin Kalliday Trophy.
The Tigers can thank Yinnar's inaccuracy for the upset, after the Magpies had 22 shots at goals to Mirboo North's 18 only to lose by 16 points.
Both sides were missing key players due to injury and unavailability but Mirboo North showed premiership form to ruin Yinnar's day.
In cold, windy conditions Yinnar adjusted first to establish an early lead with eight shots to three.
By half-time Yinnar would have been disappointed to lead by just four points after wayward kicking cost it several majors.
The action heated up after the long break as Mirboo North turned it on; Tim Traill earned the honours in his tussle with Julian Blackford and while kicking only one goal was instrumental in feeding his fellow forwards.
Jack Robertson was a focal point and kicked three goals while former coach Matt Holland bagged a couple as Mirboo shared its 11.7 (73) scoreline between eight players, while Yinnar had Tim Aitken shouldering the responsibility in the forward line with four strong goals in the Pies' 7.15 (57) tally.
Kris Berchtold was dominant in the middle for Mirboo North while Traill, Isaac Abas and Josh Taylor all performed well.
For Yinnar, James Dowling continued his form along with third grade up and comer Mason Lardner, Damien Yates and Kade Grinstead-Jones.
Hill End v YYN
HILL End proved a tough nut to crack on home turf as the visiting Yallourn Yallourn North juggernaut was forced to fight back to win by 17 points.
Neither team could control its kicking in windy conditions and a mixture of tangled players, miskicks, ball-ups and congested play produced a low scoring match.
At half-time there was only five goals on the board and Hill End had four of them.
It was tough going for both teams but YYN recovered in the third term to shoot 4.3 (27) and effectively put Hill End out of the contest.
The wind and a tight Hill End defence saw the Bombers amass 8.8 (56) to Hill End's 6.3 (39) in a closer than anticipated affair.
It was the Bombers' first win over Hill End since 2012.
YYN's Tim Phillips scored four goals in a day for small forwards, while Matt Coutts kicked a couple for Hill End.
Best for the Bombers were Tom Hutton, Rohan Reid, Todd Dobson and Luke Norder while for Hill End it was Sven Batten, Richard Horton, John Warren and Muggsy Mooka who earned the votes.
Newborough v Thorpdale
NEWBOROUGH continued on its winning way over Thorpdale, marking its ninth successive victory over the Blues.
The Bulldogs kicked the highest score of the round to win out 18.13 (121) to 7.6 (48).
With a moving array of talent around the big sticks it was no problem for Newborough to find nine goal kickers.
Stuart Robertson was the main attacker with four goals.
It was Newborough's five goals to two in the second quarter which broke the Blues, who never recovered.
Newborough starved the Thorpdale forwards all day, while 17 inside 50s for Newborough to six for Thorpdale underscored its dominance for the quarter.
The match was well and truly over in the second half as Newborough cruised with a further 9.5 (59) to 3.5 (23) to run out 73 point winners.
Newborough was well served by Luke Weller, Luke Mulqueen, Josh Hecker and Stuart Robertson while Kris Bedford continues to play well for Thorpdale aided by Tim Lappin, Harley Foat and Deen Allen.
Boolarra v Morwell East
MORWELL East let itself down against Boolarra, falling short by three points in a tense struggle.
The East seemed to be cruising in the first quarter and should have wrapped up the match but 4.9 (33) to 2.2 (14) was little reward for the weight of play it commanded.
Boolarra had the wind in the second and made amends with a 5.1 (31) term to build a five point lead by half-time.
It was a stalemate in the third with both adding 2.3 (15) leaving the Dees just in front ahead of the fourth term.
It was goal for goal in the last but Boolarra held out to win 13.9 (87) to 11.17 (84).
For Boolarra Jesse Giardina was in good touch with six goals while youngster Troy Tobin bagged three.
Nick Talerico was the best for the East with three goals.