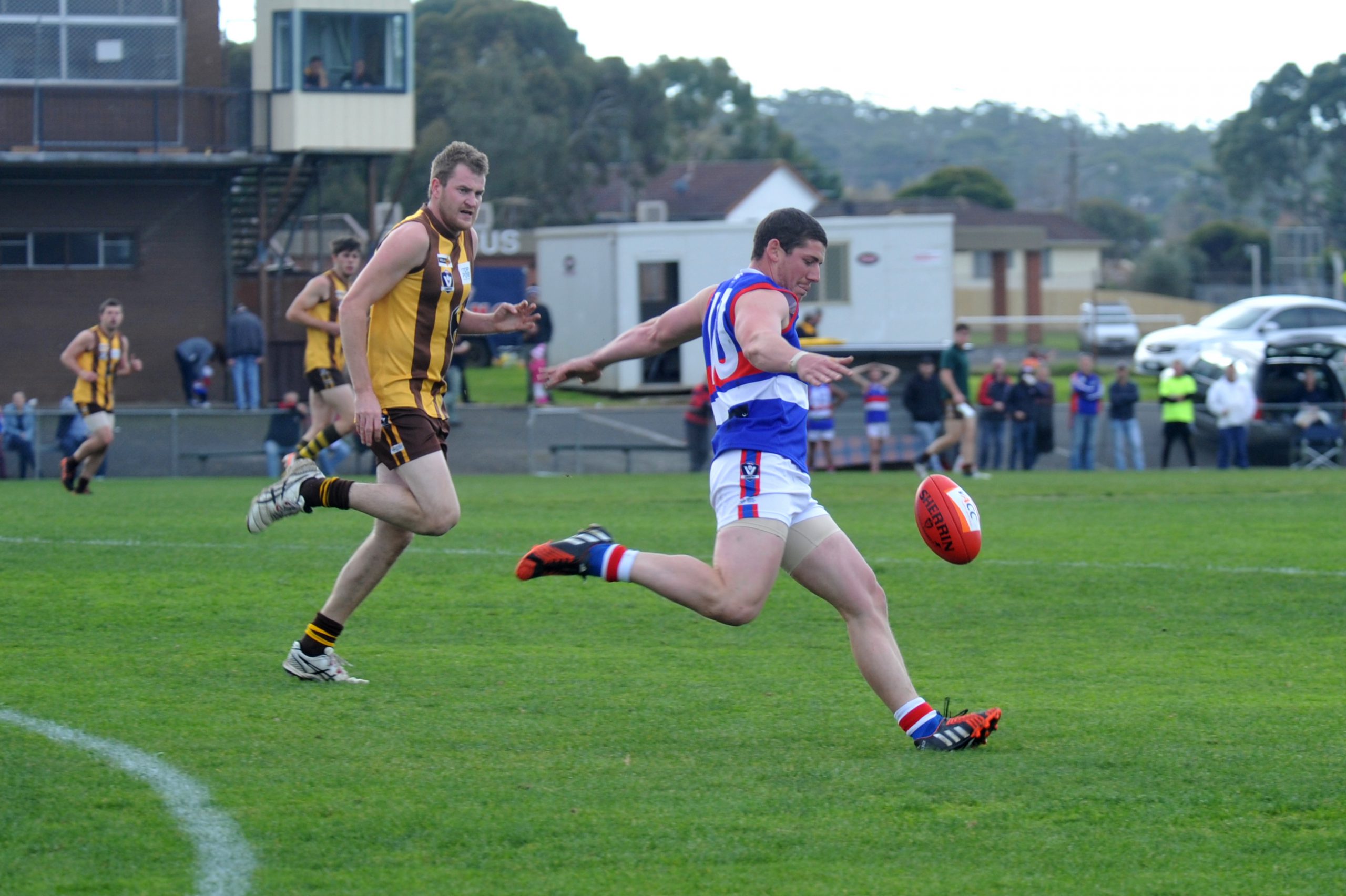 FOOTBALL
MID GIPPSLAND FL
Morwell East broke a five-year Mid Gippsland football hoodoo to cause the upset of the round with a stirring two point victory over Newborough at Ronald Reserve.
The game was close all day and came down to a final 10 minute tussle.
Morwell East trailed by a point then forced a behind to level up scores at 66 points each.
Ben Marks snaffled a goal to send the Hawks to the front in a tense battle, and he became the hero when he converted another on the back of a 50 metre penalty to give the East an 11-point buffer.
Newborough was not out of the game and they replied with a goal through Stuart Robertson, his fourth for the afternoon, to bring it back to five points.
The Dogs tried to force the ball forward with some success, but a miss by youngster and best player Anthony Rosato, followed by a rushed behind ensured the home side would escape with the points.
Newborough had three more shots at goal but Morwell East was steadier under pressure to win out 12.9 (81) to 11.13 (79).
Marks kicked three, including two in a vital fourth quarter effort, while Robertson bagged four for the Dogs.
Yarragon v Hill End

There was controversy at Yarragon with its win over Hill End under league examination.
A final quarter head count by the umpires revealed the Panthers had one too many on the park, following the dismissal of both Yarragon's Ben Damschke and Hill End's Matt Coutts minutes out from three-quarter-time.
However, Yarragon had 18 to Hill End's 17 players on prior to the end of the sin-bin time frame.
No score was added while the extra player was on the field, though a behind was called back when play resumed with the goal umpires still conversing in the middle of the park.
The final scoreline read Yarragon 8.12 (60) to Hill End 7.7 (49), which will come under the microscope this week.
Hill End failed to goal in the second quarter which proved its downfall. The Hillmen were competitive but could not best the strong Yarragon defence with enough frequency. After half-time the Hillmen got their act together and outscored Yarragon but the 27-point deficit at half-time was the telling blow.
Yarragon now has two wins and is fast approaching last year's tally of five.
For Hill End it was another heartbreaking match, which left it at nine games without a win.
Mitch Jolly and Troy Lehman both scored three for Yarragon while Coutts also bagged three for Hill End.
Joel Kilday, Tim Farthing and Scott Wood were voted as best while for Hill End Richard Horton, John Warren and Rob Fiddelears were given the major awards.
Thorpdale v YYN
Yallourn-Yallourn North shrugged off a dogged Thorpdale after half-time to emerge with a 51-point victory at Thorpdale.
It was a real contest up to the major break with only two points the difference at half-time.
A tough start to the game saw players going in hard, goals hard to come by and both defences in control.
YYN was unlucky to hit the posts twice in the opening stanza but the Bombers eventually kicked the opening goal a minute before the first change with a clever boundary line shot from Tim Phillips.
Thorpdale was held to three behinds in a tight opening term. Two minutes into the second quarter Barrie Burnett soccered the ball through after a goal square scramble to open YYN's account.
A goal from star forward Ilan Osman brought Thorpdale back into the contest midway through the term with scores level at 2.5 apiece.
YYN broke the dry spell with a goal, only to be pegged back by Osman's third.
The Bombers went into their zone but could only manage two more behinds just before half-time.
The game changed after the break as YYN took control through their smaller players.
Tim Phillips, Todd Dobson and Burnett were hunting the packs better and made superior use of the ball. Phillips' uncanny skills around the goal mouth and subsequent bag of five goals was a highlight.
Thorpdale scratched around in the third term but could only manage 1.2 with Osman scoring his fourth for the day.
YYN took control and was clinical in the last half to run out 12.11 (83) to 4.8 (32) victors.
Phillips, Jack Casson, Burnett and Tom Hutton were best for the Bombers while for Thorpdale Mark Kelly, Jack Yelland, Osman and Harley Foat were best.
Trafalgar v
Mirboo North
Mirboo North dismissed Trafalgar by 40 points in their 100th meeting.
The reigning premier set up the win with a four goals to two first term, kicking better to position to break away.
Twin talls Donovan Webb and Tim Traill made for an imposing Tigers forward line, which proved difficult for Trafalgar to contain.
Only three goals separated the two at half-time but Mirboo North forged ahead by 29 points ahead of the final quarter.
An uneventful term for the scorers saw the Tigers add two majors and the Bloods one behind, as Mirboo North won out 12.4 (76) to 5.6 (36).
Paul Hinkley top scored for Mirboo North with three goals while the best Trafalgar could do was Blake Slater with two.
Yinnar v Boolarra
Yinnar showed the rest of Mid Gippsland its ruthless best in a demolition of Boolarra in yesterday's match.
The Demons were like lambs to the slaughter as Yinnar outplayed them in a mismatched game.
Opening up with 7.4 (46) to nil in the first term with the wind it was expected that Boolarra would have use in the second, but the wind dropped and Yinnar made better use of the ball to lead by 64 points at half-time.
Tim Aitken was making the most of his experience for Yinnar up forward with some excellent goals and finished with five.
Yinnar shared the spoils around with no fewer than 11 goal kickers in its total of 19.12 (126).
Boolarra scratched around and could only manage 2.5 (17) in a poor display.
For Yinnar, Riley Flanigan, Daniel Webster, Julian Blackford and Jarrod Ruan were best but most players could have been worthy of awards.
Boolarra's triers were Josh Wilson, Ross Kelly, Matthew Buglisi and Luke Conway.