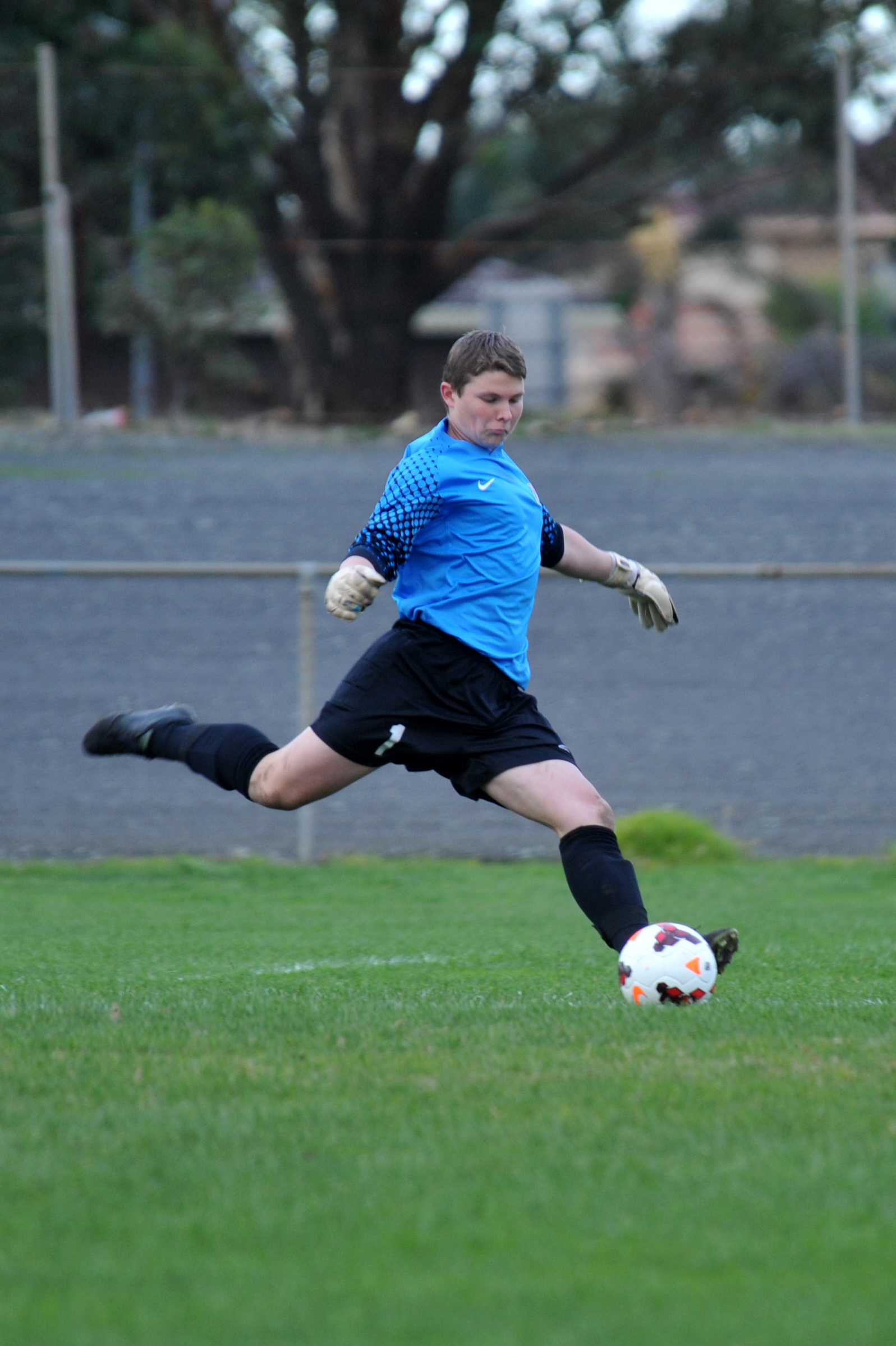 SOCCER
By SAM DARROCH
WHEN 17 year-old shot stopper Liam Andersen began training with Morwell Pegasus' state league side this season, the last thing he expected was to inherit the number one jersey for the senior team.
However, 12 rounds into the season the former Traralgon City custodian has given coach Luke Cheney no reason to take it away from him.
Thrust between the sticks for the senior side throughout pre-season and Pegs' FFA Cup run, Andersen has held his own from day one as the last line of defence.
"I was nowhere near expecting to be thrown right in the seniors. I thought I'd be playing reserves or just a backup really," Andersen said.
"(It's been) real good. At the start I was pretty nervous, but coming through and playing the whole season with the boys you get more confident as the weeks go on.
"It's great having your coach's backing, it gives you a lot of confidence in yourself to play your best week-in, week-out."
The talented gloveman began his junior career aged five at Traralgon City, where his father Steve is currently president.
While some junior sides are forced to draw straws for keeping duties each week, Andersen has always been eager to take the job on.
Younger brother syndrome saw Andersen shoved in goals while his older sibling practiced shooting in the backyard, which parlayed into his club soccer.
"I was just put in goals, and it just grew into a passion from there really," he said. Showing promise early in his career, Andersen was selected in Gippsland Soccer League squad sides throughout his youth, where he learned the goalkeeping trade from Andrew Halkett.
After representing Victoria Country in under 11s and 12s, Andersen graduated to the senior ranks at the Roosters by 14, and was benching for the seniors the following year.
Last season he stood up as Traralgon City's number one goalie, before taking over as the main man at Pegasus.
"It was real good being one of the younger ones in the team (at City), then getting exposed to the higher quality (at senior level)," Andersen said.
"Not playing against kids anymore – like the tackling was harder – and just being in that environment really (helped my development)."
Andersen has gone from strength to strength throughout the state league campaign, combining quick reflexes and natural athleticism to pull off some stunning saves.
His exceptional form has kept French import Axel Learissi out of the top side, who has barely put a foot wrong as second string.
Andersen chalked his success up to quick adaptation.
"Everyone's so good (at this level), just their touch and everything is always so pinpoint, everyone's always switched on, there's no weak links in any teams so you really have to play well to get the result," he said.
"I think I've definitely improved as the standard improved (around me)."
Pegs coach Cheney has been blown away by his new custodian's ability, and so too have onlookers.
Cheney said he never had so many post game inquisitions from spectators about any player.
"I've been coaching for seven years and I've never had as many people coming up to me after a game asking who that is (in goals). That's how impressive he's been this year," Cheney said.
"He just does the right things, just does everything right. He just 'bang' pulls a save from nowhere, you think it's going in and all of a sudden he's there and he saves it."
Cheney said he picked Andersen up this season with an eye to utilising him as a backup keeper, but quickly elevated him up the pecking order.
"I ended up throwing him straight in the deep end and he's excelled, he's been one of my best this year without a doubt," he said.
"He's a young boy that's really becoming a young man quite quickly, and learning the trade.
"He's a great kid with a great attitude and he's got plenty of potential ahead of him."