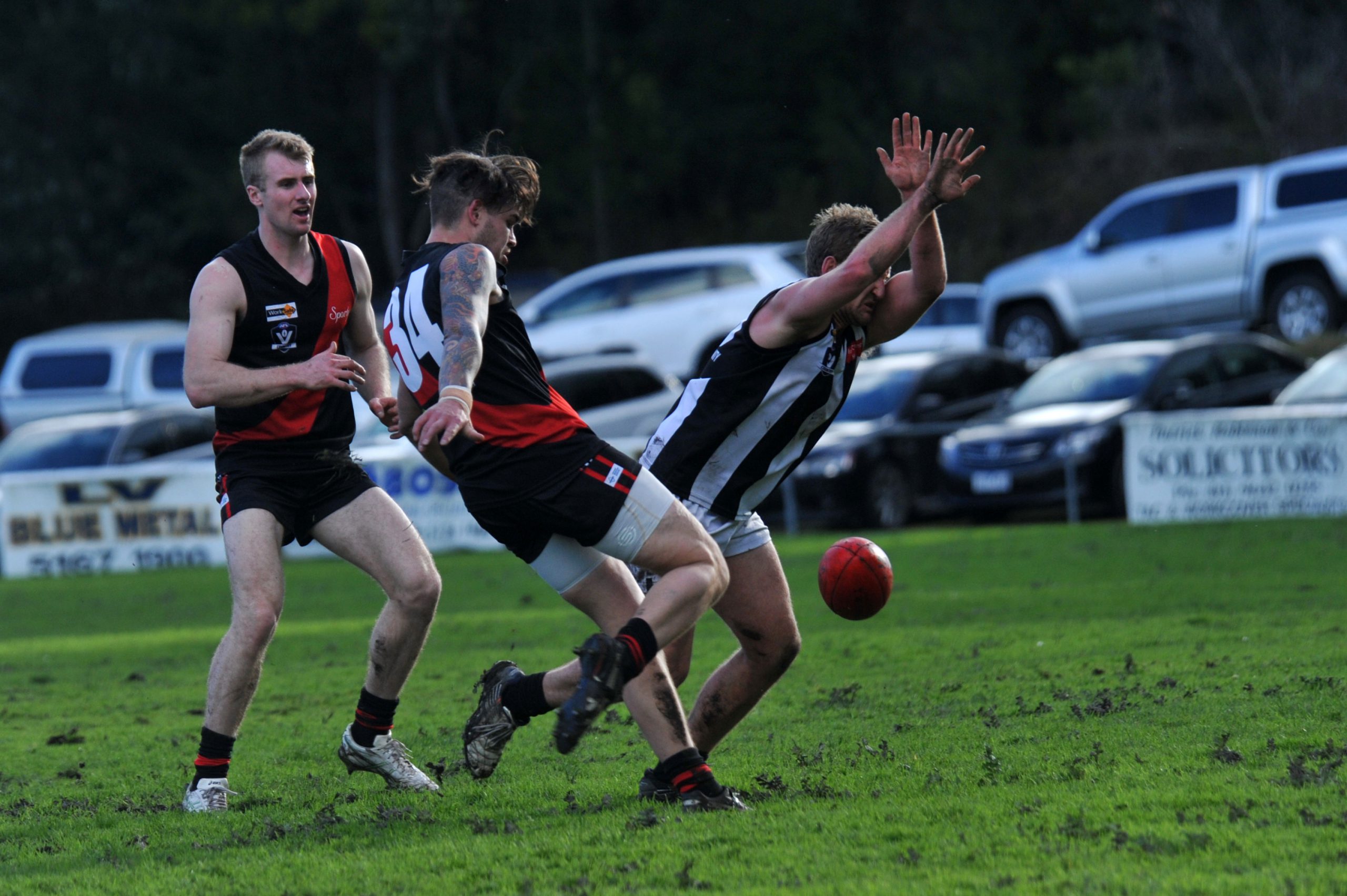 A GOAL after the siren to Yallourn-Yallourn North's Tim Phillips appeared to hand the Bombers a sensational one-point win over Yinnar in Mid Gippsland football on Saturday.

With the scoreboard proclaiming YYN victorious, the devastated Magpies received some consolation when the umpires checked their scores only to realise the match had been drawn, 9.6 (60) apiece.
Both teams were confused, and when the scoreboard was adjusted it was a mix of emotions in both camps.
It was only the third draw between the two clubs in MGFL history.
The result was befitting the clash between first and second on the ladder, with YYN jumping away from Yinnar in the first term to establish a 23-point lead.
A dogged Yinnar side rose gallantly in the second quarter to whittle away the lead to only seven points at the long break.
James Dowling was at his best as Yinnar showed plenty of grit and determination to pull itself back into the match.
It was a small man's game as Todd Dobson and Tyler Brown gave the Bombers plenty of inspired play while the Yinnar mosquitos Dowling and Kane Grinstead-Jones were firing.
Another three goals by Yinnar in the third gave them the advantage at three-quarter-time by six points.
Tim Aitken battled hard for Yinnar up forward but came under a lot of pressure from Owen Budge, and it was YYN's cheeky rover Tim Phillips who stole the show with four goals in the first three terms.
Two minutes into the last term Tom Hutton equalised for YYN and the pressure was on to see who would close the match out.
For a lengthy period neither team scored as the ball went from forward line to forward line without bothering the goal umpires.
Youngster Bernard McLeod was playing a great game on debut for Yinnar as the fight headed down to the wire.
Yinnar hit the front when Jesse Sleswick scored his second, and when a smothered shot went through the Pies led by seven points with three minutes to play.
YYN got forward through a chain of handpasses only to force through a behind, and it was nail biting football as Phillips managed to gain a free kick just before the siren rang.
He went back and easily slotted home his fifth for the afternoon to draw the match under high tension.
YYN still heads the ladder while Yinnar is second on percentage with Mirboo North third.
YARRAGON jumped to eighth place on the table after a gutsy 26-point win over Boolarra, its third of the campaign, and took some revenge after their first round meeting.
Boolarra led in the first quarter but let the opposition take over when the ends were reversed and trailed by three points at the mid-break.
Yarragon's coach Stuart Edwards showed plenty of determination and his four goals was the rock upon which Yarragon built its win.
There was still only a handful of points the difference at three-quarter-time but the Panthers kicked straighter to run out 12.10 (82) to 7.14 (56) winners with one less shot on goal.
Yarragon's best were Rob Wallace, Paul Harvey, Jake Cropley and Joel Kilday while for the Demons Chris Riseley, Matthew Windsor, Courtney Sherriff and Daryl Mayman all tried hard.
Jesse Giardina finished with a three-goal bag.
NEWBOROUGH exacted revenge for its first round loss with a resounding 22-point win over Trafalgar, gaining a stake in the four in the process.
It marked Newborough's 48th victory over Trafalgar in the 100 matches played between the two clubs.
Newborough should have wrapped up the match by half-time but an inability to kick accurately saw some poor results from good chances.
It was a picnic on both sides as 18 players scored goals – 10 Bulldogs and eight Bloods – but Newborough was in fine touch.
Youngster Anthony Rosato has been a find for Newborough, coming from the junior ranks, and played beyond his maturity to match it with much older opponents.
Trafalgar now faces the prospect of missing out this season unless it can put a few wins together.
Anthony Rosato who showed out in Newborough's 13.13 (91) to 11.3 (69) win with good support from Liam Charles, Andrew Philip and Stuart Robertson.
For Trafalgar, Jace Butler, Jamie Hines, Darcy Long and Haydn Farrell collected the votes.
THORPDALE proved it is a team to be feared with a 30-point win over Morwell East, reversing the opening round result.
The Blues are sitting in fifth with an eye to a higher berth in eight weeks' time.
Setting up with a 4.1 (25) first quarter the Blues displayed superior teamwork and a more creditable forward line.
Once again, find of the season Ilan Osman was among the goals; his bag of five brought him to 42 for the campaign, only two behind Yinnar's Tim Aitken.
By half-time Thorpdale was well established and looked set to win by a substantial margin.
Again by three-quarter-time Thorpdale was in the box seat but Morwell East staged a revival in the final term to outscore the Blues in a goal for goal tussle.
Thorpdale eventually saluted 10.10 (70) to 6.4 (40).
Thorpdale's best were Kris Bedford, Harley Foat, Kayde O'Connell and Luke Jenkinson while for the East, Brandon Francis, Frank Marks and Paul Henry played well.
IN a foregone conclusion Mirboo North inflicted another loss to Hill End, ensuring the Hillmen stayed on the bottom of the table without a win.
After a competitive first half Hill End failed to show much as Mirboo North went into overdrive to secure a good win.
Mirboo North could have jumped into second position had YYN beaten Yinnar but the drawn match kept the Magpies in second.
Tim Traill found his magic boots to drive home five goals but the rest were shared around with eight goalkickers.
Hill End had five goal kickers but all were single digits as Mirboo North won the day 15.10 (100) to 6.7 (43).
For Mirboo North, Clancy Bennett was in top form, with Traill, Donovan Webb and Damien Turner as best while for the Hillmen Richard Horton, John Warren, Jared Martin and Lachlan Fanning were best.