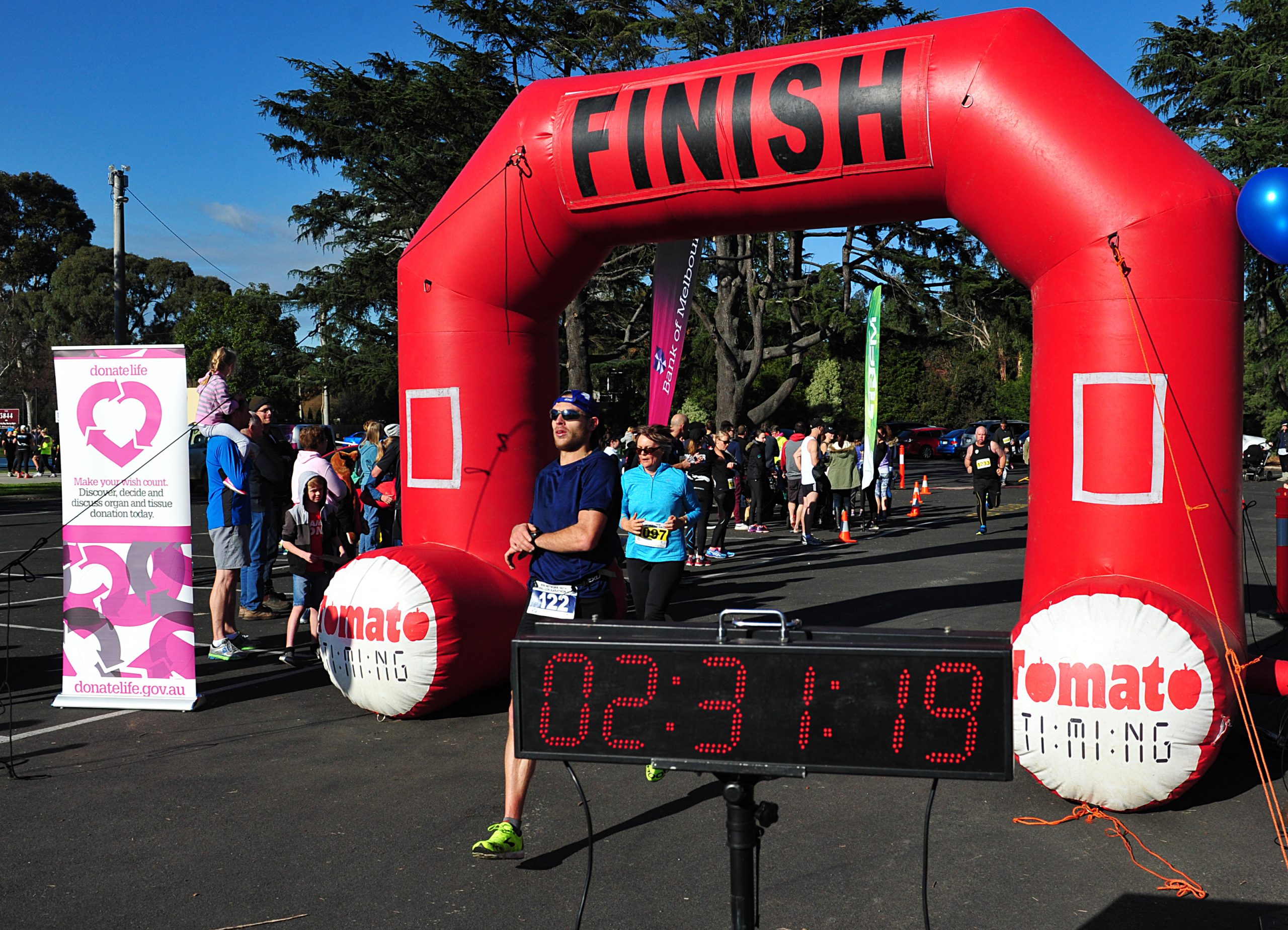 RELATED COVERAGE: Blistering Wissmer misses by whisker
RELATED COVERAGE: New frontier for globetrotting Strobels
HE may have been among the last to register, but Brighton-based runner Dion Finocchiaro was first across the finish-line yesterday at the 48th Traralgon Marathon and Running Festival.
Steaming home in a personal best time of two hours, 31 minutes and 19 seconds, with plenty left in the tank, Finocchiaro's late decision to defend his 2014 title paid off in spades.
The ultra-marathon specialist had all but opted out of this year's event, however a hiccup with his planned race schedule prompted him to enter at the 11th hour.
"I had a race a couple of weeks ago and it didn't quite go to plan, so I was sort of quite fresh and tapered and had a lot of training in the legs. I wanted to utilise the fitness and as a marathon I ran in last year I thought it would be a great opportunity to come back," Finocchiaro said.
"It feels really good actually, I wasn't sure if I was going to run or not but when I came here I was going to run with a couple of friends so it's always one of my favourite races; it's good to come down and have a run around.
"The course is great, nice and flat so it wasn't too hard on the legs. I love running with the people here, it's a great atmosphere and everyone's just so friendly so it makes it worthwhile."
Finocchiaro recently qualified for the Australian 100km national team, after turning his attention to longer distances in the past 12 months.
Success on that front whetted his appetite for the green and gold, and Finocchiaro is now eager to represent his country in the marathon distance as well.
Already making strides toward that goal, Finocchiaro bettered last year's winning time in Traralgon by about three minutes, but the back-to-back champion reckons he has much quicker results in the legs.
"I was happy with that (time), I'm probably a bit quicker in fitness, but I did a 65km run a couple of weeks ago so I wasn't as fresh as I could be," he said.
"It's still a PB, I'm just happy with the second half, I probably shaved three minutes off the second half as opposed to the first half."
Given he was barely puffing by the end of 42 kilometres, another national team might be just around the corner.
Finocchiaro's friend and training partner Cam Hall, who won the 2013 event, was seventh in just under three hours.
Katherine Macmillan was the first woman home in the marathon distance in 3.17.25.
Traralgon Harriers Ryan Wissmer and Kylie Murray won the male and female half-marathon respectively, with locals Karen Graham and Molly Irvine in fifth and sixth on the women's side.
Harrier Ian Cornthwaite was home fourth overall, and won the 50-59 years category handsomely.
Local twins Amanda and Sophie Fontaine were also impressive, finishing equal first in the under 18 half-marathon in 1.58.15.
The 10km races were taken out by Caellum Crowe (33.37) and Susi Wilson (40.14).
This year's marathon featured five international runners: a family of three from the United States, Aoife Reilly of Ireland, who finished eighth in the women's marathon, and Colombian Luis Hernandez, who finished in just under four hours.
For full results click here